Christmas Spelling Unit (5th Grade)
Happy holidays! Here you'll find our level-e Christmas spelling unit. This unit was designed for 5th grade students.
Word list: Rudolph, reindeer, exchange, boughs of holly, mistletoe, snowfall, ornaments, wrapping, wreath, chimney, tinsel, caroling, gingerbread, sleigh bells, fruitcake, Christmas, presents, chestnuts, evergreen, elves, poinsettia, pageant, Santa Claus, twinkling lights, and angel.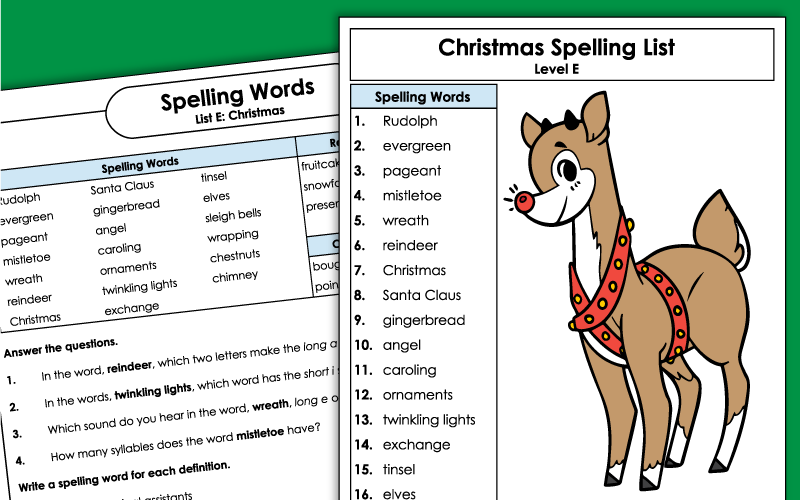 THis PDF has 25 holiday-themed spelling words. The full list includes: Rudolph, angel, snowfall, poinsettia, chimney, gingerbread, chestnuts, Santa Claus, exchange, fruitcake, presents, caroling, wrapping, reindeer, pageant, mistletoe, sleigh bells, boughs of holly, elves, Christmas, ornaments, twinkling lights, evergreen, tinsel, and wreath.
5th Grade
Answer questions about this week's Christmas-themed spelling words. Answer phonics questions, write a spelling word for each definition, unscramble the spelling words, and complete the sentences. Worksheet includes bonus questions and answer key.
5th Grade
Students identify the spelling word in each sentence, and if the word is spelled incorrectly, students will spell the word correctly on the line provided.
5th Grade
The letters that make up the words on this worksheet are all out of order. Rearrange the letters to make Christmas spelling words.
5th Grade
Have students write each spelling word two times in their neatest cursive (or print) handwriting.
5th Grade
Find all of your spelling words in this word find puzzle. Words are hidden diagonally, vertically, and horizontally.
5th Grade
Students can make their own word search by hiding their spelling words in the grid. Fill in the remaining boxes in the grid with random letters and give your puzzle to a friend to solve.
5th Grade
Use some of the Christmas words from this spelling unit to practice typing skills on a computer. Some of the words included are: evergreen, wreath, gingerbread, ornaments, and elves.
5th Grade
Use these printable flashcards to play a spelling game. Player 1 draws a card and asks player 2 to spell the word.
5th Grade
Write all Christmas words alphabetically, starting with angel and ending with wreath.
5th Grade
Students will cut out each of their Christmas spelling words and glue them onto the chart in alphabetical order. An answer key is included.
5th Grade
Rewrite each group of spelling words so that they are in alphabetical order. An answer key is included.
5th Grade
This page has a reindeer graphic, and blank lines for students to write all twenty-five holiday words.
5th Grade
Here is a list of 25 sentences that contain each of your 25 Christmas spelling words. Read these sentences aloud to your students as they take their Level E Christmas spelling test.
5th Grade
This master list has the words for all thirty 5th grade (Level E) spelling units.
5th Grade
Christmas Worksheets
This page has Christmas games, reading comprehension passages, math worksheets, and much more!
Winter Worksheets
Here's a link to our winter-themed activities! Includes reading and math worksheets.
Hanukkah Worksheets
We have lots of worksheets and activities for Hanukkah too!
New Year's Worksheets
This section of our site has printables for students to write the New Year's resolutions, as well as an elapsed time activity and a reading comprehension passage.