Thanksgiving Spelling Unit (Grade 4)
This is our special Thanksgiving spelling unit. Below you'll find a printable list of Thanksgiving words, puzzles, worksheets, ABC order activities, and a spelling test template. Word list includes: Thanksgiving, autumn, Native American, vegetables, settler, squash, Pilgrim, Thursday, celebration, Squanto, England, stuffing, grateful, longhouse, colony, delicious, tradition, cranberry, November, and utensils.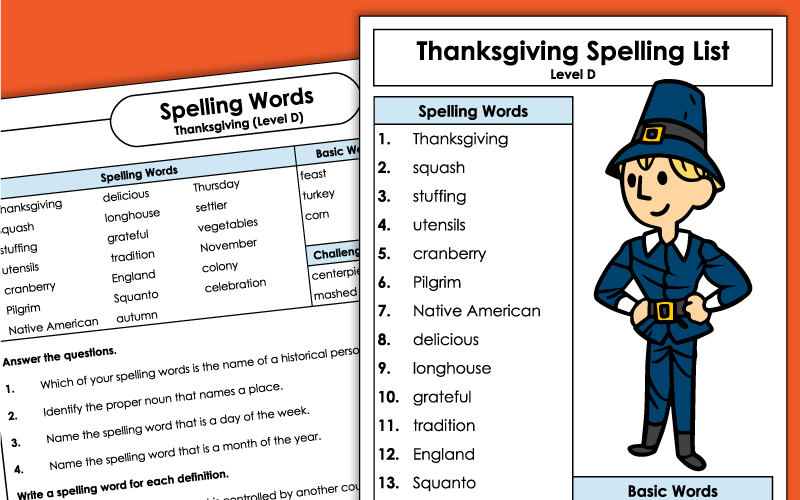 This special spelling list has words related to Thanksgiving, such as: autumn, colony, settler, grateful, Native American, Pilgrim, squash, cranberry, utensils, vegetables, England, stuffing, Thursday, longhouse, November, celebration, delicious, Squanto, and tradition.
4th Grade
This worksheet asks a variety of questions about this week's Thanksgiving-themed spelling words. Vocabulary questions, unscramble exercises, and complete the sentence exercises are included. Also included is an answer key.
4th Grade
Find the spelling word in each sentence and identify whether it is spelled correctly or incorrectly. If the spelling word is spelled incorrectly, provide the correct spelling. Answer key included.
4th Grade
The letters in these spelling words are all mixed up. Rearrange the letters to decipher the words.
4th Grade
On this page, students neatly write each word two times on the lines provided.
4th Grade
Kids can search for their Thanksgiving-themed spelling words in this word search puzzle. Words are hidden vertically, horizontally, and diagonally. An answer key is included.
4th Grade
Students can make a crossword puzzle with spelling words. Then they exchange papers with a friend and solve.
4th Grade
With this printable activity, students will practice typing their spelling words into sentences.
4th Grade
Printable flashcards for you to use with this special Thanksgiving spelling unit for fourth grade.
4th Grade
On this page, students will alphabetize groups of words. For example, the words "feast, England, cranberry, grateful, delicious" are rewritten as "cranberry, delicious, England, feast, grateful."
4th Grade
Write all of the spelling words (including basic words and challenge words) in alphabetical order on this printable worksheet.
4th Grade
Cut out the small word cards at the bottom of the page and alphabetize them. After that, pupils will attach them onto the page with glue or tape.
4th Grade
There is a picture of a Pilgrim at the top of this spelling test page. There are also lines upon which students can write spelling words as their teacher reads them aloud.
4th Grade
Here is a list of twenty-five sentences you can read aloud to your students during their Level D Thanksgiving test.
4th Grade
This file contains a list of spelling words for all 30 units (and holiday units) in the S.T.W. spelling series.
4th Grade
Christmas Spelling Unit (Grade 4)
The Christmas word list includes: ornaments, eggnog, mistletoe, Santa Claus, chestnuts, exchange, Mrs. Claus, chimney, hot cocoa, wreath, reindeer, tinsel, decorations, snowflakes, evergreen, cookies, December, caroling, gingerbread, and twinkling lights.
Level D (Grade 4) Spelling Units
Here's the main page for the 4th grade STW spelling series. From here you'll be able to link to any of the 30+ Level-D spelling units.