4th Grade Spelling Unit D-7
4th grade spelling Unit D-7 are words that have a long-i sound or a long-o sound. Spelling list: throne, boast, exercise, icicle, tonight, poet, mileage, license, online, thrive, highway, throat, toaster, lighten, oldest, reply, stolen, mobile, whole, recognize, frightening, and grown.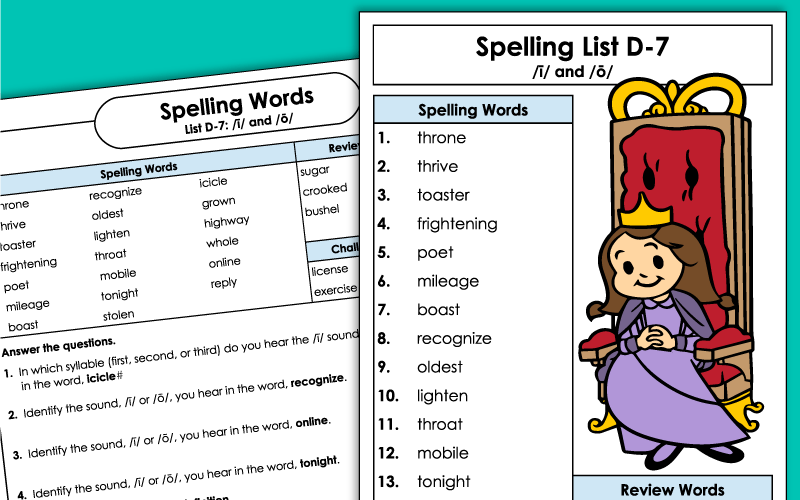 This list has words with the long-i and long-o vowel sounds. Throne, mileage, frightening, online, poet, recognize, toaster, oldest, lighten, boast, highway, tonight, throat, stolen, whole, reply, thrive, mobile, icicle, and grown.
4th Grade
Here's an activity where your students can become more familiar with their spelling words through phonics questions, complete the sentence exercise, unscramble the spelling words, and vocabulary recognition questions. An answer key is included.
4th Grade
Circle the spelling word in each sentence. Then determine if the circled words is spelled correctly or incorrectly.
4th Grade
Unscramble your unit seven spelling words.
4th Grade
This crossword puzzle has a place for each of the twenty five words from Spelling List D-7. Print it out for your students to solve.
4th Grade
On this printable page, kids write each of their unit seven their spelling words two times.
4th Grade
Here is a fun word search puzzle your students can solve! Words are hidden vertically, horizontally, and diagonally.
4th Grade
Students can make their own puzzle with hidden spelling words.
4th Grade
Students will practice typing their spelling words into sentences with this printable spelling activity.
4th Grade
With these cards, your pupils can play a spelling review game. Each player draws a card at random and has their partner spell the word.
4th Grade
The spelling list is broken up into smaller groups of five words. Rewrite each group in alphabetical order.
4th Grade
Starting with the word boast, and ending with the word whole, write your spelling words in alphabetical order..
4th Grade
Cut out each of your spelling words and glue them onto the grid alphabetically. Start with the word boast and end with the word whole.
4th Grade
Here's a spelling test template, with graphic, that you can use when administering your weekly posttest.
4th Grade
Read these sentences aloud to your students and have them write the words on their test paper.
4th Grade
Here's the master word list for all grade 4 spelling units in the STW spelling series. There are 30 units, plus 4 holiday units, plus 4 themed units.
Spelling Unit D-8
This week's spelling unit are all words with Vowel-Consonant-Silent E words. Spelling list contains: phone, ignite, beside, drapes, underline, calculate, adore, supervise, scrape, evaporate, awhile, include, alone, surprise, peruse, froze, became, blame, impose, alive, behave, and lemonade.
4th Grade Spelling (Full Index)
Link to any page in our 4th grade spelling curriculum from this page.
Custom Worksheet Generators
Make your own math worksheets, spelling puzzles, classroom newsletters, calendars, and tests.