4th Grade Spelling Unit D-24
The focus for this 4th grade spelling unit is four-syllable words. List: transportation, certificate, caterpillar, entertainment, transformation, necessary, elementary, watermelon, ability, ordinary, information, identical, appreciate, retirement, discovery, macaroni, community, relationship, eternity, helicopter, technology, and relaxation.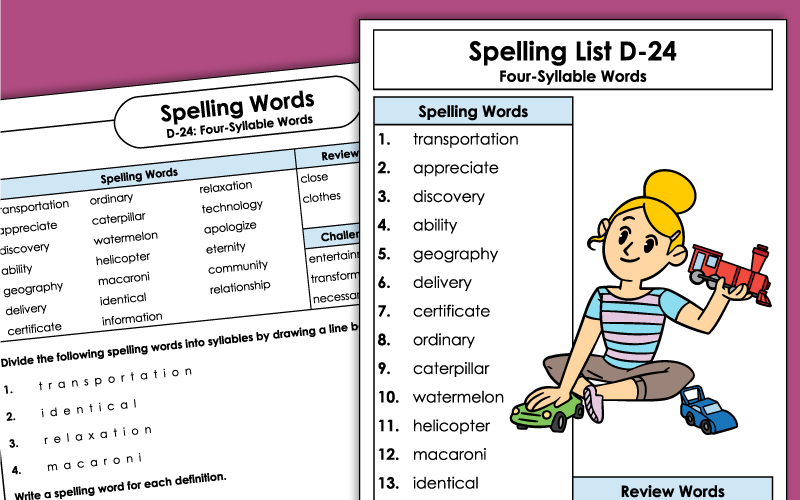 Practice spelling 4-syllable words, such as transportation, information, apologize, eternity, discovery, watermelon, ordinary, helicopter, technology, caterpillar, ability, appreciate, identical, relaxation, macaroni, geography, relationship, community, and certificate.
4th Grade
On this worksheet, you'll find a series of phonics, grammar, vocabulary and spelling questions to go along with this week's words.
4th Grade
Unscramble each of this week's spelling words.
4th Grade
Can you find the spelling error in these sentences? If you see one, circle it, and write the correct spelling on the line.
3rd Grade
Try to fit these 4-syllable words in the correct spots in this printable spelling crossword puzzle.
4th Grade
Students will search for their spelling words hidden in this word search puzzle. An answer key is included.
4th Grade
Stick your spelling words in the puzzle vertically, diagonally, and horizontally. Fill in the empty cells to make a word puzzle.
4th Grade
In the spaces provided, write each spelling word two times.
4th Grade
Students will practice their typing skills with this printable spelling activity.
4th Grade
Print a set of flashcards with the four-syllable spelling words from this week's list.
4th Grade
Rewrite each word set in ABC order. For example, "cafeteria, ability, caterpillar, appreciate, apologize" is rewritten as "ability, apologize, appreciate, cafeteria, caterpillar."
4th Grade
Write all spelling words (including review and challenge words) alphabetically. Start with the word ability and end with the word watermelon.
4th Grade
Cut out the four-syllable word cards, arrange them in alphabetical order, and glue them on the page.
4th Grade
On this paper, kids will write the spelling words that their teacher reads aloud.
4th Grade
Read these sentences aloud to your students as they take their Unit 24 spelling test.
4th Grade
Here are all spelling words in the 30 units of the STW spelling curriculum.
Spelling Unit D-25
Grade 4 spelling Unit D-25 are vowel-consonant-consonant-vowel words. List: dentist, silver, confess, sandal, hunger, reptile, pencil, survive, shelter, indulgent, absent, college, secret, subject, capture, insect, corner, welcome, dislike, extend, fantastic, and perfume.
Full Grade 4 Spelling
This index page can connect you to any unit in the 4th grade spelling series.