4th Grade Spelling Unit D-12
Fourth grade spelling Unit D-12 are all plural nouns. Word list includes: children, parentheses, brushes, heroes, women, buffaloes, patches, potatoes, marches, foxes, itches, sketches, species, compasses, twitches, halves, mosquitoes, wolves, scarves, stitches, echoes, and loaves.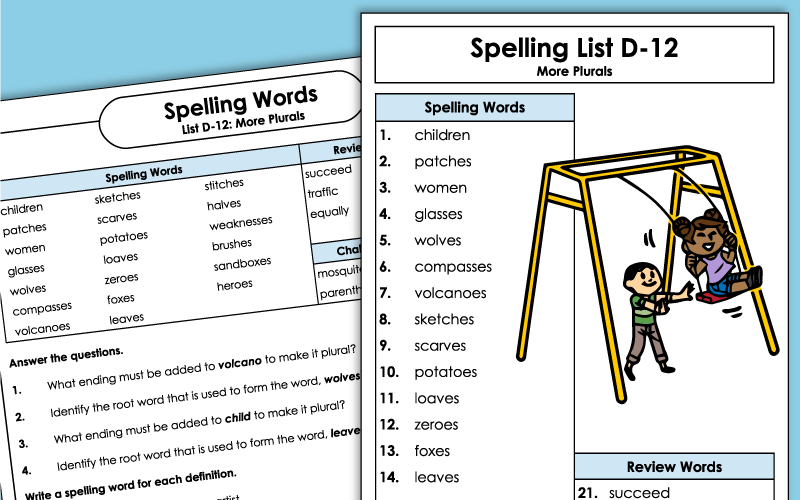 More plural nouns this week! Children, echoes, wolves, buffaloes, potatoes, loaves, sketches, brushes, itches, women, marches, stitches, scarves, halves, twitches, species, foxes, heroes, compasses, and patches.
4th Grade
This printable worksheet has a variety of exercises that relate to this week's spelling words. Vocabulary questions, complete the sentences, and review word trivia are included. Answer key is also included.
Circle the spelling word in each sentence. If it is spelled incorrectly, spell it the correct way on the line. An answer key is provided.
4th Grade
Unscramble the plural noun spelling words.
4th Grade
Challenge your students to solve the crossword puzzle using all of the spelling words from Unit 12.
4th Grade
Write each spelling word two times. Students can print neatly or practice their cursive handwriting.
4th Grade
Your kids can make their own wordsearch for a classmate to solve.
4th Grade
How many plurals can your kids find hidden in this puzzle?
4th Grade
Students will practice their typing skills with this printable spelling activity.
4th Grade
These cards can be used for a 2-player game. Print the flashcards on card stock (so students cant see through them.) Place them upside-down on the floor. Player 1 selects a card at random. He then asks player 2 to spell the word.
4th Grade
Write each word group in alphabetical order. (example: children, brushes, echoes, compasses, buffaloes --> brushes, buffaloes, children, compasses, echoes)
4th Grade
For this activity, your students will write all of this week's spelling words (including review and challenge) in alphabetical order.
4th Grade
Cut out words, place them on the table in alphabetical order, then glue them onto the worksheet.
4th Grade
Here's the form for the unit twelve spelling assessment.
4th Grade
Use this list of spelling sentences to read to your class when they take this unit's spelling test.
4th Grade
Here are all spelling words in the 30 units of the STW spelling curriculum.
Spelling Unit D-13
Fourth grade spelling Unit D-13 are all words that end in -ed and -ing. List: sobbed, preferred, argued, worrying, smiling, flying, visited, participating, lied, shortened, wandered, allowing, concealing, admitted, controlled, stopping, traveling, poured, lying, inherited, targeting, and laughing.
Full Grade 4 Spelling
This index page can connect you to any unit in the 4th grade spelling series.