Christmas & Winter Spelling Unit (Grade 3)
This is our 3rd grade Christmas & Winter spelling unit. Below you'll find PDFs with a word list, ABC order worksheets, puzzles, and flashcards. Word list includes: snowman, Christmas, angel, reindeer, candle, merry, elf, wreath, winter, snowflakes, carols, sleigh, lights, Santa, and holly.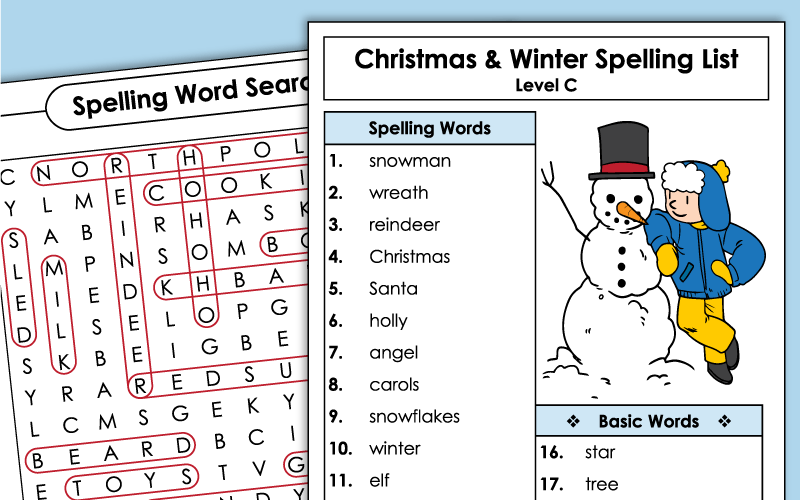 This list features the words snowman, winter, Santa, sleigh, reindeer, lights, elf, wreath, snowflakes, Christmas, carols, holly, angel, merry, and candle.
3rd Grade
Students will circle the spelling word in each sentence in this printable activity. If the spelling word is misspelled, they will write it correctly on the line provided.
3rd Grade
Unscramble the letters in the Christmas and winter-themed words.
3rd Grade
Students neatly write each spelling word two times each.
3rd Grade
Find spelling words hidden in the puzzle. Words can be found diagonally, horizontally, and vertically.
3rd Grade
Challenge kids to make their own word search puzzle. They can hide each of their words on the grid paper horizontally, vertically, and diagonally. Then they have a friend or family member solve the puzzle.
3rd Grade
Practice typing skills by using a word processor with this activity. Students type their spelling words into complete sentences.
3rd Grade
Here's a set of twenty printable flashcards with the Christmas and winter-themed spelling words.
3rd Grade
Create a word wheel and use it for small group instruction, peer study sessions, and/or spelling games.
3rd Grade
Re-write each group of words alphabetically. For example, "sleigh, snowman, Santa, snowflakes" is re-written as "Santa, sleigh, snowflakes, snowman."
3rd Grade
Write all words alphabetically, starting with angel and ending with wreath.
3rd Grade
Cut out the spelling words, arrange them alphabetically, and glue them down onto the worksheet.
3rd Grade
Use this page when administering the spelling assessment at the end of the week.
3rd Grade
Read these sentences aloud when giving your holiday-themed spelling test.
3rd Grade
Here is a PDF file with a master list of all spelling words in our third grade spelling series.
3rd Grade
Christmas Worksheets
This page has a HUGE selection of Christmas worksheets. Topics include addition, subtraction, multiplication, division, reading comprehension, poems, crafts, and graph art.
3rd Grade Spelling Series
We have 30 phonics-based spelling units for 3rd graders. View them all here.