3rd Grade Spelling Unit C-27
The words in spelling Unit C-27 all have /d/ or /t/ sounds. Word list: spider, tasted, littlest, pudding, wanted, middle, handle, bitter, ladder, hurting, butter, cattle, paddle, bottles, bandage, letter, and water.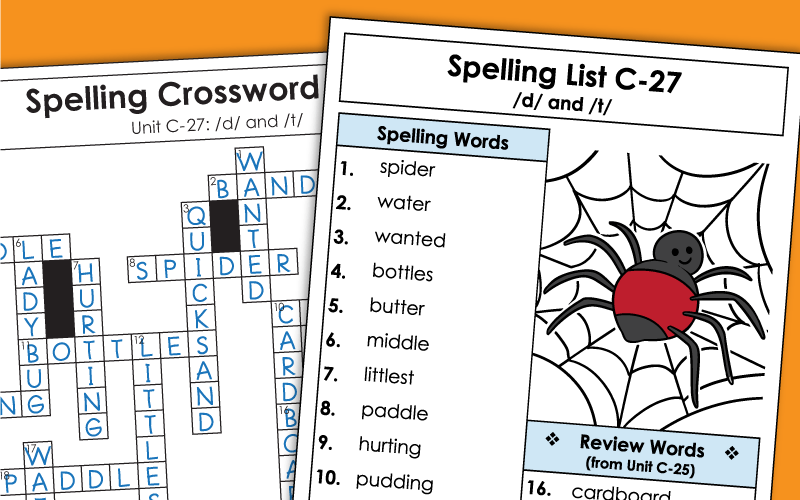 This week's spelling list covers words that contain the /d/ and /t/ sounds. The list includes the following words: spider, middle, littlest, paddle, letter, handle, hurting, butter, pudding, wanted, cattle, bitter, water, bottles, and ladder.
3rd Grade
Each sentence in this worksheet contains one of the spelling words from this unit. Determine whether the spelling word is spelled correctly or incorrectly. If incorrect, write the correct spelling on the line provided.
3rd Grade
Can your students complete the crossword puzzle using all the spelling words from unit 27?
3rd Grade
Unscramble the spelling words. For example: iprsed becomes spider.
3rd Grade
Write each of your spelling words two times.
3rd Grade
Look diagonally, horizontally, and vertically for words hidden in this puzzle.
3rd Grade
Your class can make their own word search puzzles with this template.
3rd Grade
Students will use this printable typing activity and a word processor to practice typing their spelling words.
3rd Grade
These cards have spelling words on them. Use them for study groups, spelling games, or small group instruction.
3rd Grade
Spin-and-Spell is a 2-player game. Player 1 spins the wheel and reads a spelling word aloud. Player 2 spells the word. After all words are completed, students switch roles. Whoever spells the most words correctly wins.
3rd Grade
Rewrite each list of words in alphabetical order. For example, "handle, butter, cardboard, cattle" becomes "butter, cardboard, cattle, handle".
3rd Grade
Write all twenty spelling words in alphabetical order, starting with the word bandage and ending with water.
3rd Grade
Cut out the word cards. Arrange the alphabetically on the numbered rectangles. Glue them down.
3rd Grade
Use this spelling test template for unit C-27.
3rd Grade
Here is a set of twenty sentences you can read aloud to your students during their Unit 27 spelling test.
3rd Grade
Here is a reference file with all lists in the grade-3/level-c spelling series.
Spelling Unit C-28
Third grade spelling Unit C-28 contains two-syllable words. List: website, behave, again, discuss, police, morning, between, lumber, basket, billion, brilliant, enter, athlete, every, kitten, danger, and bacon.
All Grade 3 Spelling Units
(Complete List)
Jump to the 3rd grade index page to link to any spelling unit in the STW spelling series.