Thanksgiving Spelling Unit: (Level B - Grade 2)
Here's a special Thanksgiving spelling list you can use with your 2nd graders. Words on this list are: dinner, roll, knife, butter, thank, food, fork, beans, family, plate, pie, turkey, corn.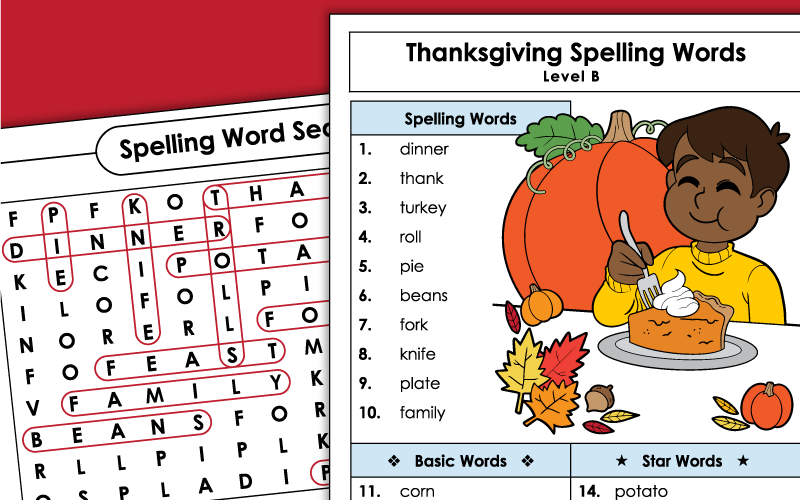 This unit features Thanksgiving-themed words. Students will learn to spell: turkey, dinner, roll, family, corn, food, butter, beans, pie, thank, fork, knife, and plate.
2nd Grade
In this printable worksheet, students will complete the sentence with a Thanksgiving word from the bank provided.
2nd Grade
Have your students unscramble the sentences. For example, "have I May slice a pie? of" becomes "May I have a slice of pie?"
2nd Grade
The letters in the spelling words are all mixed up. Challenge your students to rearrange the letters to make words.
2nd Grade
Write each spelling word on the list two times. This page features primary-ruled lines to help young students form their letters neatly.
2nd Grade
Find the spelling words hidden in the puzzle. All words are hidden vertically and horizontally.
1st Grade
In this printable activity, students will practice their typing skills by typing out their spelling words on a word processor.
2nd Grade
Printable flashcards that you can use along with this special Thanksgiving spelling unit for second grade.
2nd Grade
Students will take turns spinning the word wheel and testing each other on this unit's Thanksgiving-themed spelling words. Print this activity out on card stock or other firm paper.
2nd Grade
Your class can read their Thanksgiving-themed words with this pirate-shaped word slider. Print, cut, and assemble. Slide the word strip up and down to reveal the words. (Click the ALT button for a color version.)
2nd Grade
Write each group of Thanksgiving spelling words in ABC order. Includes review and challenge words.
2nd Grade
Cut out the Thanksgiving words at the bottom of the page. Then alphabetize them and glue them onto the numbered grid at the top.
2nd Grade
Write spelling words in alphabetical order, starting with the word beans and ending with turkey.
2nd Grade
This page has a picture of a Pilgrim boy, and lines for students to write this week's spelling words.
2nd Grade
Here are some sentences you can read aloud to students when you give your end-of-week spelling test.
2nd Grade
This file has all words for units 1 through 30 in the STW spelling series. There are also holiday and theme lists.
2nd Grade
Thanksgiving Printables
This page has a huge selection of Thanksgiving worksheets, puzzles, stories, literacy centers, and math lesson ideas.
2nd Grade Spelling Index
This page will link you to all thirty second grade (level b) spelling units in the STW spelling series.