Halloween Spelling Grade 2
This is our special Halloween spelling list unit. Word list includes: night, witch, spell, kettle, black, wand, broom, charm, fly, and brew. Printable files include a spelling word list, practice worksheets, flashcards, a word wheel, and assessment resources.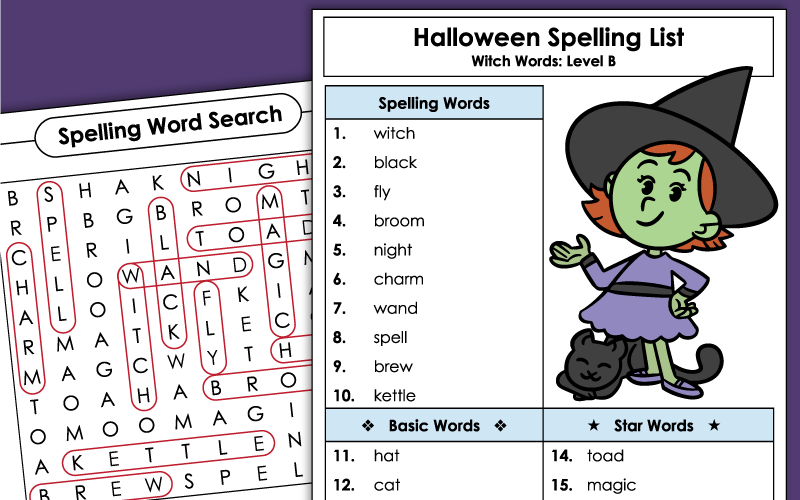 The 2nd grade Halloween spelling list has a witch theme and contains the following words: witch, black, wand, broom, charm, fly, kettle, brew, spell, and night.
2nd Grade
In this spelling activity, students will choose one of their Halloween spelling words from the word bank to complete each sentence. An answer key is included.
2nd Grade
Each group of words can be rearranged to make a Halloween sentence. Each sentence has 1 or 2 words from the list in it.
2nd Grade
The letters in the spelling words are all mixed up. Unscramble them and write the words on the primary-ruled lines.
2nd Grade
On this worksheet, students write each word twice on the primary-ruled lines.
2nd Grade
Find all of the witch-themed spelling words in the puzzle. All words hidden horizontally and vertically. There are no diagonal words in this puzzle.
2nd Grade
Students will use a word processor to type out their spelling words in this exercise.
2nd Grade
Use the word wheel to play a 2 player game. Player 1 spins the wheel and reads the words aloud. Player 2 spells each word.
2nd Grade
Here's a set of flashcards with the spelling words on them. Use them for classroom games, small group instruction, or peer study sessions.
2nd Grade
Use this apple-shaped word slider so students can practice reading their Halloween spelling words. (Use the ALT button to get the full-color version.)
2nd Grade
On this worksheet, Halloween-themed spelling words are broken up into 5 smaller groups. Students must write each word group in alphabetical order.
2nd Grade
Cut out the Halloween witch words and arrange them alphabetically on this page. Note: Be sure you choose "landscape" on your printer settings.
2nd Grade
List all of the new spelling words alphabetically, starting with the word black and ending with the word witch.
2nd Grade
This spelling test paper has a picture of a cute witch on the top. Students write the spelling words on the lines as the teacher reads them aloud to the class.
2nd Grade
You can read these sentences aloud to your class as you give the spelling assessment. When you read the sentences, they'll tell a cute story about a friendly witch named Kiki.
2nd Grade
This file contains the master lists for all units in our 2nd grade spelling series. There are 30 regular units, plus holiday units.
3rd Grade
Halloween Worksheets
This page has a HUGE selection of printable reading and match activities you can use with your class during the Halloween season.
More Spelling Units
This link will send you to a page with all 30+ units in the STW 2nd grade spelling series. Each unit has a word list, worksheets, ABC order activities, a puzzle, flashcards, a word wheel, and test resources.