2nd Grade Spelling Unit B-24
The spelling Unit B-24 for second grade contains compound words. Spelling list: bedroom, sometime, herself, sidewalk, into, bulldog, maybe, football, without, butterfly, anything, and cupcake.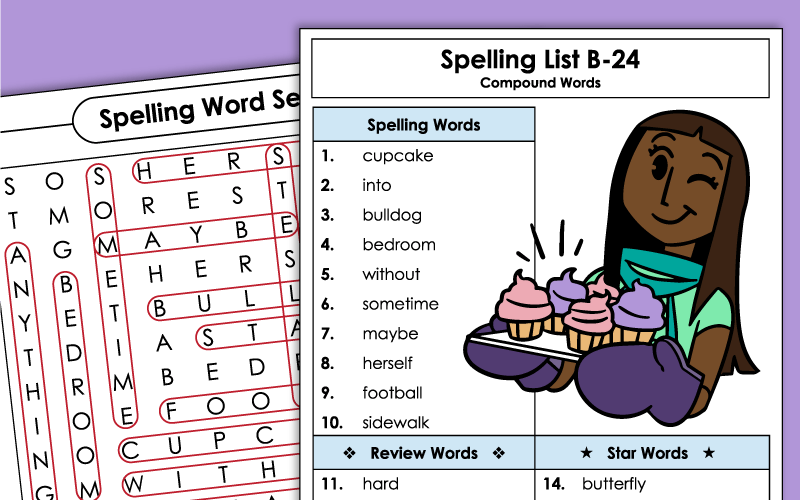 The words in this list are all compound words. List includes: cupcake, sometime, into, football, maybe, herself, sidewalk, anything, bulldog, butterfly, bedroom, and without.
2nd Grade
In this printable spelling activity, students will complete the sentence with a spelling word from the bank provided. An answer key is included.
2nd Grade
Students will rearrange the words to form a complete sentence. Each sentence contains one spelling word from Unit 24.
2nd Grade
In this activity, students attempt to unscramble as many spelling words as they can.
2nd Grade
Find compound words hidden in the puzzle.
2nd Grade
Write the spelling words two times each on the primary-ruled lines provided.
2nd Grade
Students will use this printable exercise to practice typing their spelling words on a word processor.
2nd Grade
Here is a set of flashcards for your students to study for this week's spelling test. These printable flashcards are great for spelling activities, review games, and quiet study time at home.
2nd Grade
This fun word wheel can be used for a multi-player game in which one student reads the words aloud, and other students spell the words.
2nd Grade
Your class can practice reading fifteen different spelling words from Unit
B-24 with this pig-shaped word slider. (The ALT button below has a color version.)
2nd Grade
Alphabetize each group of compound words. (This activity includes challenge and review words.)
2nd Grade
Cut out the ten new words for this week and arrange them in alphabetical order.
2nd Grade
This page has blank lines for students to write their spelling words in alphabetical order.
2nd Grade
Kids can write their words on this spelling test worksheet.
2nd Grade
On this printable file, you have a set of spelling sentences to read when you give the end-of-week test.
2nd Grade
Here is a full set of word lists for all 30 second grade spelling units in the STW spelling curriculum.
Spelling Unit B-25
Second grade spelling Unit B-25 contain words with a long-oo sound. Word list: suit, true, fruit, rule, drew, glue, cube, screw, juice, flew, new, and blue.
Second Grade Spelling
This link will take you to the main index page for 2nd grade spelling. You can link to any spelling unit from here.