2nd Grade Spelling Unit B-11
2nd grade spelling Unit B-11 consists of words with /th/, /wh/, /ch/, and /sh/ sounds. List: the, when, chart, what, both, chair, this, sheep, who, crash, they, and why.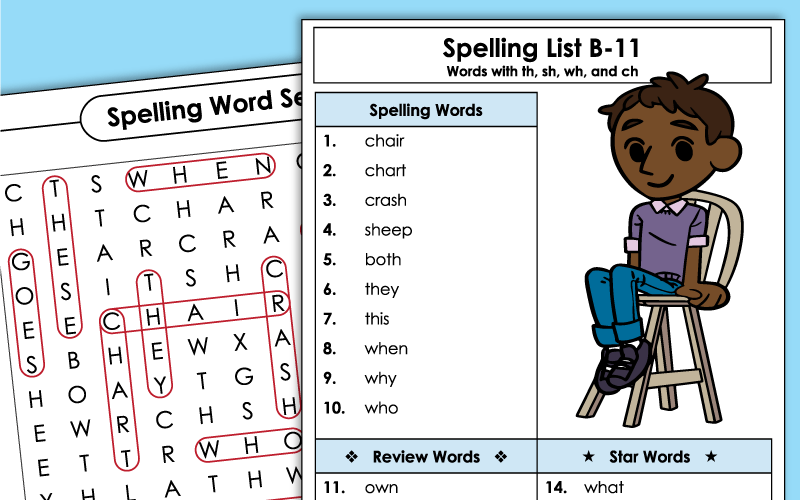 In unit 11, students will spell words with TH, WH, SH, and CH. List: chair, sheep, why, who, when, both, chart, they, this, crash.
2nd Grade
For this activity, children complete each of the sentences with a spelling word from the word bank.
2nd Grade
Unscramble the letters in the unit eleven spelling words.
2nd Grade
Unscramble the words to make complete sentences. While not all spelling words are used, each sentence does contain 1 or 2 words from this week's list.
2nd Grade
On this worksheet, kids will write all fifteen of their spelling words twice.
2nd Grade
Find each word in the puzzle and mark it with a highlighter or crayon.
2nd Grade
Students will type their spelling words using a word processor along with this printable spelling activity.
2nd Grade
Students will get extra practice with this week's spelling words when they use these 15 printable spelling flashcards. There are many ways to use these spelling flashcards as a study aid, so begin today!
2nd Grade
Print this document on card stock. Cut out the word wheels and attach them together with a brass paper fastener.
2nd Grade
Students can study their spelling words from Unit B-11 with this penguin-shaped word slider. (Color version available via ALT button below.)
2nd Grade
This weeks spelling words are separated into groups of two, three, and four. Alphabetize each group, and write each word on the space provided.
2nd Grade
Kids will write all of their spelling words in alphabetical order.
2nd Grade
Cut along the dotted lines at the bottom of the page. Then sort the word cards to arrange them in ABC order. After that, the cards can be glued onto the paper.
2nd Grade
On this page on lined paper, pupils can write their spelling words as their teacher reads them aloud.
2nd Grade
This page has sentences you can read when administering the spelling test.
Here is a complete collection of word lists for the second grade spelling series, units 1 through 30, with holidays and themes.
Spelling Unit B-12
Unit B-12 in the second grade spelling series features words that have double consonants that end in -ed and -ing. Word list: clapping, planned, running, carried, trapped, shipped, tagged, patted, sitting, worrying, getting, and stopping.
Spelling Level B
Access all thirty 2nd grade spelling units from this page.