Thanksgiving Spelling Unit (Grade 1)
This is our special Thanksgiving spelling unit for first graders. Word list includes: thank, roll, gravy, food, eat, corn, turkey, and pie. Bonus words are family and potato.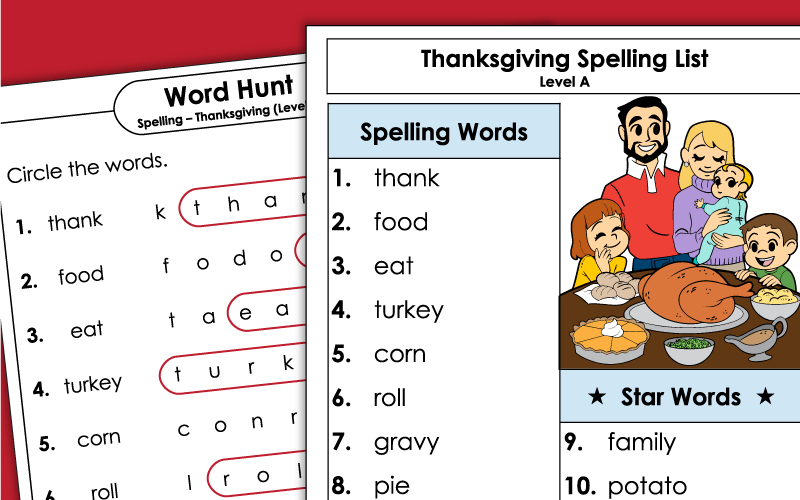 This Thanksgiving spelling list has eight basic words and two star words. List includes: thank, turkey, corn, roll, pie, gravy, eat, and food. Star words are potato and family.
1st Grade
Can you unscramble each of the Thanksgiving spelling words? An answer key is included.
1st Grade
Cut and arrange the 25 word cards to make complete sentences. Included in the word cards are the 10 Thanksgiving spelling words from this unit.
1st Grade
Write each Thanksgiving spelling word two times on the primary-ruled lines.
1st Grade
These Thanksgiving spelling words are hidden in horizontal word search activity.
1st Grade
Here's a set of printable flash cards you can use for classroom games, learning centers, or spelling study sessions.
1st Grade
Make a word wheel by cutting out a pair of circles and connecting them with a paper fastener. Spin the wheel and spell the Thanksgiving words.
1st Grade
Print, cut, and assemble this pirate-themed word slider to practice spelling words from the Thanksgiving Unit. (Click on the ALT button below for a full-color version.)
1st Grade
Cut out the Thanksgiving word cards. Arrange them alphabetically on the worksheet. Then attach each word card with a glue stick.
1st Grade
Write out the complete list of your Thanksgiving spelling words in alphabetical order. An answer key is included.
1st Grade
Listen carefully as your teacher reads the Thanksgiving spelling words aloud. Write each word neatly on the lines.
1st Grade
Here are some sentences you can read when administering the spelling test.
1st Grade
This PDF has a complete list of all spelling units in our Level A (grade 1) spelling series.
1st Grade
More 1st Grade Spelling Units
Browse all 30 spelling units for 1st graders. Each unit has worksheets, assessment resources, and puzzles.
Thanksgiving Worksheets
This page has Thanksgiving math worksheets, reading comprehension passages, and crafts for kids.