Spelling Theme Unit: Farm Words
This spelling unit has words with a farm theme. Word list includes: farm, duck, barn, hen, pig, corn, hay, and cow.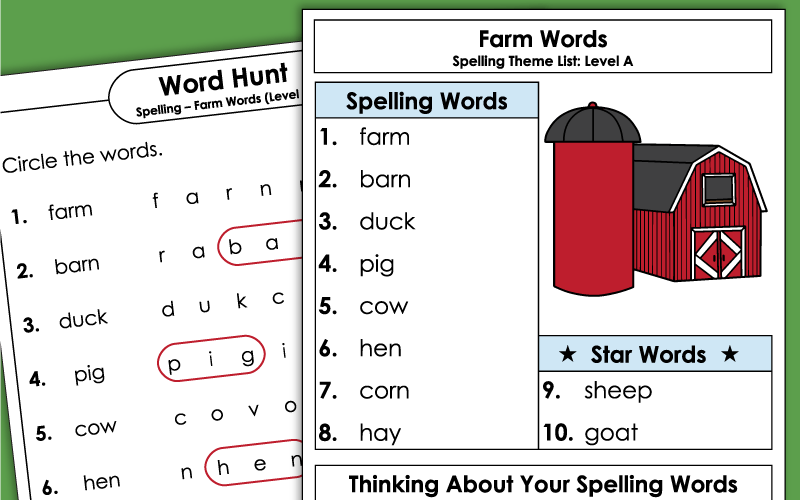 This spelling list has farm words. List: barn, farm, cow, hen, duck, hay, pig, and corn.
1st Grade
Students will answer questions about their farm-themed spelling words in this printable spelling activity.
1st Grade
In this spelling activity, students will complete the sentences using a spelling word from the word bank provided.
1st Grade
Students will unscramble the words and rewrite the complete sentence on the lines provided. An answer key is included with this printable spelling activity.
1st Grade
Unscramble the letters to make spelling words from this week's list.
1st Grade
This worksheet has 25 word cards with the 10 Farm-themed spelling words on them that can be cut out and arranged into sentences.
1st Grade
Write each farm-themed spelling word two times each.
1st Grade
Students can hunt for farm spelling words hidden among each row of letters.
1st Grade
Here is a set of flashcards with this week's spelling words on them. They can be used for small group lessons, practice games, and study sessions.
1st Grade
Assemble a word wheel with farm spelling words. One student spins the wheel and reads the words aloud. Another student tries to spell each word.
1st Grade
Cut out the pig and word strip on the dotted lines. Weave the word strip through the slots in the middle of the pig and move up and down to reveal the words in this spelling unit. (Color version available via ALT button below.)
1st Grade
Cut out the word cards at the bottom of the page. Place them in ABC order on the grid. Paste them down with a glue stick.
1st Grade
Students can write all of their spelling words alphabetically on this worksheet.
1st Grade
Students listen carefully to the words and sentences read by their teacher. They write the spelling words on this page.
1st Grade
You may choose to read these sentences aloud when giving the end-of-week test.
1st Grade
This file has all spelling words in our grade 1 spelling series.
1st Grade
Spelling Level A
Link to any of the 30+ units in our first grade spelling series.
Reading Comprehension
This page has lots of 1st grade reading comprehension passages, including stories, poems, and non-fiction articles.