1st Grade Spelling List A-23
Spelling unit A-23 has long-a words, including way, aim, train, rain, lay, may, stay, and day. On this page, you'll find a nice selection of printables, including cloze activities, a question worksheet, two ABC ordering exercises, handwriting practice, and more.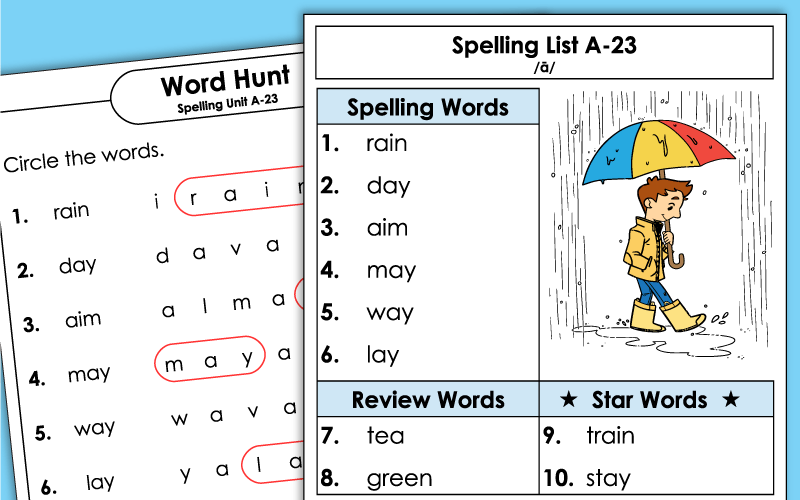 These words have the long-a vowel sound, spelled with ai and ay. Rain, stay, aim, way, lay, may, train, and day.
1st Grade
Students will answer questions about their Unit 23 spelling words in this printable spelling activity. An answer key is included.
1st Grade
Complete each sentence with a spelling word from the word bank provided.
1st Grade
You kids can unscramble the letters to make long-a spelling words.
1st Grade
Kids will enjoy cutting out the 25 word cards to make sentences for the 10 spelling words in this unit.
1st Grade
Unscramble each of the sentences. Every sentence has at least one spelling word in it.
1st Grade
On the primary-ruled lines, write your spelling word two times each.
1st Grade
In this horizontal word find puzzle, kids will search for long-a words, such as: rain, day, aim, and may.
1st Grade
Flashcards can help your students excel in their spelling lessons. This set of ten flashcards is ideal for quiet study time, group review time, or classroom games.
1st Grade
With this fun word wheel, pairs of students can quiz each other and play a spelling review game.
1st Grade
Print, cut, and put this apple-shaped word slider together which contains the spelling words from Unit A-23. (Click the ALT button for a full color version.)
1st Grade
Use scissors to cut out the small word cards. Then arrange them alphabetically on your paper.
1st Grade
Write all of this week's spelling words in alphabetical order, starting with aim and ending with way.
1st Grade
When giving your spelling test on long-a words, use this template.
1st Grade
Use these sentences when giving your unit twenty-three spelling test.
1st Grade
This is PDF file that contains an array of our word lists for each of the units in our first grade spelling series.
Spelling Unit A-24
Spelling unit A-24 has STW's fourth sight word list. Includes: find, could, people, some, only, there, were, and where. Your pupils should know how to read and spell these words instantly, without trying to sound out the individual letters.
Spelling Level A
Access all thirty 1st grade spelling units from this page.