1st Grade Spelling List A-17
More consonant blends! This week, we focus on sn, st, and sp words. Snip, stick, spin, stop, step, snug, snack, and spot.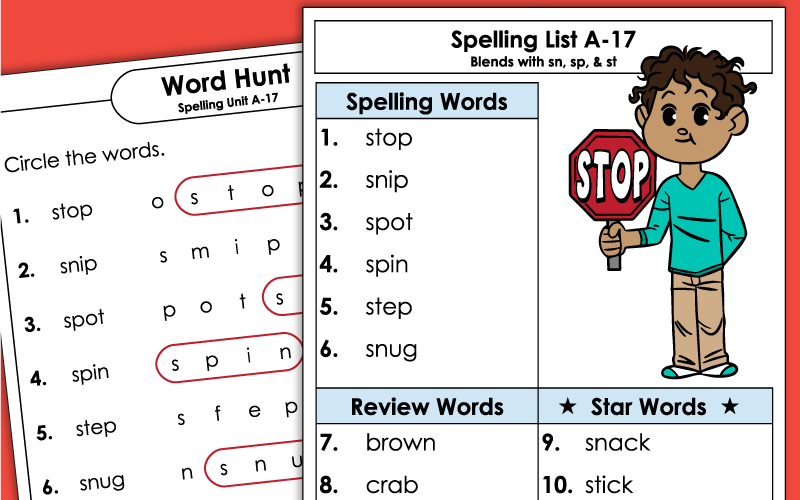 This week's words have the /sn/, /st/, and /sp/ consonant blends. stop, spin, spot, stick, snack, snip, snug, and step.
1st Grade
In this spelling exercise for kids, students will answer questions about their weekly spelling words.
1st Grade
Students will complete the sentences with a spelling word from the word bank. An answer key is included.
1st Grade
For this activity, your students must unscramble each spelling word from this week's list.
1st Grade
Kids can arrange the word cards to make complete sentences with their spelling words. Each worksheet contains 25 word cards.
1st Grade
Unscramble the sentences on this page. Each sentence has a spelling word in it.
1st Grade
Write each spelling word on the primary-ruled lines.
1st Grade
Will your students be able to find all of their spelling words hidden in the horizontal rows of letters?
1st Grade
Take a look at this great set of spelling flashcards! Your students will quickly master their spelling words with the help of this study aid.
1st Grade
This word wheel can be used as a two-player game, or in a learning center.
1st Grade
Print out this file to build a cute bear-shaped spelling word slider containing words from Unit A-17. (Click on the ALT button below for a full color version.)
1st Grade
Cut out the word cards, arrange them in ABC order, and paste them to the numbered grid at the top of the page.
1st Grade
Starting with the word brown, write all spelling words in alphabetical order.
1st Grade
On this page, kids write their spelling words as they're read aloud.
1st Grade
Here is a set of sentences you can read aloud to your students during this unit's spelling test.
1st Grade
Here is the entire list of our set of spelling units for grade 1.
Unit A-18 Spelling
This is the third sight word unit in our first grade spelling series. Word list includes: your, many, two, into, been, who. Bonus (star) words are their and would. Students should know how to read and spell these words quickly without taking time to sound out the letters.
Spelling: 1st Grade Full Index
This Level-A index page can connect you to any unit in the STW spelling curriculum.