1st Grade Spelling List A-15
This week your spelling topic is consonant blends br, cr, and fr. Word list includes: frost, crib, brown, free, brick, and crab.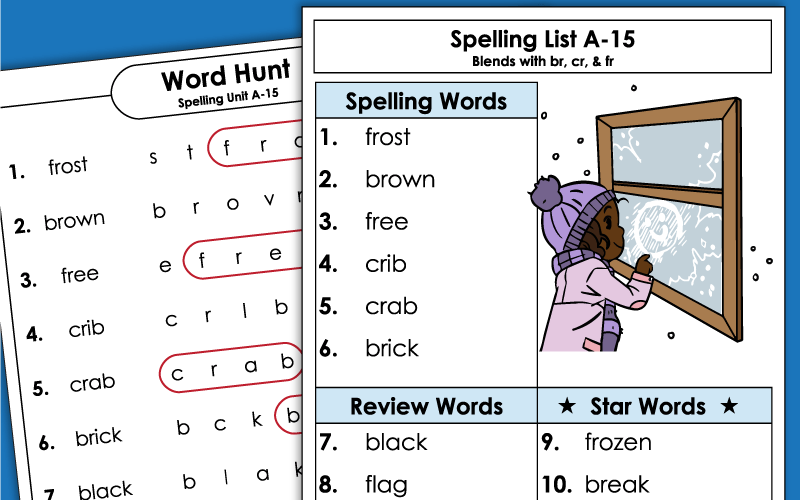 This week's spelling list has the words frost, crab, frozen, brick, free, break, crib, and brown.
1st Grade
Students answer questions about their weekly spelling words in this printable spelling worksheet.
1st Grade
In this printable spelling activity, students will complete the sentences with a spelling word from the word bank provided.
1st Grade
Challenge your students to unscramble the letters in all of these mixed-up spelling words.
1st Grade
Create sentences for the 10 spelling words by cutting out the 25 words cards and arranging them.
1st Grade
If you unscramble the sets of words, you can create make complete sentences.
1st Grade
On this printable page, students practice writing each spelling word two times.
1st Grade
Challenge your students to find the hidden spelling words in the horizontal word search rows.
1st Grade
Use this word wheel to play a spelling game with a friend or classmate.
1st Grade
You'll definitely want to use these printable flashcards to help your young learners master their spelling words for this week. Use the flashcards for classroom activities and games.
1st Grade
Your students can use this word slider to practice learning spelling words from Unit A-15. (Use the ALT button below for a full color version.)
1st Grade
First, students cut out the word cards at the bottom of the worksheet. After that they alphabetize the words. The tape or glue them onto the page.
1st Grade
Write all of the spelling words in alphabetical order, starting with the word black and ending with frozen.
1st Grade
Use this printable testing template of Friday for your students' spelling assessment.
1st Grade
Here is a set of sentences you can read to your students during their spelling test for this unit.
1st Grade
This link contains a complete list of all of our units within the first grade spelling series.
Grade 1 Spelling A-16
Consonant blends gr, pr, and tr are the focus for this week's first grade spelling study. Word list: trip, print, trash, grid, trap, prop, gram, and press.
Index First Grade Spelling
Jump over to the index of all Level A (first grade) spelling lists. There are thirty spelling units, plus themed units, and holiday-themed lists too.