With the printable teaching resources on this page, students will study the sight words: then, bad, ate, and good. The featured noun is sun. Begin the unit by sending home a word list and home review activity. Then you can choose a few of the many related activities to complete in class. At the end of the week you can give one of the sight word assessments.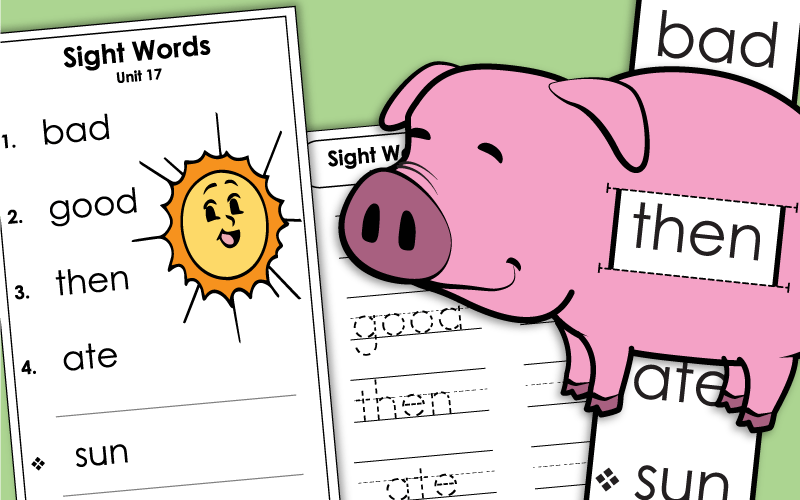 Color and cut out this pig-shaped word slider. Slide the word strip up and down to practice Unit 17 sight words. (Print this activity on card stock paper for best results.) Color version available by pressing the ALT button below.
Pre-K through 1st Grade
Print and cut out these flashcards. Use them for small group practice sessions or take-home practice.
Pre-K through 1st Grade
Spin the wheel to practice reading this week's sight words.
Pre-K through 1st Grade
This printable has this week's sight words written on strips. They'll fit nicely in your pocket charts, or use them to make a word wall in your classroom.
Pre-K through 1st Grade
Have your students read a list of this week's words. Track their progress on these assessment score sheets.
Pre-K through 1st Grade
Print this test and give it to your class. Read aloud the sight words from the list and have your students circle the words they hear.
Pre-K through 1st Grade
This is the complete list of high-frequency words that your students should master this school year.
Pre-K through 1st Grade
STW Sight Words: Unit 18
Here is the 18th unit in our sight word series. This unit contains a take-home word list, tests, a word slider, worksheets, and flashcards.
Sight Words Units (Full List)
This page will link you to an index of all 30 STW sight word units in this series.