Leap Year & Leap Day Printables
This page has printable Leap Day (February 29th) worksheets and activities for kids of all ages. There's a reading comprehension story, a poem, a cut-and-glue headband craft, word puzzles, and math worksheets.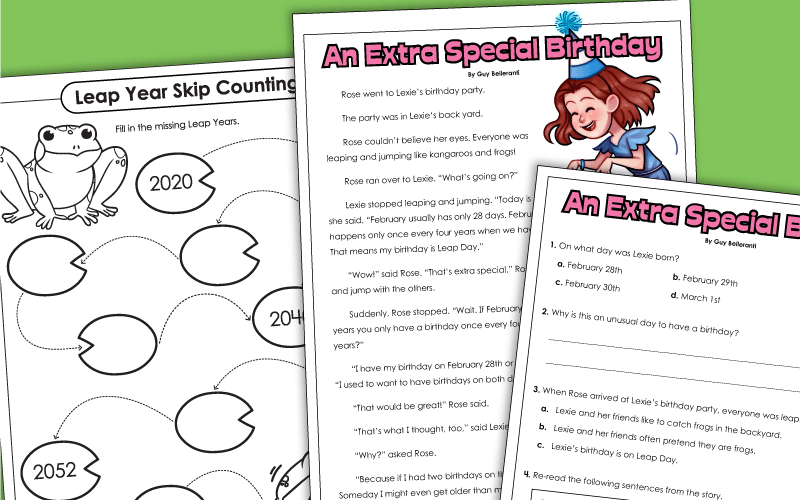 Help the frog jump across the lily pads. Use skip counting skills to fill in the missing Leap Years.
2nd through 4th Grades
This worksheet has questions about the number of days in a Leap Year and non-Leap Year. Students are also asked to circle the LYs in a list. They are also asked to explain how you calculate which years are LYs and which are not.
3rd through 6th Grades
Here's a fun headband that your students can color, cut out, and wear around the school on the 29th of February.
Pre-K through 1st Grade
In this fiction story, Lexie has a very special birthday, February 29th. At her birthday party, Lexie, Rose, and their friends celebrate by leaping like frogs. This 6-page file includes a reading passage, comprehension questions, a vocabulary activity, and a writing prompt.
2nd through 4th Grades
This is a great poem to teach on Leap Day. Includes comprehension questions on page 2.
3rd through 6th Grades
How many words can you make using the letters in LEAP DAY? (examples: lead, pad, lady) Cut out the letters and rearrange them to make words.
1st and 2nd Grades
Cut out the letters in the words LEAP DAY. Use the letters to make as many 3, 4, and 5-letter words as you can.
3rd through 5th Grades
Holidays, Events, and Special Days
Super Teacher Worksheets has worksheets for all major holidays, including Valentine's Day, St. Patrick's Day, Easter, and more.