Juneteenth, also known as Freedom Day, is a US federal holiday celebrated each year on June 19 to commemorate the emancipation of slavery. Here you will find lots of printable worksheets for teaching students about Juneteenth.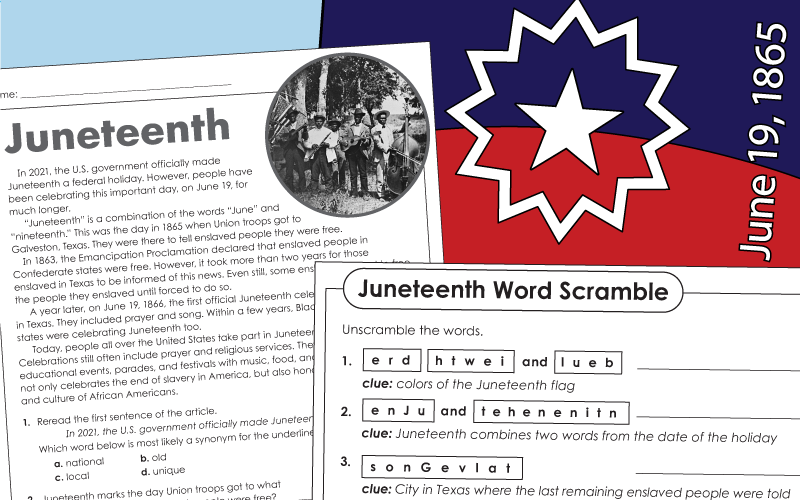 Students can use this worksheet to practice their bar-graph skills. The images are based on activities people do while celebrating Juneteenth.
2nd and 3rd Grades
These multiplication arrays feature images related to the holiday of Juneteenth.
2nd through 4th Grades
Students can practice their number-recognition skills with this color-by-number page. Depending on which of the two worksheets in the file they complete, their picture will either be Abraham Lincoln or the state of Texas.
Kindergarten and 1st Grade
Solve the addition problems and color according to the key to reveal the mystery pictures.
1st through 3rd Grades
This worksheet shows the same images as our Juneteenth addition mystery picture, but requires students to solve multiplication problems.
2nd through 4th Grades
Divide the numbers in each section and then color accordingly to reveal the mystery picture.
3rd and 4th Grades
Print out this full-color image of the Juneteenth flag to use when teaching about the holiday.
This is a black-and-white version of the Juneteenth flag. It can be used as a coloring activity, or simply to teach about the holiday.
This short article briefly explains the history of Juneteenth. Then there are four reading comprehension questions for students to answer.
4th through 6th Grades
For this maze, students can find their way through the Juneteenth flag.
Find and circle the words in this puzzle. All words are related to the holiday of Juneteenth.
Use the clues to help you unscramble the terms related to Juneteenth.
More Holiday Worksheets
Super Teacher Worksheets has worksheets for many other holidays, seasons, and special days and months.