This page has printable Easter crafts for your students. Make an Easter bunny cut-out craft, paper bag puppets, an Easter basket, cootie catchers (fortune tellers), and more.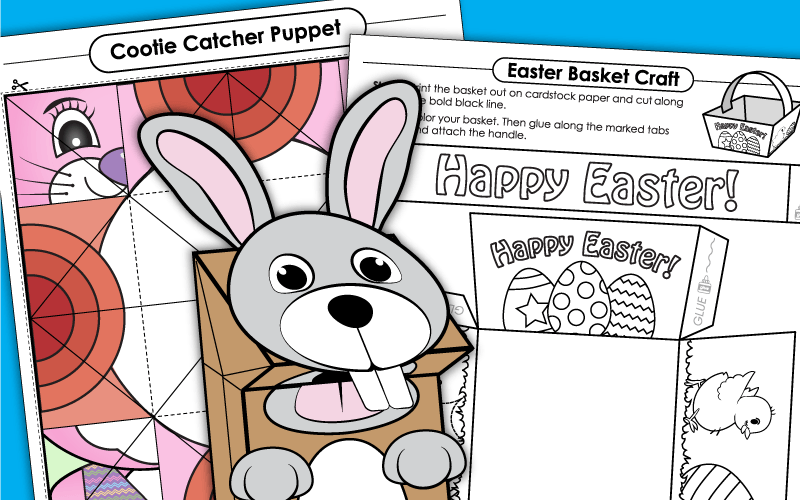 Kids love to make this bunny with arms and legs that move. Color and cut out the rabbit's parts, then attach them together with brass paper fasteners.


Logged in members can use the Super Teacher Worksheets filing cabinet to save their favorite worksheets.
Quickly access your most used files AND your custom generated worksheets!
Please login to your account or become a member and join our community today to utilize this helpful feature.

Color, cut, fold, and glue to make a fun Easter basket. For best results, print on thick card stock.
Kindergarten to 3rd Grade
Cut out the rabbit's ears, face, mouth, arms, legs, and tail. Then glue them onto a paper bag to make an adorable Easter Bunny puppet.
Kindergarten to 3rd Grade
Cut and fold this cute Easter bunny cootie catcher (aka origami fortune teller) for some Easter fun!
Cut and fold this Easter cootie catcher activity to make a pink Easter bunny!
4th through 6th Grades
This packet features nine Easter egg designs for students to color in. There is also a blank egg for students to make their own design.
Get creative and color your own unique Easter egg design.
Each student makes their own Easter bingo board using the picture squares. Then the class plays Easter bingo together.
Kindergarten to 2nd Grade
This is a game for 1, 2, or 3 players. The Easter eggs on these pages have numbers on them. Players take turns searching for pairs that have sums of thirteen. (10+3, 9+4, 8+5, 7+6, etc)
1st through 3rd Grades
Color the April Calendar, then add this year's important dates. This cute calendar has pictures of umbrellas and flowers.
More Easter Worksheets
Click here to access Easter-themed math worksheets, crafts for kids, word puzzles, early literacy activities, and much more.