Christmas Puzzles & Classroom Games
Here you'll find Santa's favorite classroom games, word puzzles, and brain teasers. Printable activities and worksheets on this page include a Christmas word search puzzle, a seasonal bingo game, a crossword puzzle, a word scramble worksheet, and much more.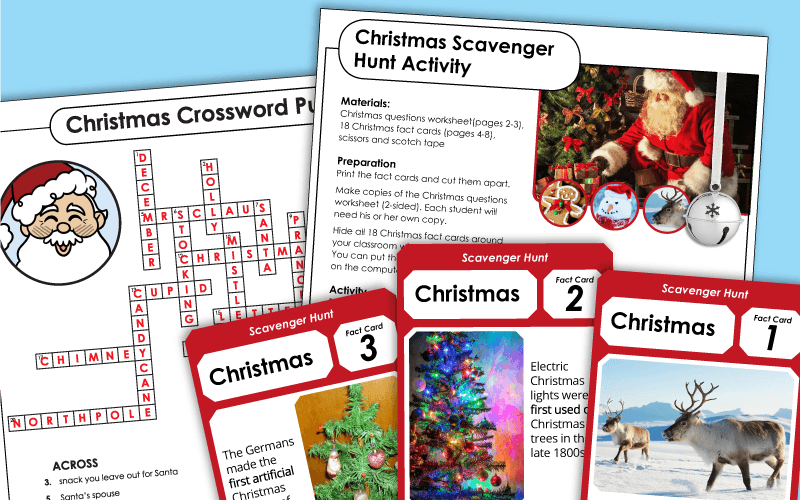 Students cut the pictures and attach them to the bingo board.


Logged in members can use the Super Teacher Worksheets filing cabinet to save their favorite worksheets.
Quickly access your most used files AND your custom generated worksheets!
Please login to your account or become a member and join our community today to utilize this helpful feature.

Find out fun Christmas facts with this classroom scavenger hunt activity. Students will learn about the history of Christmas traditions, along with information about Christmas around the world.
How many Christmas words and phrases can you unscramble?
This printable Christmas criss-cross puzzle includes words like Santa, reindeer, and mistletoe, and ornaments.
Use the picture key to decode the secret Christmas message.
Find the reindeer, Claus, sleigh, elves, and other Christmas words in this puzzle.
Figure out the names of the popular Christmas carols using the images.
1st through 4th Grades
Two or more players.  Players have one minute to brainstorm as many words as they can for each category.  Categories include: Christmas carols, Christmas movies, Things that fit into a stocking, Snowman parts, and more.
Can you find the answers to these funny Christmas riddles?
Match the beginning of each Christmas word on the left with the end of each Christmas word on the right.
2nd through 4th Grades
Special letter paper formatted for a letter to Santa; Includes holiday graphics and lines for date, salutation, body, closing, and signature.
1st through 4th Grades
Lined paper with a candy cane border.
Print out the game board. Then color pairs of adjacent numbers that add up to 17. The player with the most colored shapes wins.
Kindergarten to 3rd Grade
Plot the points on the coordinate plane and connect the dots to create a Christmas tree picture.
4th through 6th Grades
Plot points on the coordinate grid graph paper and connect the dots to create a Santa Claus illustration.
4th through 6th Grades