Have fun with your students on April Fools' Day. Give them a copy of the animal word search (with no animal words in it). Or, read about the history of April Fools with the non-fiction reading comprehension passage.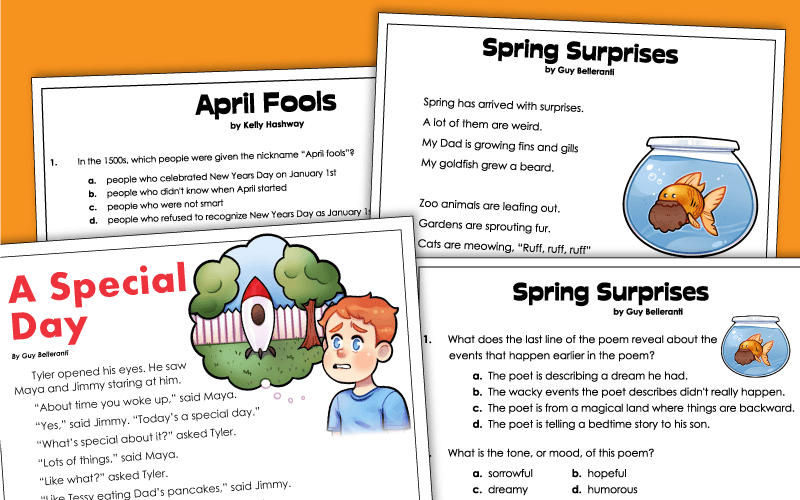 Have your kids find the animal words in hidden in the word search puzzle. (Of course, there are no animal words in the puzzle! April Fool!) This puzzle is not solvable. Watch your students search and search for words that aren't there.
3rd through 8th Grades


Logged in members can use the Super Teacher Worksheets filing cabinet to save their favorite worksheets.
Quickly access your most used files AND your custom generated worksheets!
Please login to your account or become a member and join our community today to utilize this helpful feature.

Your students won't be able to find the words hidden in this word search. Why? Because they're not in the puzzle at all! If you're feeling a little devious, hand out copies of this puzzle to your class.
3rd through 8th Grades
Spring has brought with it many surprises! The biggest surprise of all is an April Fool's Day joke! Poem includes reading comprehension questions, vocabulary words, and a writing prompt.
4th Grade
Tyler's siblings wake him up with some unusual news! Spaceships are landing in the backyard and their dad is eating dog food. Could it be an April Fools trick?
3rd Grade
Learn all about the history of April Fools Day around the word.
4th through 6th Grades
Holiday Worksheets
We have thousands of holiday worksheets, crafts, and activities for your classroom. Holidays include: Pi Day, Dr. Seuss' Birthday, Christmas, Thanksgiving, and more!