Summer Snack Recipe: Healthy Homemade Gummies
By Leah | July 3, 2023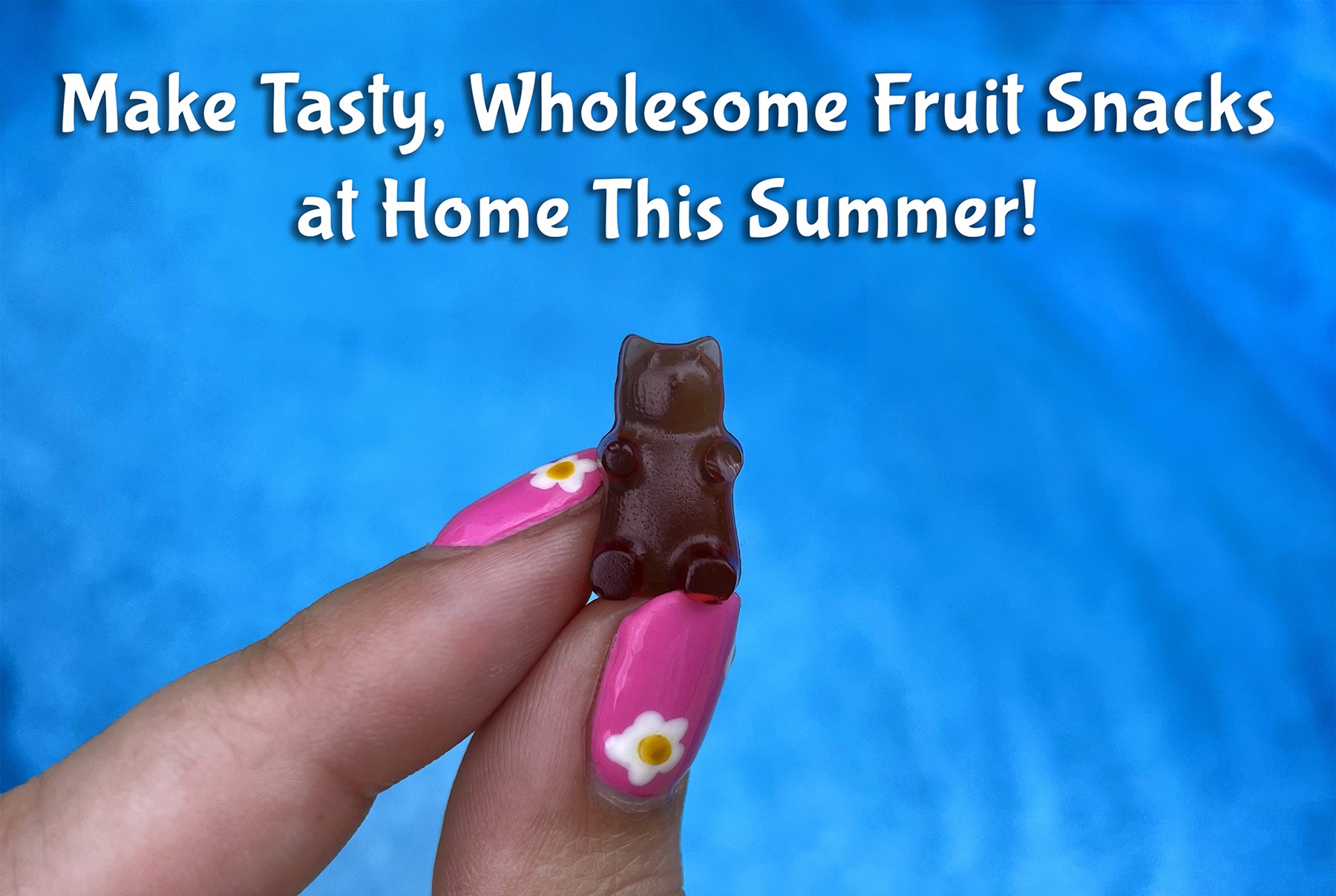 Fruit snacks, or gummies, are an easy and delicious grab-and-go snack for your family's fun summer activities. In our July blog post, check out a simple recipe for healthy homemade fruit snacks your kids will love. Keep reading to find out more.
Homemade vs. Store-Bought Fruit Snacks
If you can buy fruit snacks at the store, why bother making them at home? We're glad you asked! Like so many sweet and savory snack foods kids love, homemade gummies beat store-bought varieties with superior ingredients that yield a tastier and more wholesome treat. Here are a few common ingredients found in one popular gummy bear brand:
Corn Syrup, Artificial and Natural Flavors, Yellow 5, Red 40, Blue 1…
Yikes! We're not sure where the Yellow 5 grows, but fortunately, you won't need any in this recipe for healthy homemade gummies. We opted for all-natural ingredients, including one superfood that has lots of good things to offer growing kiddos: organic, grass-fed gelatin.
Gelatin Benefits
Gelatin is the main ingredient in gummies, homemade or otherwise, as it helps them firm up and take shape. The quality of your gelatin is important, and we recommend using organic, grass-fed gelatin for your fruit snacks. Here are some benefits of gelatin for kids' growing bodies (as well as for everyone else!):
Heals the gut and promotes healthy digestion
Promotes healthy hair, skin, and nails
Protects joints and aids bone development
Provides protein, an important energy source for the body
Boosts brain function and may positively affect mental health
That's a lot of goodness packed into little gummies!
Now, let's get started.
Healthy Homemade Gummies Recipe
You will need:
Silicone Gummy Mold
Baking Sheet
Dropper
Glass Baking Dish
Small Saucepan
Stir Spoon
Ingredients:
¾ cup fruit juice of your choice
1 Tbsp fresh lemon or lime juice
3 Tbsp honey
3 Tbsp organic, grass-fed gelatin
Instructions:
1. Place the silicone gummy mold on a baking sheet and set aside.
2. Combine fruit juice, lemon or lime juice, and honey in a small saucepan over medium-low heat.
3. Whisk in gelatin one tablespoon at a time and continue to stir until all ingredients are well-combined and gelatin is dissolved.
4. Bring the mixture to a gentle simmer and then turn off the heat.
5. Use a dropper to transfer the mixture from the saucepan to the gummy mold. Place the mold in the refrigerator or freezer to set.
6. Once the gummies have set, remove them from the mold and store them in an airtight container in the refrigerator for up to one week, if they last that long.😉 Enjoy!
Here are a few recipe notes to ensure delicious fruit snacks for your family:
Instead of using a gummy mold, you can pour the mixture into an 8x8 or 9x9 glass baking dish and cut the fruit snacks into tiny squares once they set up.
You can use any fruit juice you prefer to make different gummy flavors. Some ideas include blueberry juice, cherry juice, and pomegranate juice. Keep the proportions of juice, sweetener, and gelatin the same.
Gummies will set up very quickly in either the refrigerator or the freezer. If using the refrigerator, check on the gummies after 30 minutes or so. If using the freezer, check them after about 15 minutes.
We hope you enjoy making these tasty, wholesome fruit snacks with your kiddos this summer!
Let us know what you think of the recipe by leaving a comment below.
Visit the Super Teacher Worksheets Summer Collection to find lots more fun, educational activities to keep kids busy and learning all summer long.
You may also like:
Comments
Leave a comment
Thank you! Your comment has been submitted.