Make Puffy Sidewalk Chalk Paint for Summer
By Leah | July 4, 2022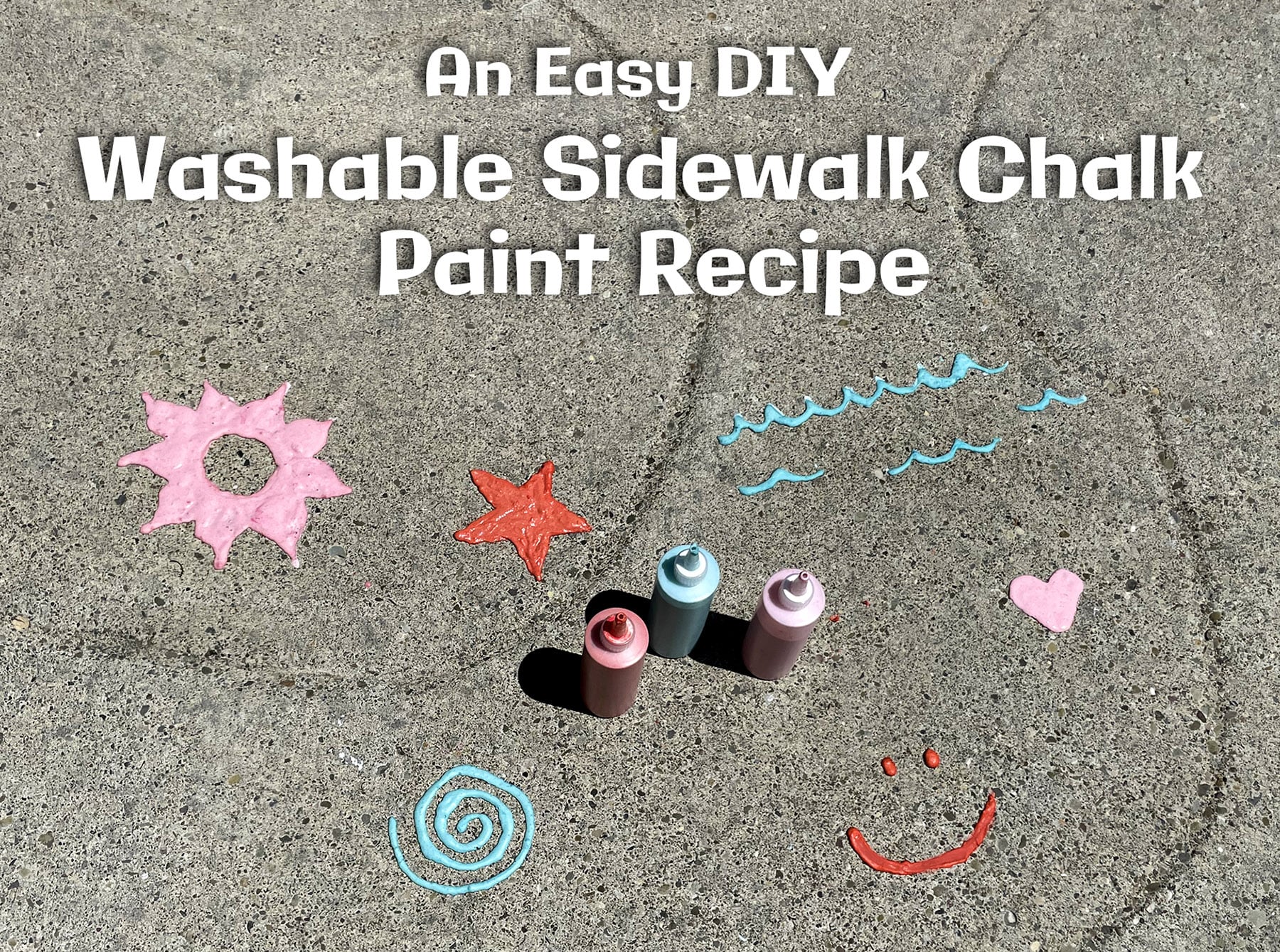 We all know sidewalk chalk is synonymous with summer! In our July blog post, we're featuring a DIY puffy sidewalk chalk paint recipe that will help your little ones take their pavement artwork to new heights! This recipe is quick and easy to whip up, and you only need four ingredients. Read on to find out more.
Best Method for Making Puffy Sidewalk Chalk Paint
If you're like the rest of us browsing for online inspiration for summertime activities children will love, chances are you'll find a ton of different recipes out there for sidewalk chalk paint. Many of them, like ours, use flour, water, and a coloring agent. The three most common coloring agents you'll find in DIY sidewalk chalk recipes are food coloring, washable paint, and sidewalk chalk powder. Which one should you try? We recommend sidewalk chalk powder. Here's why:
Some recipe testers noted the food coloring and washable paint recipes were difficult to remove from sidewalks, driveways, etc. when play time was done. A few people who used pressurized garden hoses and some old-fashioned elbow grease found these coloring agents difficult to remove from the pavement after the paint dried. Many people do not have this problem, but since some do, we recommend using sidewalk chalk powder instead. It's literally made for sidewalks, so you can't go wrong!
All the same, be sure to test your puffy sidewalk chalk paint on a small, inconspicuous area of your driveway or sidewalk to be safe. In addition, use your garden hose to spray away the paint before it dries out in the sun. If you follow these precautions, your little ones can paint to their heart's content, no messy stains left behind!
DIY Puffy Sidewalk Chalk Paint Recipe
Here's what you'll need to make puffy sidewalk chalk paint:
1 cup flour
1 cup water
1 TBSP dish soap
Powder from one piece of sidewalk chalk
Note – The quantities listed above make enough sidewalk chalk paint to fill one 16 oz. plastic squeeze bottle with a single color paint. You will need to duplicate the recipe for as many paint colors as you plan to make.
Here's what else you will need:
Mixing bowl and mixing spoon
Plastic squeeze bottles
Plastic freezer bag and rolling pin or cheese grater
Pack of sidewalk chalk
Paintbrushes
Here's what to do:
Mix the flour and water until well combined.
Add in the dish soap.
Mix until smooth with no remaining clumps.
Turn one piece of sidewalk chalk into powder by either grating it with a cheese grater or crushing it in a freezer bag with a rolling pin. You can use anywhere from half a piece of sidewalk chalk to a whole piece, adjusting the amount of powder until you've found a depth of color you and your kids like.
Stir in the sidewalk chalk powder until well combined.
Add each paint color to a plastic squeeze bottle. (A spoon, funnel, or liquid measuring beaker may help with this step.)
Get painting! Little ones can take their new paint bottles outside and use them alone or with paintbrushes to write or draw on the sidewalk.
When finished, spray down the area with your garden hose for a mess-free surface!
Note – The puffy sidewalk chalk paint is good for one paint session. Refrain from trying to store any leftovers for later because the flour and water in the bottles will activate yeast and build up a bubbly reaction overnight that will leave your kitchen walls and ceiling a little too colorful, if you know what we mean. 😉 Anyways, kids will have so much fun with their puffy sidewalk chalk paint that we'd be surprised if you had any left!
Do you plan on trying this activity with your kids this summer? Let us know how it goes! Share your feedback in the comment section below and tag Super Teacher Worksheets on social media.
Visit the Super Teacher Worksheets Summer Activities Collection for printable worksheets, games, and activities that will keep kids busy and learning all summer long.

You may also like:
Comments
Leave a comment
Thank you! Your comment has been submitted.