A Sweet Summertime Treat!
By Leah | June 25, 2019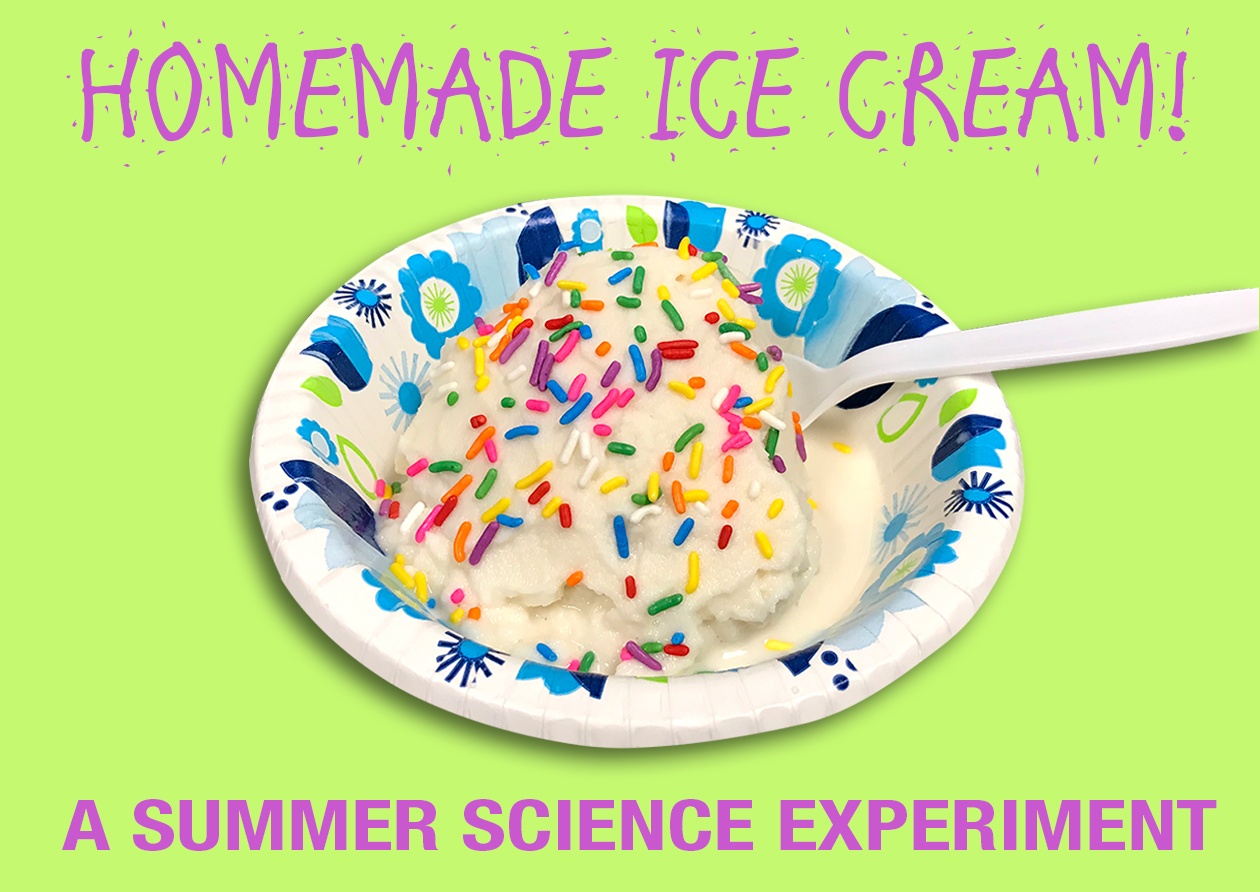 Can we all agree that ice cream is the ultimate summer treat? Okay, great! Now that we've got that settled, what better way to celebrate the arrival of summer than with a homemade ice cream science experiment?! Calling all kids (and wanna-be kids)...grab your spoons and sprinkles and head over to the kitchen. We'll show you how easy it is to make delicious homemade vanilla ice cream!
Here's what you will need to make your own ice cream:
1 cup of whole milk
1 teaspoon of vanilla extract
2 tablespoons of sugar
6 tablespoons of kosher salt
4 cups of ice
1 gallon-sized freezer bag
1 quart-sized freezer bag
spoons and bowls
sprinkles or other toppings
First, measure out the whole milk, vanilla extract, and sugar into a quart-sized freezer bag. Gently press the sides of the bag to release any air before you seal it. Make sure it's sealed really, really tight!
Pour all the ice into the gallon-sized freezer bag. Add the kosher salt into the bag of ice. Place the smaller bag filled with the ice cream ingredients into the larger bag. Seal up that bag of ice as tight as you can!
Now it's time to start shaking! Since you will need to shake the bag continuously for about ten minutes, we definitely recommend making this a group effort. Pass that bag among your little learners. (We found it helpful to use a cloth or some paper towels to protect your fingers from getting too cold.)
After about ten minutes, your ingredients will thicken up into that ice cream consistency we're looking for. Open up the big bag, remove the smaller bag of ice cream, and dish out your sweet treat. It'll melt fast, so add your toppings and get eating! (Did you taste it yet? We told you it would be delicious!)
Here are a few tips to help make this activity successful:
As tempting as it may be, try to avoid checking your ice cream halfway through the shaking process by opening up the inside bag. You want to make sure no salt gets mixed into your other ingredients. Who likes salty ice cream anyways?
Do your best to ensure both freezer bags are zipped up as tight as possible. Otherwise, you will be in for a bit of a mess!
Have some extra cloths or paper towels on hand to wipe up the condensation that forms as you shake the bags. If you can do this activity over the kitchen sink—even better!
If you try out this tasty activity with your little learners this summer, drop us a line in the comment section below. We would love to hear all about your ice cream adventures. Find more fun summer activities on Super Teacher Worksheets.
You may also like:
Comments
Leave a comment
Thank you! Your comment has been submitted.