How to Make Giant Bubbles
By Leah | July 2, 2021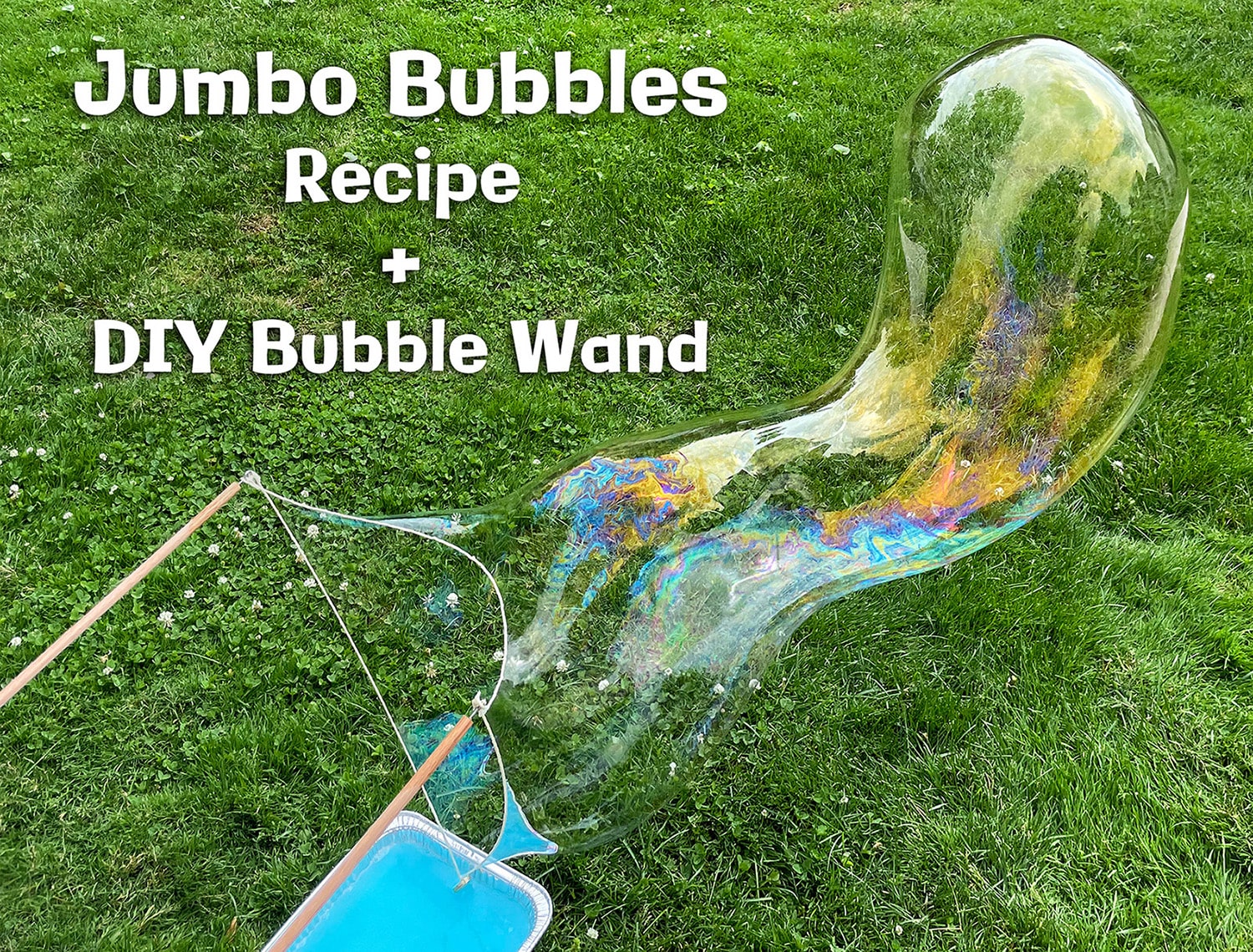 Get ready to make the most gigantic bubbles you and your little ones have ever seen! In our July blog post, we're featuring an easy recipe for homemade jumbo bubbles, plus a DIY tutorial for making a bubble wand especially designed for enormous bubbles. Kids will love making their own giant bubbles this summer! Read on to find out more.
Jumbo Bubbles Recipe
Ditch the dollar store bubble bottles and try this homemade recipe for giant bubbles instead! Here's what you will need to make the jumbo bubbles solution:
10 cups of water
1 cup of original Dawn dish soap
2 tablespoons of baking powder
2 tablespoons of corn starch
2 tablespoons of glycerin
The only ingredient in the jumbo bubbles recipe that you may be wondering about is glycerin. You can find glycerin in the baking section of your grocery store, the cake decorating aisle of your local craft store, or through online retailers, like Amazon.
You will need a bucket, plastic tub, roasting pan, or other large container in which to mix the bubble solution. You will also need a whisk and a wooden spoon.
Here's how to make the jumbo bubbles solution:
1) Add five cups of water to a bucket or other large container. Whisk in the baking powder and corn starch until dissolved.
2) Add the remaining five cups of water, along with the Dawn dish soap and glycerin.
3) Stir the bubble solution slowly with a wooden spoon, being careful not to agitate the mixture to the point of creating excess soap suds and foam.
4) Let the bubble solution sit undisturbed for at least one hour. You can even let it sit overnight to maximize the strength of your jumbo bubbles.
5) Give the bubble solution a final slow stir right before you're ready to use it to mix up any ingredients that may have settled.
Pretty easy, right? You and the kiddos are almost ready to make giant bubbles, but first you will need to make a giant bubble wand.
DIY Bubble Wand
Get the most out of your homemade jumbo bubbles solution with a bubble wand designed especially for making enormous bubbles! You'll want to have the following items on hand to make the bubble wand:
2 wooden dowels
2 screw eyes
2 to 4 quarter-sized washers
Thick string, like cotton cord or baker's twine
Scissors
You can find all of these supplies at your local craft store or hardware store for less than ten dollars, total.
Please note: You will need to drill a small hole in one end of each wooden dowel to fit one screw eye apiece. So, plan on having a power drill and small drill bit on hand to help you with this step.
Here's how to put together your own bubble wand:
1) Drill a small hole in the end of one of your wooden dowels. Affix one of the screw eyes. Repeat with the other wooden dowel and screw eye.
2) Cut two pieces of string. To make the string lengths manageable for little ones to stretch with their arms, make the first length of string about 60 inches and the second length of string about 30 inches. You can adjust the lengths as needed but be sure the second string is approximately half the length of the first string.
3) Tie each end of the shorter string to each of the screw eyes atop the wooden dowels.
4) Slide two, three, or four washers onto the longer string. The washers will act as a weight at the bottom of the bubble wand frame, so the bigger the wand (and longer the string), the more washers you may want to add. Keep the washers in place by tying a knot around them to secure them in the center of the string.
5) Tie each end of the longer string to each of the screw eyes atop the wooden dowels, just as you did with the shorter string.
That's all there is to it! Now that your jumbo bubble solution is ready and your giant bubble wand is made, it's time to gather up the kiddos and head outside for some serious bubble fun!
Tips for Making Giant Bubbles
Making giant bubbles with your homemade bubble solution and bubble wand is easy!
Here are a few tips to help your little ones get the most out of this activity:
Dip the bubble wand into the bubble solution to completely saturate the strings of the wand frame.
Use the wooden dowel rods as handles to lift the wand frame out of the bubble solution. Stretching the shorter string taut, let the longer string hang freely to form a loose triangle shape.
Move slowly and gently, walking backwards as needed to help the giant bubbles form.
As children become comfortable using the bubble wands, they can swoop them gently from side to side, or try to catch a slight breeze. They will be amazed at the enormous bubbles they are able to make!
When you're finished with your bubble fun, you can store the jumbo bubble solution in a glass or plastic container with a lid. It will last several weeks in the refrigerator. Simply give the solution a stir again before you use it.
We're so excited for you and the bubble-loving kiddos in your life to try this fun summer activity! Be sure to drop us a line in the comment section below to let us know what you think of this outdoor activity. And remember to tag @superteacherworksheets on social media so we can be amazed at your giant bubble adventures!
Looking for more fun, educational activities to keep little ones busy and learning this summer? Check out the Super Teacher Worksheets summer activities collection!
You may also like:
Comments
Leave a comment
Thank you! Your comment has been submitted.