15 Works of Classic Children's Literature for Summer Break
By Leah | May 30, 2023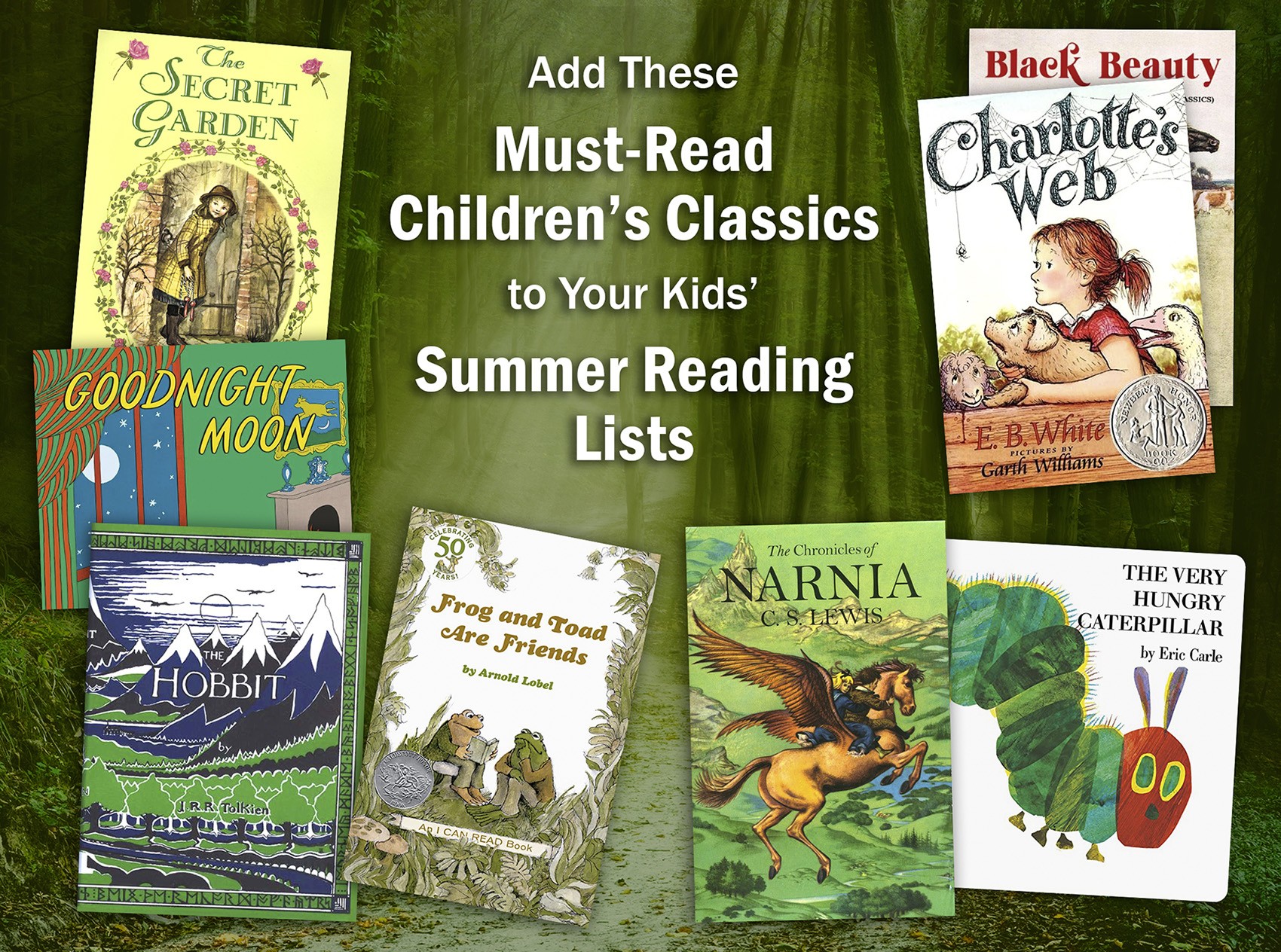 Cultivate a love of reading in your children this summer by helping them discover beloved works of classic children's literature. In the following guide, we have selected a few of our favorite timeless tales for children of all ages. Browse our top picks and add a few or all of them to your children's summer reading lists!
Books for Babies, Toddlers, and Preschoolers
Goodnight Moon by Margaret Wise Brown, illustrated by Clement Hurd (1947)
This bedtime treasure has been loved by generations of parents and children alike for good reason. The quiet poetry of the words and soothing illustrations gently lull little ones into dreamland over and over again. It's the perfect bedtime book for children from infancy through three years of age.
Guess How Much I Love You by Sam McBratney, illustrated by Anita Jeram (1994)
Here's a charming story about the love between a father and his son. The tale of Big Nutbrown Hare and Little Nutbrown Hare will warm you and yours through and through. You may just find yourself saying, "I love you to the moon and back," as you tuck your little ones in for the night.
The Tale of Peter Rabbit by Beatrix Potter (1902)
The original classic penned and illustrated by the acclaimed Beatrix Potter is the story of a beloved mischievous rabbit and his adventure through Mr. McGregor's vegetable garden. Children have loved the delightful tale and whimsical illustrations for over a century. While you're at it, explore the full collection of works by Beatrix Potter with young ones.
The Very Hungry Caterpillar by Eric Carle (1969)
Chances are, you're familiar with the caterpillar with a voracious appetite who eats his way through the pages to emerge an enchanting butterfly. The enduring classic is one of many popular works by Eric Carle. Discover them all with your children from babyhood through preschool-age.
Winnie-the-Pooh (series) by A.A. Milne, illustrated by Ernest H. Shepard (1926)
The most lovable teddy bear in Hundred Acre Wood, and arguably in all of children's literature, Winnie the Pooh and his friends have won over the hearts of children and their parents through the years. Join Pooh, Piglet, Owl, Tiger, Eeyore, and Christopher Robin on adventures and celebrate the quintessential magic of childhood with your sweet ones. The Winnie the Pooh series is a perfect read-aloud for children ages one to eleven.
Books for School-Aged Children
Black Beauty by Anna Sewell (1877)
One of the best-selling books of all time, this ageless classic teaches kindness, sympathy, and respect for animals and humans alike. Follow the story of the remarkable horse, Black Beauty, as his fate changes and he is passed from hand to hand, learning life lessons along the way. Will the handsome horse ever find a happy home? The novel is recommended for children ages seven to ten.
Charlotte's Web by E.B. White, illustrated by Garth Williams (1952)
E.B. White's Newbery Honor award-winning novel is a story of friendship, love, life, and death that has touched hearts for decades. Charlotte the spider spells out her feelings for a special little pig, Wilbur, who only wants a friend. The characters are unforgettable, and the story is timeless—a true classic. Children ages five to nine will find this book, and other works by E.B. White, a delight.
Frog and Toad (series) by Arnold Lobel (1970)
This award-winning series of easy-reader books chronicles the adventures of Frog and Toad who discover what it takes to be a true friend. Each book contains five short stories filled with humor and rich with meaning that remind children (and all of us) of the value of friendship and loyalty. Recommended for children ages four to seven.
The Giving Tree by Shel Silverstein (1964)
A poignant picture book from New York Times bestselling author Shel Silverstein about the meaning of love and acceptance. "Once there was a tree…and she loved a little boy…" Indeed, the very nature of love is captured beautifully by this striking story and will reside in your heart and the hearts of your children for a long, long time. Other works by Shel Silverstein, classics in their own right, are absolutely worth a read (or many). Recommended for children ages two to eight.
The Wind in the Willows by Kenneth Grahame (1908)
Join Mole, Mr. Toad, Badger, and Ratty on their many adventures in a story that has charmed readers for decades. This classic work of English literature is sure to entertain children ages four to twelve, especially enjoyed together as a family read-aloud. It's a feel-good novel for the whole family.
Books for Older Children
The Chronicles of Narnia (series) by C.S. Lewis, illustrated by Pauline Baynes (1950)
Readers of all ages have been enchanted by the magical world beyond the wardrobe, Narnia, for more than eighty years. The series is a fantastic read-aloud choice for the whole family or independent read for older children, ages eight and up. Read all seven titles in The Chronicles of Narnia as a family and you'll remember them long after you're through.
The Hobbit by J.R.R. Tolkien (1937)
The acclaimed children's fantasy novel that preludes the Lord of the Rings trilogy, The Hobbit is one of the most beloved tales in all of children's literature. Part classic myth, part modern fairy tale, the story of a hobbit named Bilbo Baggins and the adventurous quest he undertakes will beguile kids (and adults!) with storytelling at its best. Recommended for children ages twelve and up.
Little Women and Little Men by Louisa May Alcott (1868)
This coming-of-age story about four sisters, and its sequel, recounts the joys and challenges of familial relationships. Children have been won over by the endearing characters and moved by their tragedies and triumphs for generations. Your eight through twelve-year-old children may find the account of the March sisters, and later, the tale of the orphan boys of Plumfield School relatable in many ways.
The Secret Garden by Frances Hodgson Burnett (1911)
Embark on a journey of transformation with two unfortunate children who must learn that wholeness and healing are found when one is able to move beyond his or her self-centeredness. Through the discovery of a secret garden full of promise, the children learn they, like the garden, can become more than what they are now. The timeless story is a poignant reminder of possibility for all readers. Recommended for children ages ten and up.
A Wrinkle in Time by Madeleine L'Engle (1962)
Winner of the Newbery Medal, this children's science fantasy novel follows teen Meg Murry and her younger brother Charles Wallace on an adventure through time and space. This classic book is a story about the power of love within a family. Recommended for children ages nine to twelve.
We hope this small selection of classic works of children's literature will inspire your kids to discover a new story in a timeless book (or several) this summer. We've highlighted a few works of fiction for different reading levels in this guide, but you'll find dozens more children's classics, including nonfiction, poetry, and more, using a simple online search. Happy reading!
Looking for more inspiration for your kids' summer reading lists? Browse the Super Teacher Worksheets literacy units to find fun printable resources to complement popular children's chapter books. Discover the magic of summer reading!
You may also like:
Comments
Leave a comment
Thank you! Your comment has been submitted.