Summer Reading Top Picks 2015
By Leah | May 11, 2015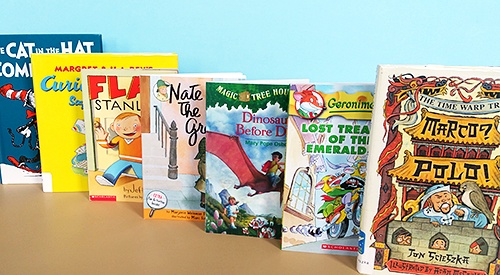 As our students head out of our classrooms and into the sunshine of summer break, we want to encourage them to keep reading. Sometimes, having a list of suggestions for our students' summer reading can initiate a great summer send-off. This idea inspired Super Teacher Worksheets staff to choose our top picks for summer reading for kindergarten through fifth grade. We have selected three classic, popular, or highly acclaimed book series for each of these elementary grades. Check out what books made our 2015 list below. Remember to share your comments and feedback at the end of this article.
Kindergarten
Classic Dr. Seuss
The clever and imaginative series from the beloved Dr. Seuss has become a standard for early readers. We love the colorful verses and telltale illustrations that bring this series to life. Help your early reader to practice basic reading skills. The Cat in the Hat, Green Eggs and Ham, and Hop on Pop are some of our favorites!
Curious George by Hans Augusto Rey and Margret Rey 
It seems like children are always eager to join in on the adventures of the adorable Curious George. Decades after the Curious George books were published, there is something about our frisky monkey friend and his adventures with the Man in the Yellow Hat that continues to warm our hearts. 
Frog and Toad by Arnold Lobel
This charming early reader series is a great introduction to chapter books for young children. The typical Frog and Toad book has about five mini-stories that will keep early readers entertained. We love the timeless values this series promotes - friendship, kindness, and industriousness, among many more.
1st Grade
Flat Stanley by Jeff Brown
Stanley Lambchop is not your average little boy. In this series, children can giggle and gasp as they read about all the incredible things Flat Stanley is able to accomplish in his paper-like state. A great book series for early readers, we think you can't go wrong with another great classic! 
Nate the Great by Marjorie Weinman Sharmat
Another excellent read for the early grades, this mystery series features boy-detective Nate and his trusty dog, Sludge. The pair undertakes a new mystery to solve in each of these chapter books. We enjoy this detective series for young readers and its likable main character - we think your student will too!
Little Golden Books
Initially sold for 25 cents in 1942, the original Little Golden Books brought to life timeless fables and nursery tales for countless children. From The Poky Little Puppy to The Little Red Hen, these books have stood the test of time and have been enjoyed across generations. If for no other reasons, we included this collection in our top picks list for its great read-aloud format for early readers and heart-warming stories.
2nd Grade
Junie B. Jones by Barbara Park
The spunky main character of this widely successful series has just the right combination of personality, wit, and humor that will capture your young reader's attention and admiration. These chapter books will keep your young reader entertained from page one! 
Cam Jansen by David A. Adler
Cam Jansen is a girl detective who solves mysteries with her best friend, Eric. This smart sleuth is nicknamed "Cam" for her photographic memory. We think your student will be enthralled with the adventures of this female detective! 
Magic Tree House by Mary Pope Osborne
Join Jack and Annie as they travel to faraway lands and times long past in their magic tree house. This series has become a huge favorite with young readers. We love the powerful storytelling element in these chapter books. From Night of the Ninjas to Day of the Dragon King, your reader will surely encounter a fantasy adventure like no other in this series.
3rd Grade
Secrets of Droon by Tony Abbott
This fantasy chapter book series is an excellent alternative to the Harry Potter series for younger children. The magical world that Eric, Julie, and Neal find under some old basement stairs is a parallel universe in which anything can happen! Dragons, sorcerers, volcano palaces, and magic carpets abound - we think your reader will be hooked on these books! 
Mostly Ghostly by R.L. Stine
Here is a series of chapter books for kids who are interested in spooky stories and paranormal subject matter. Max is a boy on a mission to help his ghost friends find their parents. We like this series from R.L. Stine, author of the popular Goosebumps series, because it is the more age-appropriate alternative. 
Geronimo Stilton by Edizioni Piemme
The mouse journalist, Geronimo Stilton, wants nothing more than a little peace and quiet in his life, but he keeps getting involved in the wild adventures of his mouse family. Written as a sort of autobiographical adventure story, this series has become the most popular children's book series in Italy, where it was first published. We think these action-packed chapter books are worth checking out!
4th Grade
American Girl
BeForever
Books
The American Girl collection of historical books by various authors features the most beloved American Girl characters from different eras of American history. Give your elementary school girl a wholesome and inspiring series to cherish this summer! We love the values these books promote! 
Guardians of Ga'Hoole by Kathryn Lasky Here's a chapter book series that follows the adventures of a brave young owl named Soren. This unique series explores the battle between good and evil in an exciting power struggle between warring owl armies. We think this is an exciting series that will be difficult for your young reader to put down!
Encyclopedia Brown, Boy Detective by Donald J. Sobol This is another excellent boy detective series for the young reader who likes to solve puzzles and mysteries. The books in this series are self-contained in that they do not need to be read in any order or sequence. We give this chapter book series two thumbs up!
5th Grade

Dear America Books
A historical fiction series in which each book is told in the form of journal entries from a young woman during an important event or time period in American history. We think your fifth grade girls will adore glimpsing into the lives of girls her age at different points in American history. 
Diary of a Wimpy Kid by Jeff Kinney
If your middle readers are looking for a humorous fiction series, Diary of a Wimpy Kid may be just the right thing! This series has become wildly popular among middle schoolers in the past couple of years, and we love to see kids getting excited about reading these books. Encourage your reader to pick one up today!
Time Warp Trio by Jon Scieszka
Follow Joe, Fred, and Sam as they travel through time and space with the help of the mysterious "Book". Their crazy adventures transport them to the legendary Camelot, bring them face-to-face with the dangerous pirate, Blackbeard, and propel them years into the future where they meet their own great-granddaughters. We like how this series combines world history with daring adventures! _________________________________________________________________________
What books are your students enjoying this year? Tell us in the comments section below!
Comments
Leave a comment
Thank you! Your comment has been submitted.