Summer Writing Prompts
By Leah | June 23, 2017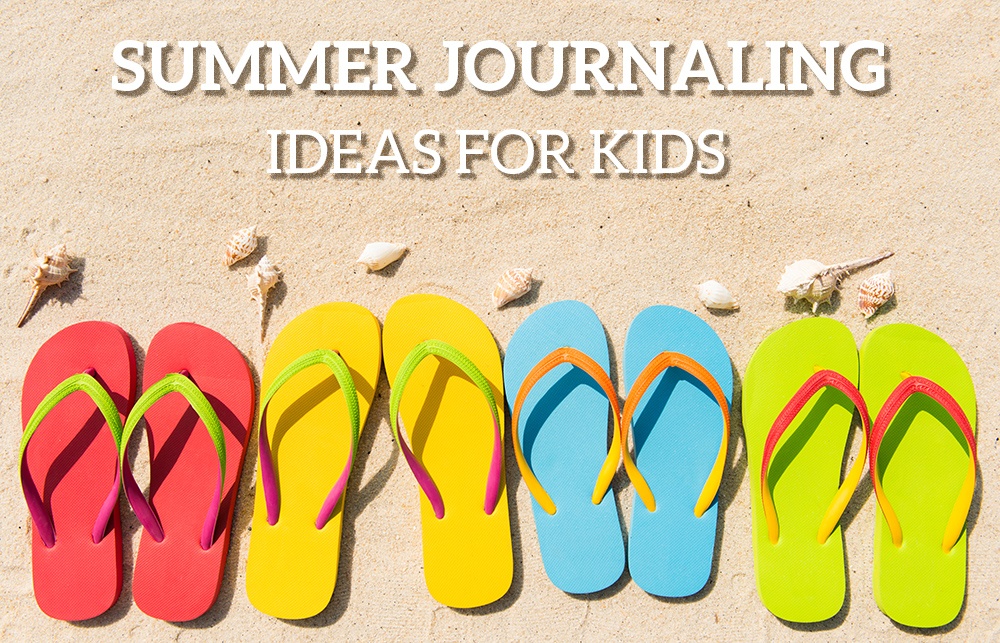 Here's a fun writing activity kids can do on the long, lazy days of summer vacation. We've put together fifteen summer-themed writing prompts for kids. Read more to see how you can inspire children to get their creative juices flowing!
In between all the camping trips, beach days, picnics, sports games, pool parties, family outings, and outdoor fun, sometimes a low-key activity is just the right thing to balance out all the summer busyness. The following writing prompts may be the perfect antidote! Kids can grab a journal and a cool glass of lemonade and head to their favorite shady spot to write out their summer daydreams!

Summer Writing Prompt Ideas
Make a summer bucket list of all the fun things you want to do this summer. You should include at least fifteen to twenty items on your bucket list and make your descriptions as detailed as possible.
Pretend you and your best friend are running a lemonade stand in your neighborhood. One of your neighbors buys a glass of lemonade and gives you a twenty dollar bill. He tells you to keep the change. What would you and your best friend do with the money? Describe your plans in detail.
Your family plans a vacation to the seashore. When you get to the beach, you discover there is a sand sculpture competition going on, and you decide to enter. What kind of sand sculpture do you build? Does anyone in your family help you? How long does it take you to finish it? Does your sand sculpture win the top prize, and if so, why?
You are camping with your sibling in the backyard. While you are munching on snacks and reading comic books inside your tent, you see strange shadows outside the tent and you hear a loud rustling sound. What happens next?
You've won two tickets to a summer concert featuring your favorite singer. The tickets include backstage passes to meet the performer after the show. Who do you bring with you to the concert? Who are you going to see? Describe your night at the concert of your dreams.
You know the secret to making the best campfire s'mores ever! Describe in detail how you make your amazingly delicious campfire s'mores.
Do you have a summer birthday? If yes, what do you like about celebrating your birthday in the summer? Describe the best summer birthday memory you have. If not, do you wish your birthday was in the summer? What do you like about the time of year when your birthday occurs?
Write about a new skill you'd like to learn how to do this summer. Is it riding your bike? Learning how to play a sport? Making the perfect summer fruit smoothie? Drawing the characters from your favorite new movie?
Pretend you get to build the tree house of your dreams. Where is it located? What does it look like on the outside? Describe how it looks on the inside. What unique features does it have? Are there any trap doors, rope ladders, tire swings, etc.? What kind of adventures do you have in your tree house?
You are the inventor of a new flavor of ice cream. What is your ice cream flavor called? What are the ingredients? How is your ice cream flavor unlike any other ice cream flavor in the world?
Have you and your family ever taken a summer hike? If yes, describe a place where your family likes to go hiking in the summertime. If not, describe where you would like to take a hike someday and what you think it will be like.
You are visiting the zoo with your friends. Suddenly one of the zookeepers runs by you, shouting into his radio: "We've got an animal on the loose!" You and your friends look at each other. What animal got loose from its exhibit? What happens next?
How do you celebrate the July 4th holiday (Independence Day, U.S.) with your family? If you do not celebrate U.S. Independence Day, what summer holiday do you celebrate? Describe your summer holiday in detail.
Does summer vacation go by too fast, too slow, or just right? What is your favorite thing about summer vacation?
What are some hopes you have for the new school year ahead? Do you know who your teacher is? What do you think your new grade will be like? Are you excited? Nervous? Not even thinking about school yet? Share your thoughts.

These writing prompts should definitely get kids excited for all the possibilities of summer! We'd love to hear how you use this activity with the kids in your life. Please leave us your feedback in the comments section below. And if you're looking for more great writing prompts, check out the Super Teacher Worksheets Writing Prompts page as well as the Super Teacher Worksheets Story Pictures page!

Comments
Leave a comment
Thank you! Your comment has been submitted.