Practice Spelling with a Giant Backyard Scrabble Game
By Leah | July 27, 2022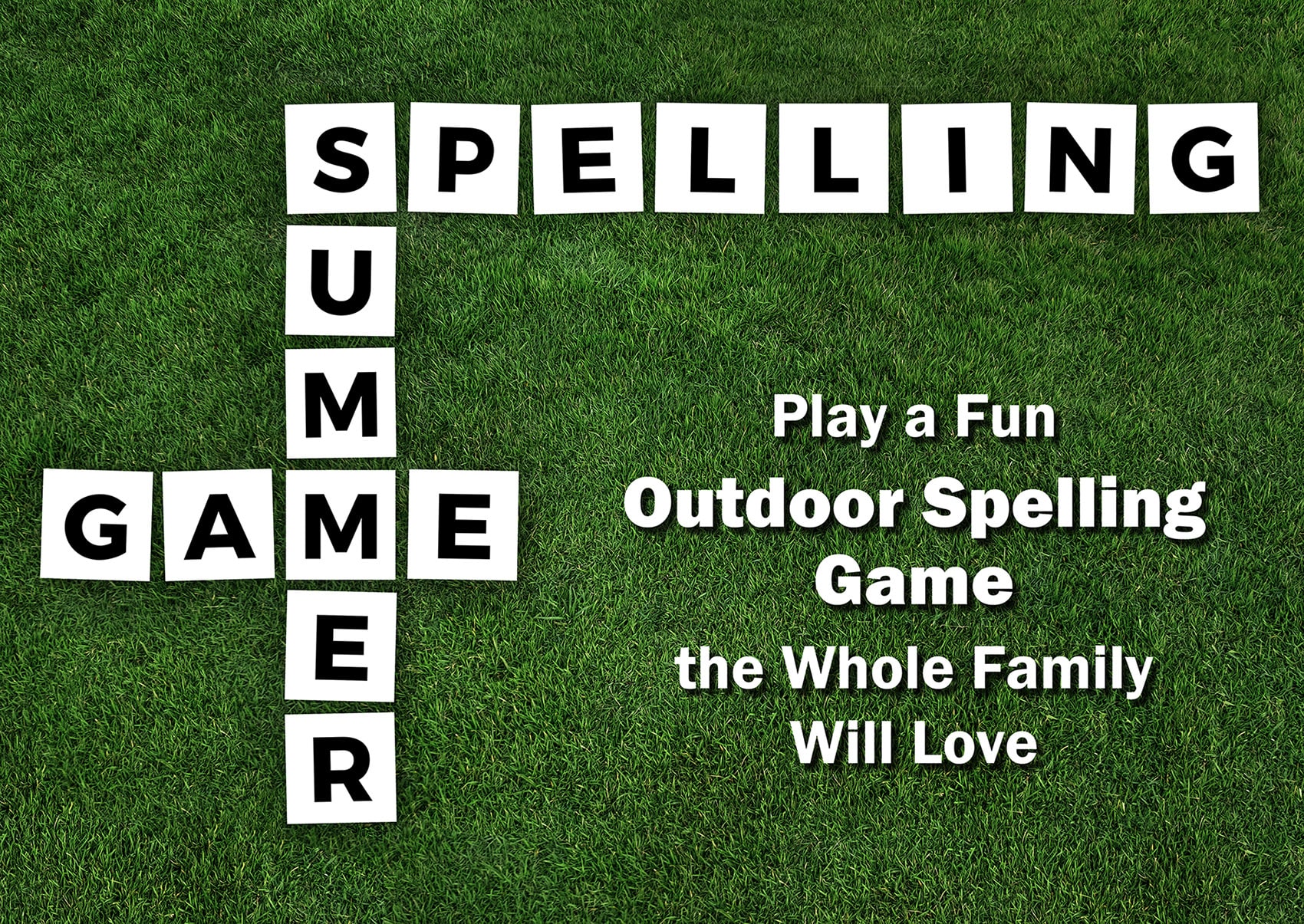 Get outside and practice spelling skills with a backyard game your whole family will love! In our August blog post, we share a quick and easy tutorial for making jumbo alphabet letters that kids can use to spell words Scrabble-style on the lawn. Read on to find out more.
Get Ready for School with an Outdoor Spelling Game
The summer may be winding down, but that doesn't mean the fun or the learning have to! This backyard spelling activity is perfect for late summer days and will help little ones practice basic spelling skills in preparation for the upcoming school year. Get the whole family involved and take turns practicing spelling with giant-sized letter tiles.
How to Make Jumbo Spelling Tiles
You only need a few supplies to make jumbo spelling tiles. Pick up these items at your local craft store or dollar store, or improvise with items you already have at home:
cardstock
black marker; or black paint and alphabet letter stencil
lawn pins; stones; or other objects to use as paperweights if needed
Choose a heavy-weight cardstock for your spelling tiles. Then decide how you'd like to apply the alphabet letters. You could print out a single alphabet letter per sheet of cardstock. Otherwise, you could simply draw them on with a black marker. If you really want to get fancy, you could use a letter stencil to paint the letters onto the cardstock. Make enough alphabet letter tiles to spell a variety of words. You can make the same number of letters used in a game of Scrabble, if you wish:
A-9, B-2, C-2, D-4, E-12, F-2, G-3, H-2, I-9, J-1, K-1, L-4, M-2, N-6, O-8, P-2, Q-1, R-6, S-4, T-6, U-4, V-2, W-2, X-1, Y-2, Z-1 (Optional: Blanks-2)
If you aren't planning to play an actual game of Scrabble and this seems like too many letters for the purpose of your spelling activity, feel free to scale back some of the letters, especially the vowels.
Although we recommend using the alphabet letter tiles on a clear day when the grass is dry and there is little or no wind, you can opt to use lawn pins or small stones to help keep the alphabet letter tiles in place throughout the game if there is a slight breeze.
How to Use Giant Spelling Tiles with Kids
Now it's time to practice spelling with your jumbo alphabet letter tiles!
Here are some ideas:
Play a traditional game of Scrabble. Players begin with seven letters apiece and take turns building words with their combination of letters. In the backyard version of the game, children will spell out words directly onto the grass and count up point values based on the letters they use.
Practice building words from a spelling list, phonics list, sight word group, or word family group. For example, children might work by themselves or as a team to spell out all the words in a word family group. How many words can they build off one another?
Try a word scramble challenge. Mix up all the spelling tiles in the grass, face up. Children can either take individual turns or work as a team to unscramble the letters in order to make a word. You may want to call out words from a spelling list or ask children to spell out a word with a particular attribute, such as words that contain the short-a vowel sound.
These are just a few of the many ways your little ones can practice early literacy skills with jumbo alphabet letters!
For more inspiration, check out the Super Teacher Worksheets Spelling Collection, Phonics Collection, Sight Word Units, and Word Family Units.
Did you try this outdoor spelling activity with your kids? Tell us how it went! Share your feedback in the comment section below and tag us on social media.
You may also like:
Comments
Leave a comment
Thank you! Your comment has been submitted.