Make the Holidays Sparkle!
By Leah | November 28, 2017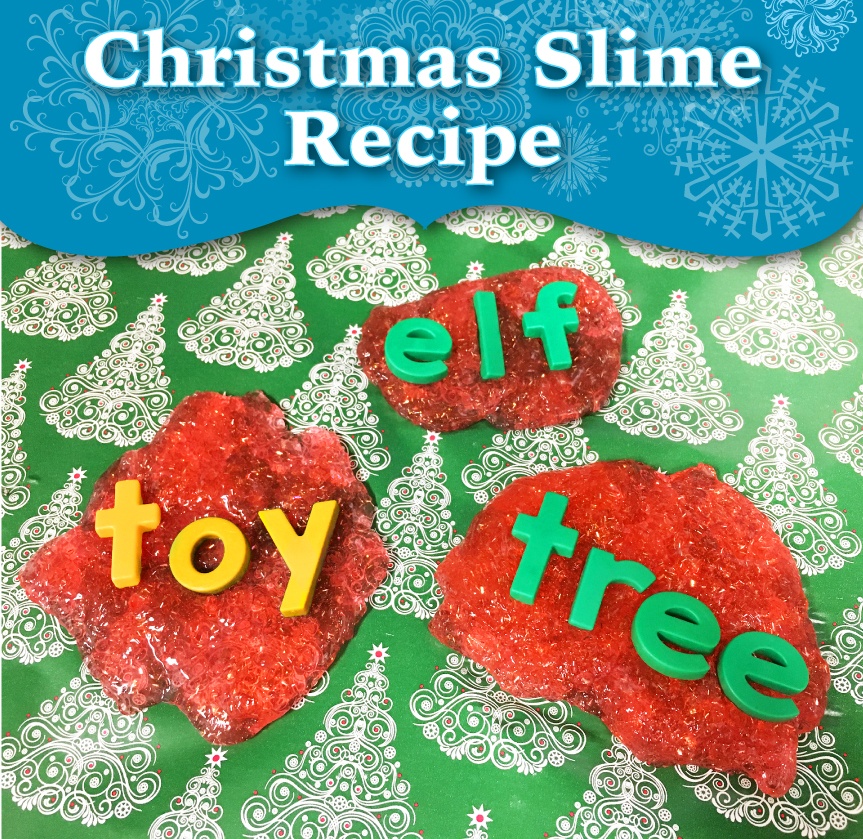 Are you ready for some ooey gooey holiday fun? Stick with us to learn about a quick, easy Christmas slime recipe that kids will love! Be advised: this activity may cause an extreme case of holiday cheer. Read on to find out how to add some extra kid-friendly sparkle to your holidays this year!
If you're ready for a holly jolly Christmas season, then roll up your sleeves and get ready to make this sparkly Christmas slime recipe!
Here's what you'll need to get started:
(2) 6 oz. bottles of red glitter glue

Borax

measuring cups and spoons

mixing bowl
small plastic container

spatula
spoon

alphabet letters (optional)

First, you'll want to empty both bottles of glitter glue into the mixing bowl. Add a cup of very warm water, and give the glue and water a stir. If you want to make your slime smell extra Christmas-y, why not add a couple drops of your favorite holiday scent? Peppermint, anyone?

In a separate container, you will need to add 1/2 teaspoon of Borax to one cup of very warm water. Stir the Borax powder into the water thoroughly.

Then pour the Borax/water into your mixing bowl. Give it a good stir!

Using your spatula, keep stirring until the mixture begins to thicken. This won't take long. The mixture will become gooey as you stir it, as shown in the picture below.

Now you can use your hands to knead your slime mixture, kind of like an oozy dough! It will definitely feel slimy, but it shouldn't be too sticky. Even though you're using two bottles of glue, you might be surprised to discover the slime doesn't stick to your fingers. Check it out!

Kids will have a blast playing with their sparkly Christmas slime! If you want to use the Christmas slime as a learning center in your classroom, you could ask your students to spell out Christmas words or sight words using alphabet letters.
Whether you use this activity in your classroom or do it with your kids at home, this Christmas slime recipe is sure to be a holiday favorite for little ones everywhere.
We want to hear from you! Do you have a go-to recipe for homemade slime? Are you thinking of giving this Christmas slime recipe a try? Let us know how it goes! Leave us your feedback in the comment section below.
If you're looking for more holiday activities to get into the spirit of the season, check out our Christmas Worksheets page! You can also stop by our Hanukkah Worksheets page to print out your favorites.
Finally, be sure to browse our brand new Sight Word Units and Individual Sight Words list for tons of ideas and activities for practicing sight words.
Happy holidays!
You may also like:
Comments
Leave a comment
Thank you! Your comment has been submitted.