DIY Christmas Ornaments for Kids
By Leah | December 1, 2016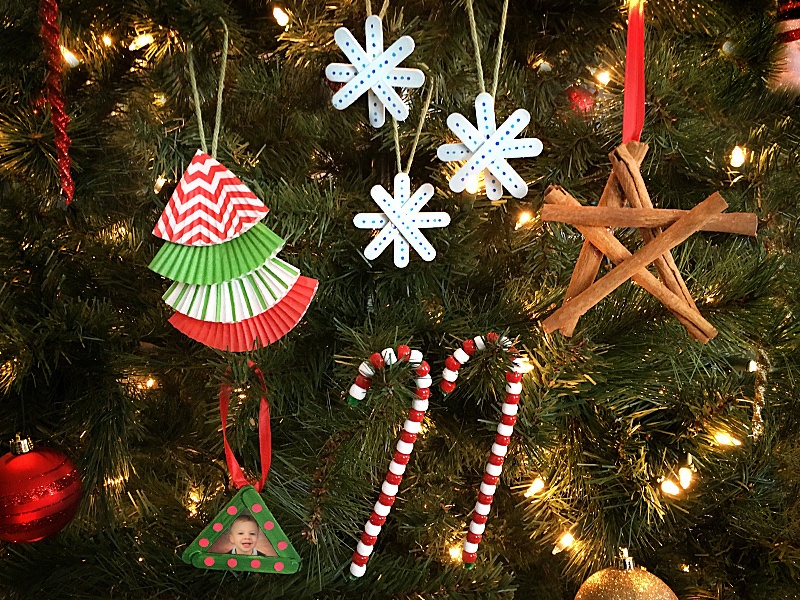 There's something special about handmade Christmas ornaments! Read on to find out how to make five adorable Christmas ornaments with your students.
Your students will love bringing home their own handmade Christmas ornaments to their families! The ornament crafts below are perfect for a December classroom activity. Each project requires only a couple of supplies, and you can decide how much independence you want your students to have with the craft, based on their age and skill level. For the crafts requiring the use of a hot glue gun, we recommend that an adult handles the glue gun at all times. Feel free to modify these ornament projects to meet your classroom needs! Kids will always find ways to be creative, so you can too!
Pony Bead Candy Canes
With some green pipe cleaners and red and white pony beads, little hands can make these cute candy canes.
To make pony bead candy canes:
1) String pony beads onto a green pipe cleaner, alternating the colors between red and white.
2) Thicken the ends of the pipe cleaner by folding them a couple times and tucking them inside the beads on the end. This way, the beads won't easily fall off.
3) Bend the top of the pipe cleaner to form the curved part of the candy cane. That's all there is to it!
Kids will be delighted to take their candy canes home to hang on the Christmas tree!
Cinnamon Stick Star
To make this simple star, all that's needed is five cinnamon sticks, red or green Christmas ribbon, and a hot glue gun.
To make a cinnamon stick star:
1) Arrange five cinnamon sticks into the shape of a star to make sure they will fit together nicely when glued. (You don't want to use cinnamon sticks that are too thick, too short, or otherwise oddly formed.)
2) One by one, glue the cinnamon sticks into the shape of a star using the hot glue gun. Layer the sticks on top of each other as you build the star.
3) When all the cinnamon sticks have been glued into the star shape, add a loop of ribbon to the top with hot glue, so you can hang the ornament.
This is a great activity for older students because it might be a little tricky to arrange the cinnamon sticks into a star shape. But it's definitely worth the effort! This ornament is sure to add a lovely scent to any Christmas tree!
Cupcake Liner Christmas Tree
Gather up some Christmas cupcake liners, tape or glue, and red or green Christmas ribbon to make this sweet paper-crafted Christmas tree ornament!
To make a cupcake liner Christmas tree:
1) Flatten out four cupcake liners. (They should look like circles.)
2) Fold the first three cupcake liners into quarters. Leave the last cupcake liner a little wider than the others by folding it in half, then folding the edges in so it's not quite in quarters.
3) Stack the folded cupcake liners on top of each other, leaving the wider one on the bottom. They should look like a tree.
4) Glue or tape each layer of the Christmas tree. Add a loop of ribbon to the top with a small piece of tape.
Kids will love hanging this dainty ornament from the branches of the Christmas tree! They may even want to give it as a gift to one of their family members!
Mini Popsicle Stick Snowflakes
Bring out the mini Popsicle sticks and make sure you have light blue acrylic paint, a paint brush, a hot glue gun, some fine-tipped markers, and red or green Christmas ribbon on hand for this adorable set of snowflake ornaments!
To make three mini Popsicle stick snowflakes:
1) Count out twelve Popsicle sticks. Paint the sticks light blue and give them some time to dry.
2) When the Popsicle sticks are dry, use fine-tipped markers to create a design on each stick.
3) Next, use the hot glue gun to adhere the Popsicle sticks together in a snowflake shape. Do this by layering the sticks in a criss-cross pattern, as shown in the picture above. Each snowflake is made up of four Popsicle sticks, so you can make a set of three.
4) Add a loop of ribbon to the top of each snowflake with some hot glue so you can hang the ornaments.
These ornaments are so simple to make, and they really add a magical flare to any Christmas tree. Kids will love painting, coloring, and putting these snowflakes together, and they will definitely love bringing them home to show off!
Mini Popsicle Stick Christmas Tree
This miniature Christmas tree ornament is sweet and simple. All you need for this craft is mini Popsicle sticks, a hot glue gun, green acrylic paint, green or red Christmas ribbon, red construction paper, a single hole punch, and Elmer's glue.
To make a mini Popsicle stick Christmas tree:
1) Paint three mini Popsicle sticks with green acrylic paint and wait a little while until they're dry.
2) When the sticks are dry, glue them into a triangle shape using a hot glue gun.
3) Use a single hole punch to cut several circles from red construction paper. Glue these circles onto the tree as little "ornaments."
4) Add a loop of ribbon with some hot glue to the top of the ornament to hang it.
That's it! A great way to personalize this ornament is to add a wallet-sized photo of the student in the center, turning the Christmas tree into a frame. Kids will love putting this craft together, and parents will treasure a keepsake of their child for years to come.
What do you think of these Christmas ornament crafts for kids? Share your feedback in the comment section below! Also, be sure to check out the Super Teacher Worksheets collection of Christmas Worksheets, Hanukkah Worksheets, New Year's Worksheets, and Winter Worksheets!
Comments
Leave a comment
Thank you! Your comment has been submitted.