A Spirit of Giving
5 Holiday Service Project Ideas for Your Classroom
By Leah | November 28, 2016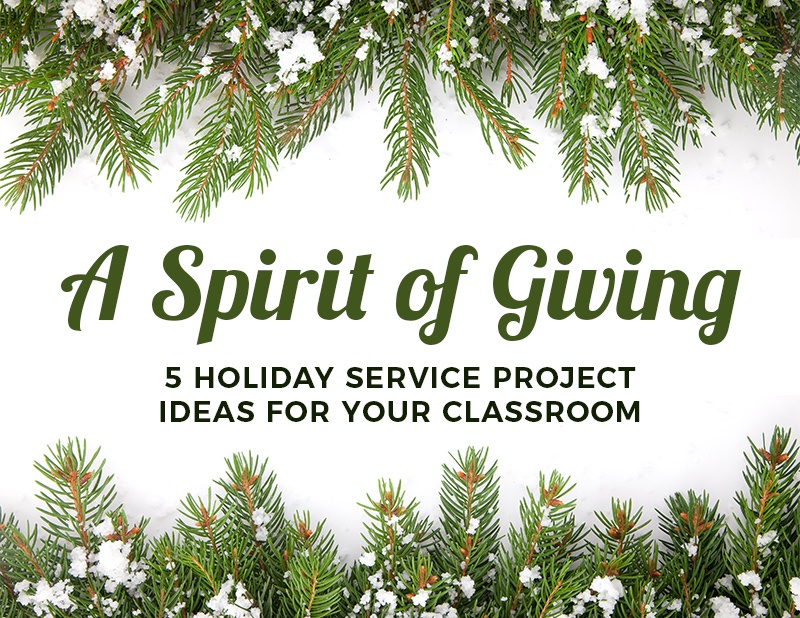 The holiday season is the perfect time of year to teach your students about generosity. Read on to learn about five classroom service projects you can do with your students that will help them discover the joy of giving to those in need.
Classroom Holiday Service Projects
Christmas Cards for Sick Kids
Making holiday cards is a wonderful way to bring a smile to peoples' faces! This activity is great for kids because it's a way for them to show compassion toward someone their own age who is suffering. Students can make their own cards with supplies you already have in the classroom, such as markers, crayons, and construction paper. You may want to add a few festive extras for them to decorate with, such as holiday stickers or glitter glue. Organizations like Cards for Hospitalized Kids (CFHK) and Send Kids the World are always looking for participants, and local hospitals might have similar programs too.
Clothing and Toy Drive
It's a great time of year to have a donation box in your classroom for gently-used clothing and toys. Encourage your students to go through their closets and toy boxes with a parent to see what doesn't fit them anymore or what toys they've outgrown. There are plenty of children whose families will not be able to provide them with Christmas gifts, and this is a great way for your students to see how much they have, and the good that comes from sharing it with others. You could donate these items to organizations such as Goodwill, The Salvation Army, or Big Brother Big Sister Foundation, or to local churches, homeless shelters, or community centers.
Handmade Dog Toys for the Local Animal Shelter
Here's a fun project your students will really enjoy doing! Students can easily make two types of dog toys as a classroom project: a braided rope toy or a stuffed sock. For the braided rope, students will need three strips of fleece each. (You can get the fleece online or from a local fabric store.) Students can work together to braid the fleece. After the fleece strips are tied together with a knot on one end, one student can hold the knotted end while the other student braids them. A knot on the other end will hold the braided rope together. For the stuffed sock, students will tuck a tennis ball inside a clean sock and tie a knot at the end of the sock so the tennis ball stays inside. Both types of dog toys make a fun classroom activity, and afterward you can donate them to your local animal shelter.
Christmas Cards for Soldiers
Another great classroom service project is making Christmas cards for soldiers who are stationed overseas. Your students can use colored pencils, markers, or crayons to create a festive card for a soldier. When you're ready to send out the cards, you have plenty of great organizations to choose from. The American Red Cross offers a Holidays for Heroes program through its local Red Cross offices. Some other organizations with greeting-card programs include Operation Gratitude and America's Adopt a Soldier.
Holiday Concert for the Elderly
If you're looking to get your students out of the classroom for a service-related field trip, here's a great field trip idea! Arrange a class visit with one of your local nursing homes or senior citizen centers. Before you go, put together a program of Christmas carols for your students to sing, and have a few practice sessions ahead of time. This activity is a sure way to brighten up the holidays for senior citizens, and your students will have fun bringing a smile to many faces!
Now it's your turn! How do you incorporate a spirit of giving in your classroom during the holiday season? Have you done any of these service projects with your students? If not, what are some of your favorite ways to teach students about giving to others? Share your ideas in the comment section below!
You'll also want to check out the holiday worksheets and activities on the Super Teacher Worksheets Christmas Page and the Super Teacher Worksheets Hanukkah Page. (You can also check out the New Year's Worksheets and Winter Worksheets pages too!)

Comments
Leave a comment
Thank you! Your comment has been submitted.