Christmas Snacks for the Whole Class!
By Leah | December 4, 2019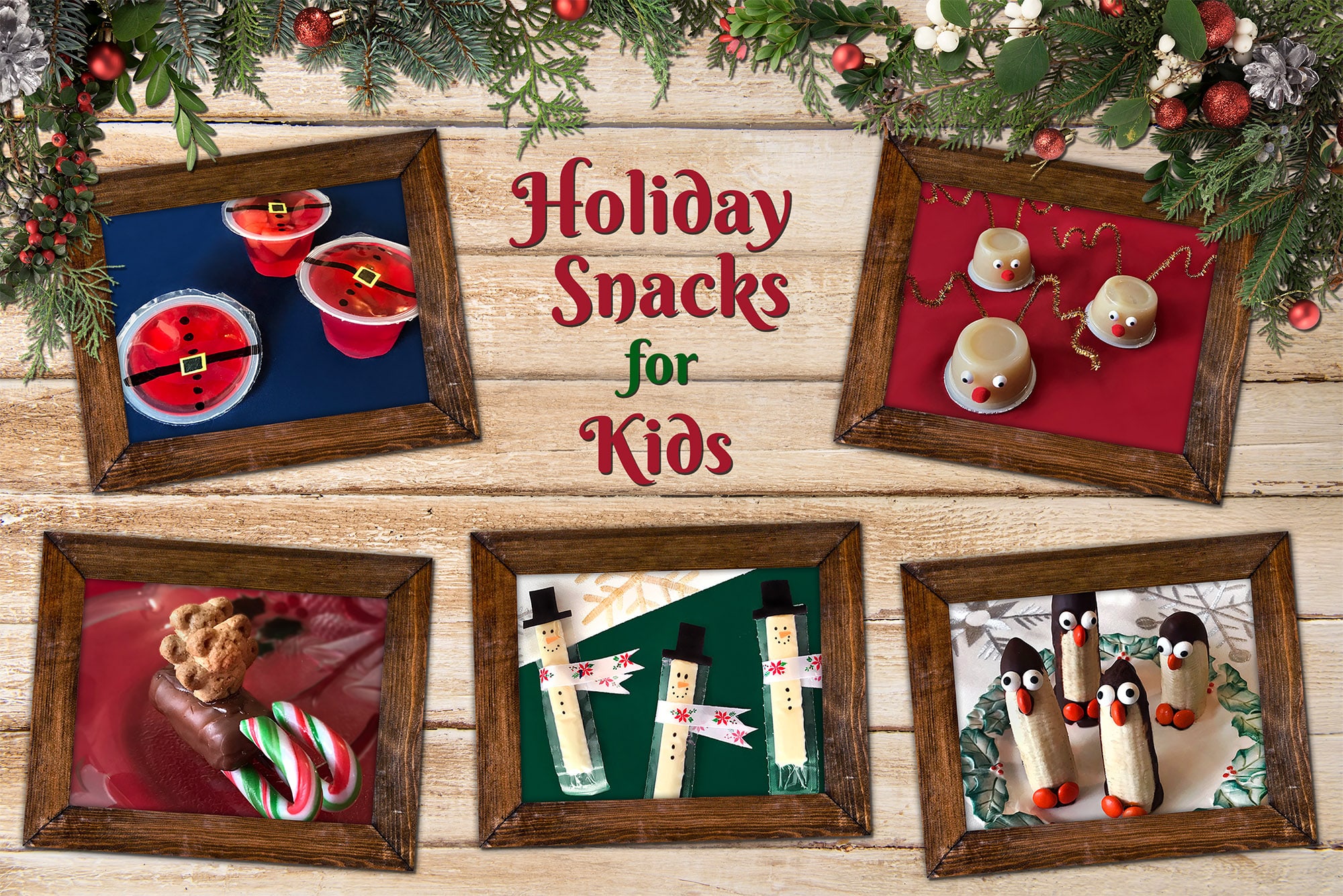 'Tis the season for holiday parties! Whether you're a teacher looking for easy (and economical) ideas for the classroom Christmas party, or you're a parent scrambling for a last-minute snack to send along with your kiddos—or you're just looking for some fun holiday food ideas to try at home with your little ones, we've got you covered! Read on to find out more.
Below are five festive Christmas snacks that are sure to be a hit at any holiday party. You'll see how simple these snacks really are—each one comes together in a snap! Be sure to tag @superteacherworksheets on social media if you make any of these tasty treats this holiday season.
Snowman String Cheese
What could be more adorable than string cheese snowmen? Nothing? We agree with you! It doesn't get much easier than this wonderfully winter-themed snack. You will need string cheese sticks, black construction paper, scissors, ribbon, a permanent marker, and a hot glue gun to put your snowmen snacks together.
Cut out a tiny top hat from black construction paper for each of the snowmen. Using a hot glue gun, stick on each top hat with a little hot glue. (We recommend that an adult always handles the hot glue gun. Alternatively, you can roll a piece of tape to stick on the back of each top hat.) Next, snip a small length of ribbon for each snowman's scarf and tie it around each string cheese stick. Add eyes, a mouth, buttons, and a carrot nose with a permanent marker.
That's all there is to it! We're sure all the kids who eat these string cheese snowmen will find them so ap-peeling. (We just had to!)
Santa Belly Jell-O Cups
You're going to love making these Santa belly Jell-O cups as much as kids are going to love eating them! Once you have your red Jell-O cups, grab a permanent marker, yellow construction paper, and a hot glue gun. Here's what to do:
Use a permanent marker to draw a thick black line across the top of each Jell-O cup for a belt. Draw on some buttons too. Then cut out little square belt buckles from the yellow construction paper and fill in the centers with your black permanent marker. Use a hot glue gun to adhere the belt buckles to the center of each belt.
Ta-da! Your Santa belly Jell-O cups will put everyone in the Christmas spirit. Ho ho ho—off to school they go!
Reindeer Applesauce Cups
Rudolph the Red-Nosed Reindeer had a very shiny nose/ and if he ate some applesauce, you would even see it glow!
Did you know those were the original lyrics to the classic Christmas song? Okay, so maybe applesauce doesn't belong in the iconic sing-along, but it sure makes a fun holiday snack for your own little "deers". You will need applesauce cups, googly eyes, red pom poms, sparkly pipe cleaners, and a hot glue gun to make the holiday magic happen.
Use a hot glue gun to adhere googly eyes, a red pom pom nose, and pipe cleaner antlers to each applesauce cup. You can bend and twist the pipe cleaners to make them look more antler-like.
You're done! This could possibly be the easiest and cutest Rudolph-themed snack ever. We think Rudolph himself would be very proud.
Sledding Teddy Grahams
Let's take a moment to appreciate the undeniable cuteness of the sledding teddies pictured above. Please go ahead—we'll wait. Okay, now that your heart is melting like the chocolate you will need for this snack, let's get going! Make sure you have mini candy canes, bite-sized chocolate bars (such as Twix, Snickers, or Milky Way), Teddy Graham crackers, and chocolate chips before you begin. A baking tray covered with parchment paper may be helpful as well.
First, you'll want to melt your chocolate chips in the microwave. (We didn't specify quantities, so you can adjust based on how many sleds you will be making.) Dip the bottom of your bite-sized chocolate bar into the melted chocolate and perch it on two mini candy canes to make the sled. Hold it there for a few seconds to let the chocolate set. Remove the bottom-half of two Teddy Grahams and dip the mid-section of your Teddies into the melted chocolate. Adhere them to the top of the chocolate bar and hold them there for a few seconds to let them set.
Refrigerate your sledding teddies for at least twenty minutes to solidify the chocolate. Then carefully transfer them to a portable container or holiday platter for sharing.
These little guys will disappear fast—guaranteed!
Frozen Banana Penguins
We heard it's wise to save the best for last, so we did! Then we realized we couldn't decide which Christmas snack is our favorite, so these frozen banana penguins must share first place with all the other fabulous holiday snacks on our list. (Shhh! They don't know this. It might offend them.) To make this frozen treat, you will need bananas, chocolate chips, googly eye sprinkles, and orange M&Ms. You will also need a baking sheet lined with parchment paper and a plastic knife.
First you will want to peel and slice your bananas in half and arrange them on a baking sheet lined with parchment paper. Then, cut a few orange M&Ms in half to use for the penguin beaks. Leave a few whole M&Ms handy for the feet. Make sure your googly eyes are accessible too.
Next, go ahead and melt your chocolate chips in the microwave in thirty-second increments, whisking in between, until the chocolate is melted. Stir in one tablespoon of coconut oil per one cup of melted chocolate.
Now you will want to work quickly to dip the backs and tops of your bananas into the melted chocolate. Carefully sit them upright on the baking tray. Use a plastic knife to dab some melted chocolate on the front of the bananas and place the googly eyes, M&M beaks, and M&M feet on the penguins.
Transfer the penguins (very carefully!) to the freezer to firm up for at least twenty minutes. When they are done, they will look like they just stepped out of Antarctica and into your kitchen.
These festive fellows are almost too cute to eat! (It's a tough job, but someone has to do it.)
Which of these Christmas snacks will grace your holiday parties this year? Tell us in the comment section below.
Looking for fun, educational holiday activities? Check out the Super Teacher Worksheets Christmas Page. While you're at it, stop by the Super Teacher Worksheets Hanukkah Page too.
You may also like:
Comments
Leave a comment
Thank you! Your comment has been submitted.