Little Paleontologists!
By Leah | October 1, 2020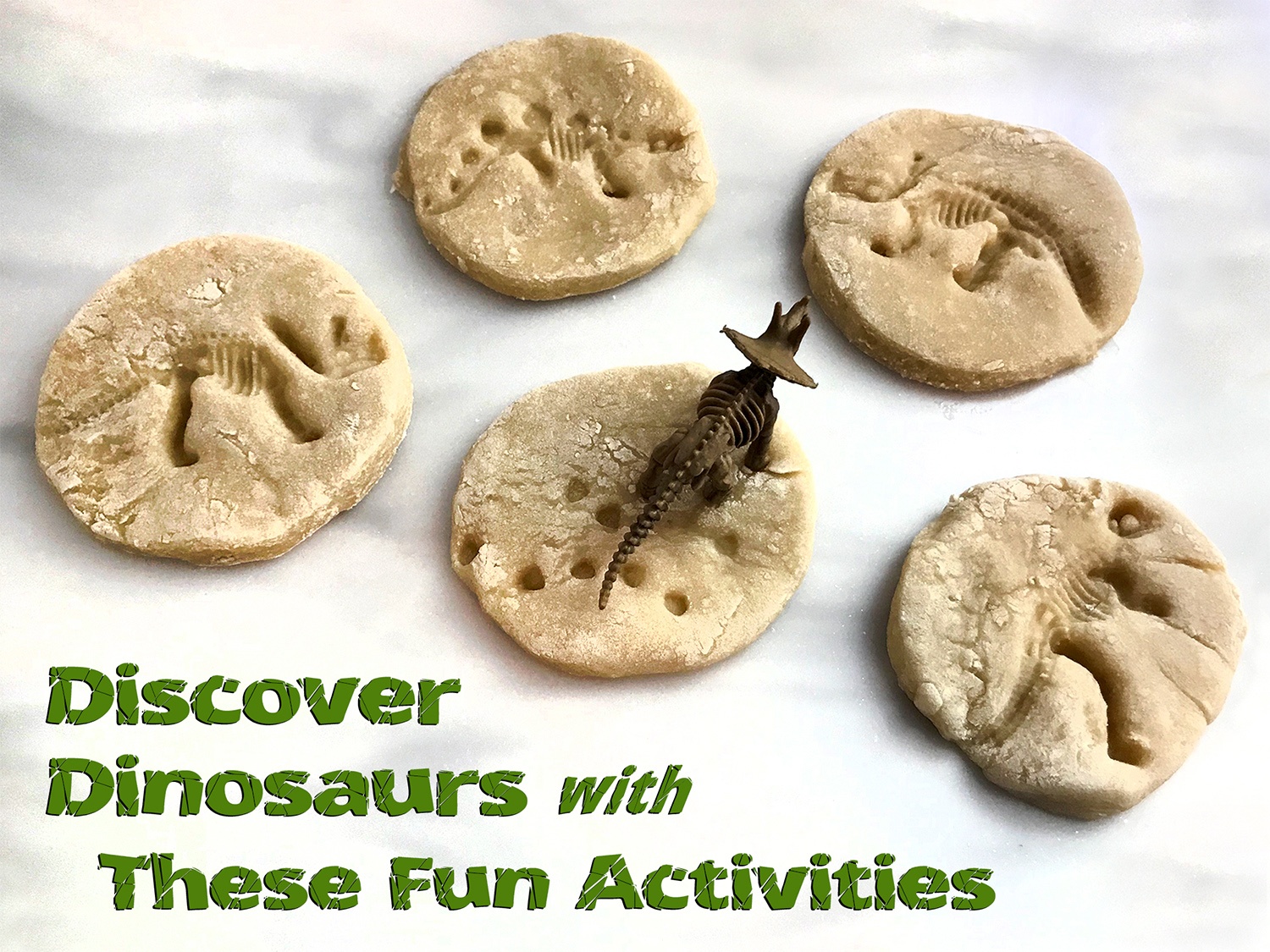 Dig up the dirt on dinosaurs with three fun geology activities your students will love! This month on the Super Teacher Worksheets blog, it's all about dinosaurs! We're featuring exciting hands-on activities that will inspire your little learners to discover all they can about dinosaurs. Make your own dinosaur fossils with an easy salt dough recipe, create a dinosaur fossil dig site, and mix up a batch of tasty dinosaur egg treats. Ready to begin your dinosaur adventures? Read on to find out more!
We've got plenty of inspiration for your dinosaur unit with these elementary science activities. You will love the following dinosaur activities as much as your students will! They are interactive and hands-on, yet simple and straightforward. You only need a couple supplies for each activity, which we outline below. Plus, we provide several ways to adapt the activities to your needs and resources.
Be sure to tag @superteacherworksheets on social media if you and your class try out any of these activities. We would love to come check out your dino-mite discoveries! 😉
Salt Dough Dinosaur Fossils
There are SO many ways to use salt dough with kiddos, but we're branching out from the standard salt dough Christmas ornament crafts to bring you these adorable salt dough dinosaur fossils! We'll include a typical salt dough recipe you can use, below, but if you have a different variation you want to try instead—go for it.
Here is what you will need for this activity:
flour
salt
water
measuring cups
mixing bowl
mixing spoon
rolling pin
baking tray or plate
plastic dinosaur toys
Ideally, you will have access to a kitchen oven, but if you are doing this activity in a classroom setting, you can opt to let your salt dough fossils air dry for a couple days instead.
Here is the basic recipe:
2 1/2 cups flour
1 cup salt
3/4 cups water
First, you will want to combine the ingredients in a mixing bowl and stir them together until a soft dough forms.
Next, roll out the dough on a lightly floured surface with a rolling pin.
Then, using a cookie cutter, the rim of a drinking glass, or the palms of your hands, form small clumps of dough into discs about 1/4 inch thick.
Place the dough discs on a baking sheet lined with parchment paper or a silicone baking mat to bake them in the oven. Alternatively, you can set them on a plate to air-dry.
Now it's time to make some dinosaur fossils! Press a dinosaur toy into each soft dough disc until it leaves an imprint in the dough. Press the toy in evenly to make sure the imprint is deep enough. Continue to make the fossil-imprints in the remaining dough discs.
Bake the salt dough fossils in the oven at the lowest temperature your oven can go for a couple hours, or until hardened. (200˚F for an hour or two should be adequate, depending on the thickness of the dough discs.) Or, you can let them air-dry for two to seven days, again depending on the thickness of the dough.
Pass around the salt dough fossils among your students.
Check out the Dino Fact Files on the Super Teacher Worksheets Dinosaur Page and guide your students through a fossil hunt for each type of dinosaur described in the fact files.
Your little ones will be amazed by the Dino facts—and their homemade fossils!
Dinosaur Fossil Dig Site
What could be more fun than excavating dinosaur bones?!
While a field trip to a fossil dig site may not be on your class's itinerary, this DIY dinosaur fossil dig site definitely adds the "Wow!" factor to any dinosaur lesson plan.
Here is what you will need for this activity:
plastic dinosaur toys
a shallow plastic or glass container
craft sand (You can even use sandbox sand or fancy moon sand or kinetic sand!)
new toothbrush, paint brush, or pastry brush
This activity is so simple and fun! Just pour the sand materials into your container. You can even add a few small stones or pebbles to make the excavation process more interesting. Nestle the dinosaur toys beneath the sand and let your little paleontologists take over!
Students will use a small brush to reveal the dinosaur fossils beneath the sand, bit by bit. As your students work, encourage them to identify the types of fossils they uncover by using the Dino Fact Files or the nonfiction articles on the Super Teacher Worksheets Dinosaur Page. See how many different types of dinosaurs you can learn about together!
Tasty Dinosaur Egg Treats
Celebrate all the dinosaur discoveries your class has made with these delicious treats. It's classic Rice Krispies treats, dinosaur-style! Make sure you have the ingredients you need—butter, marshmallows, and crispy rice cereal—plus some green or purple food coloring and a few colorful candies. You can make the classic Kellogg's Rice Krispies treats recipe or any variation thereof.
When you have melted the butter and marshmallows, whether on the stove top or in the microwave, you can add a few drops of food coloring and stir it into the mixture. Then continue to add the crispy rice cereal.
When it's time to shape your dinosaur eggs, you can either free-form them by hand or use an egg mold to get the shape you're after. If you choose, you can place a small dinosaur toy in the center of each egg and then finish molding the rice crispy mixture around it. It goes without saying that the toys may present a choking hazard to very small children, so we advise you to use your discretion should you choose to include them in this activity.
Add a few small candy "speckles" to the outside of your dinosaur eggs for a little extra flare and enjoy!
We hope these fun dinosaur activities for kids will inspire you to liven up your dinosaur unit! If you're looking for more fun, educational science activities, stop by the Super Teacher Worksheets Science Collection for more great printable resources.
You may also like:
Comments
Leave a comment
Thank you! Your comment has been submitted.