Learn About Landforms!
By Leah | October 30, 2017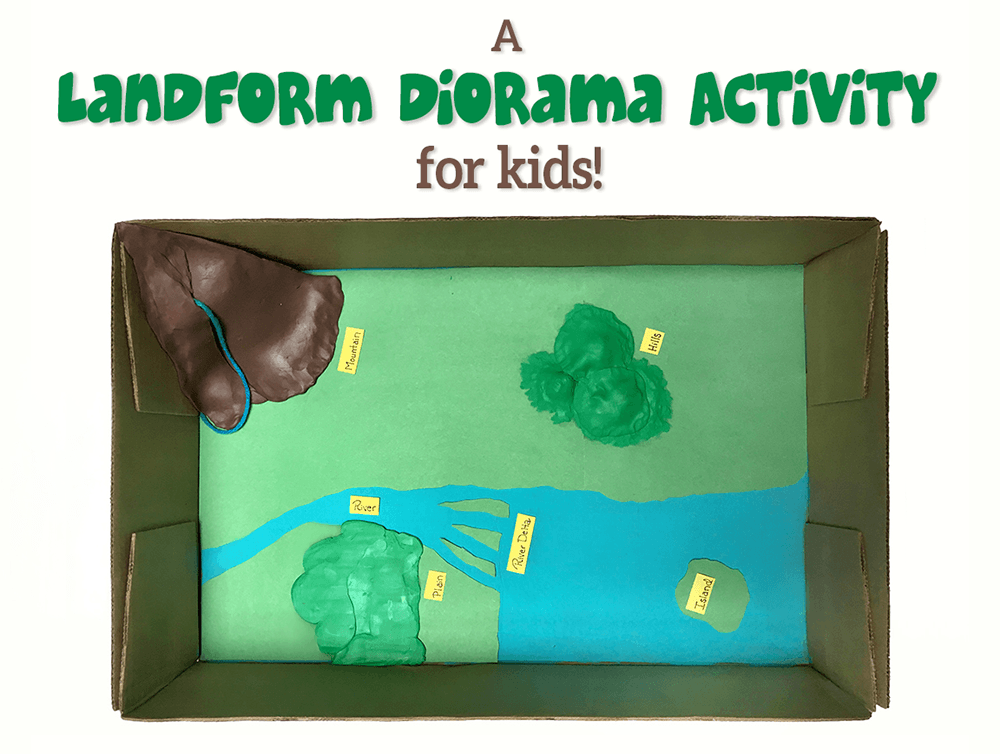 Teach kids about landforms and bodies of water with this fun diorama project they can make with a few simple materials! Children will have fun painting a river, molding a mountain out of clay, and more! Read more to find out how to do this activity.
A diorama is a fun and easy way for children to learn about basic topography. This activity is very simple and uses only a few supplies you can pick up at your local craft store or even Walmart.
Here are the materials you'll need for this project:
a shallow box

blue paint

paintbrush

green and yellow construction paper

green modeling clay

brown modeling clay

blue string

scissors

glue

marker

Once you've gathered all your supplies, it's time to create the diorama!
The first thing you'll want to do is paint the interior bottom of the box blue. Make sure to give it about an hour to dry before moving onto the next step. This will be the water in your model.
Next, lay the green construction paper over the blue base of the box and decide what shape you want your land to look like. In our model, we trimmed our green construction paper "land" to look like a coastline and the banks of a river. We also cut out an island and green strips to form a river delta.
(Teacher Tip! When guiding children through this activity, you may want to tell them which specific landforms and/or bodies of water to include in their model. You could also let them choose features from a list of options. Here are some ideas to consider: mountain, island, canyon, plateau, hill, peninsula, plain, valley, isthmus, delta, waterfall, lake, pond, wetland, strait, bay, river, and ocean.)
Trim the construction paper with scissors and glue it down to the base of the box.
Now it's time to add your topographic features! Use the brown and green modeling clay to make shapes such as mountains, hills, plains, or whichever features you decide to include. Add an optional blue string down the side of your mountain to make a flowing river!
The last step is to label each topographic feature in the diorama. Cut out squares from the yellow construction paper, write out the names of each landform or body of water, and glue them onto the model.
Now your landform diorama is complete! There are so many ways to incorporate this fun activity into your curriculum on geography, landforms, and bodies of water. Use it as a take-home project, ask students to present their models to their fellow classmates, or put them on display in your classroom.
This landform diorama can be used with a number of worksheets, activities, and other supplemental materials from the Super Teacher Worksheets Landforms and Bodies of Water Page. Why not check it out and see how you can make this hands-on activity your own?
How do you like this activity? Would you give it a try with your students?Drop us a line in the comment section below to let us know what you think!
Comments
Leave a comment
Thank you! Your comment has been submitted.