Make Your Own Butterfly Life Cycle Craft!
By Leah | April 25, 2019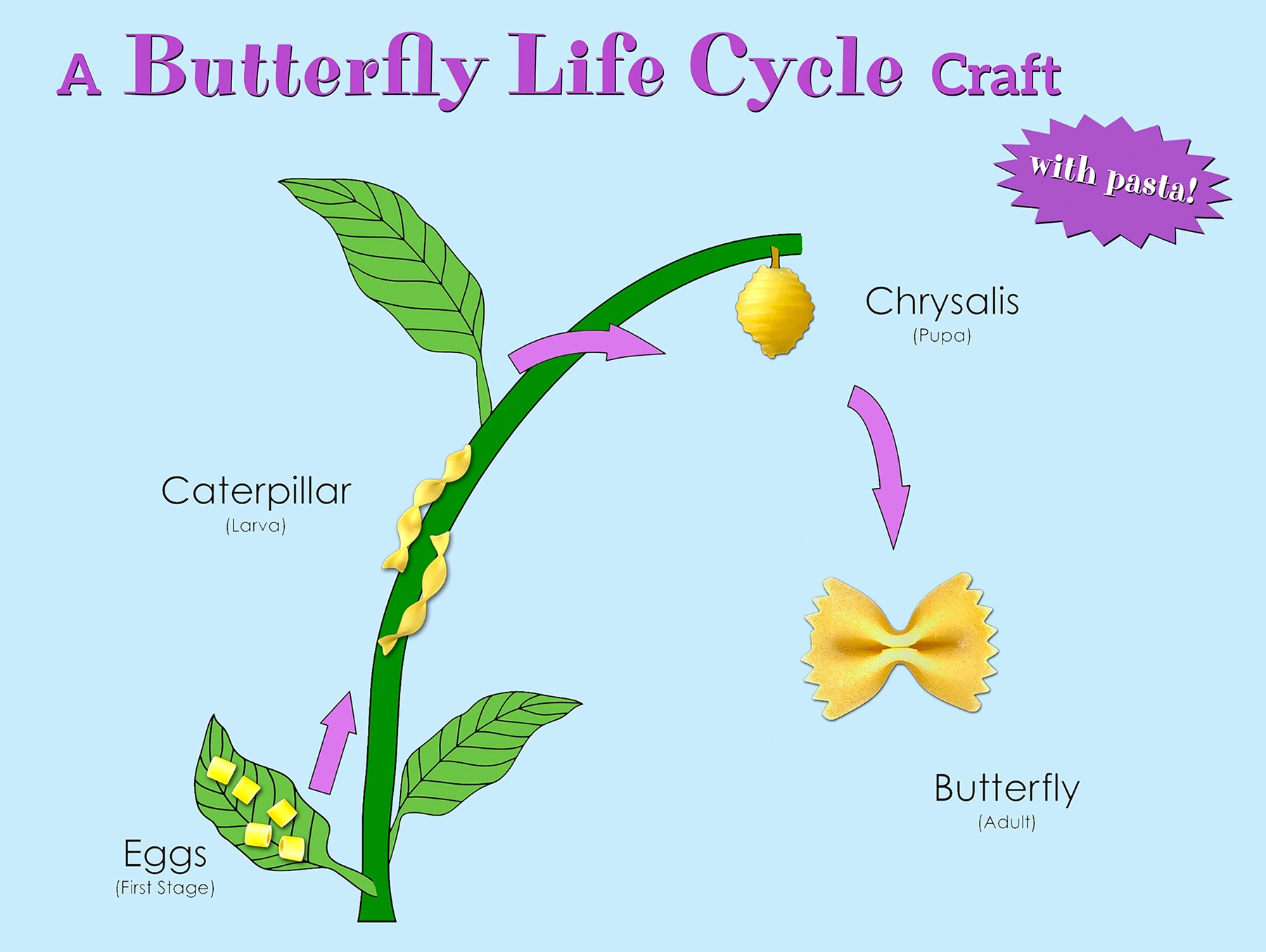 Get ready to learn about the life cycle of a butterfly with your little ones! This hands-on activity is super simple, using pasta to represent the different stages in the butterfly life cycle. Gather up your little learners, and let the fun begin!
Here's what you'll need to have on hand before you begin the activity:
Four types of pasta to represent the four stages in the butterfly life cycle (We used Farfalle, egg noodles, mini shells, and Ditalini)
Paper plate
Sharpie marker
Straight edge, like a ruler or protractor
First, use your straight edge and marker to draw an 'X' shape in the center of the paper plate, dividing it into four equal sections.
Label the sections with the four stages of the butterfly life cycle: Eggs (First Stage); Caterpillar (Larva); Chrysalis (Pupa); and Butterfly (Adult).
Place several pieces of pasta in each section. We used Ditalini to represent the eggs, egg noodles for the caterpillars, mini shells for chrysalises, and Farfalle for our butterfly.
That's all there is to it!
Here are some ways you can modify the activity:
Use any kind of pasta you want to represent the different stages in the butterfly life cycle.
Use fruits and veggies to make a healthy snack version of the activity (grapes, baby carrots, strawberries, butterfly-shaped crackers, etc.)
Use candy pieces to make a sweet-treat version of the activity (Skittles, M&M's, gummy worms, etc.)
Did you like this hands-on science activity? Please leave us your feedback in the comment section below. We'd love to hear from you!
If you're looking for more inspiration for your Butterfly Life Cycle unit, be sure to check out the Super Teacher Worksheets Butterfly Life Cycle page for printable activities.
You may also like:
Comments
Leave a comment
Thank you! Your comment has been submitted.