7 Tips for Your Best Open House Ever!
By Leah | September 1, 2023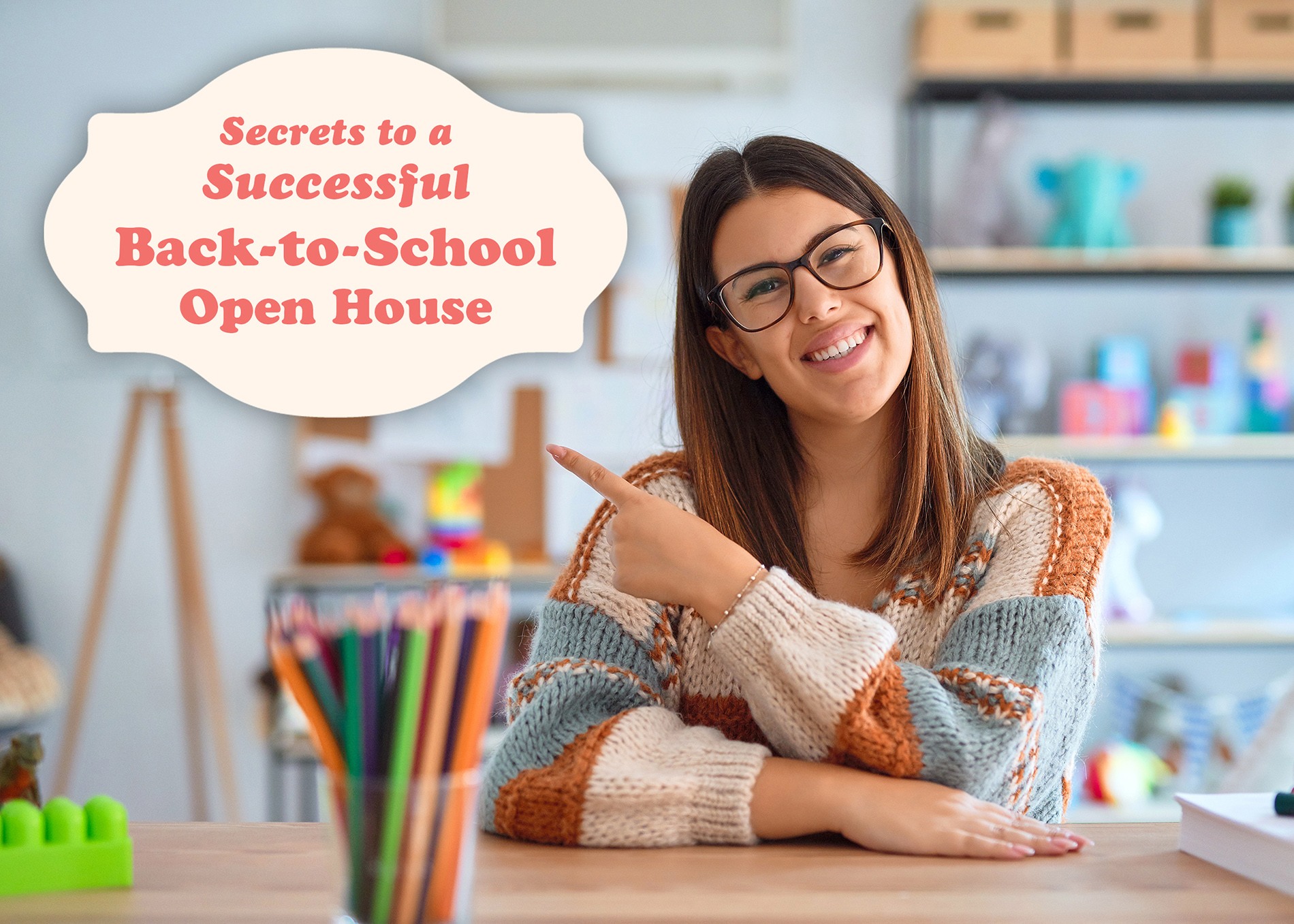 It's that time of year again! Gear up for your annual back-to-school open house or meet-the-teacher night and make the event your best one yet with seven tips featured in our September blog post. Keep reading to find out how you can rock this year's open house!
Tip #1 – Decide what information you need to collect from parents and what information you need to share with them.
Back-to-school night is your chance to connect with parents, maybe for the first time. Plan ahead of time what information you will need to collect from them during the event. Consider creating a station where families can fill out the forms you need. Here are some ideas:
Sign-in Sheet – Keep track of attendance by posting a sign-in sheet near your classroom door. Ask for parent names and email addresses, or other preferred method of contact. You can refer back to this sheet later when you are trying to remember whether you've met a child's parents or need some basic information.
Student Information – Get to know your students through the eyes of their parents with a fun "Getting-to-Know-Your-Child" worksheet. Include the student's name, birthday, parent/guardian name, sibling names, medical/allergy information, as well as open-ended questions parents can answer with insights about their son or daughter:

How would you describe your child's personality?
What are your child's strengths?
What areas does your child need to work on?
What motivates your child?
What frustrates your child?

Transportation Information – How will students be coming to and going from school on regular school days and early dismissal days? Gather all of the essential transportation information you need from parents. Then you will know who is a walker, car rider, bus rider, and participant in after-school programs.
Classroom Volunteer Form – If any parents or family members are interested in volunteering in your classroom, then you can find out with this handy document. Include parent/guardian name, phone number, and email address, student name, what volunteer activities they are interested in, and what days/times work best for them. Use this info later to create a volunteer schedule and to-do list.
Not only will you need to collect information from parents at your open house, but you'll also need to share information about yourself, your classroom, and the school year ahead. Here are a few topics you'll want to be sure to cover at this year's meet-the-teacher event:
Introduce yourself and help parents get to know you as their child's teacher.
Introduce your classroom, including your class's daily routine or schedule, classroom policies and procedures, and other aspects of day-to-day learning in your room.
Provide a high-level overview of the grade level, curriculum, and what children will be learning this year.
Provide basic info about the school, such as this year's academic calendar, policies and procedures, and so on.
Review communication and contact information, including the best way parents can get ahold of you.
You may want to provide the information parents need in a handy packet, newsletter, or folder in addition to your presentation, which we'll talk about later.
Tip #2 – Think about ways you can help families explore your classroom and school.
Your students are already becoming familiar with your classroom by the time back-to-school open house rolls around, and chances are, they're excited to show off their classroom to their parents. You can help families explore your classroom and school together by encouraging a sense of wonder and excitement about your learning environment. Here are a few ideas:
Create a scavenger hunt for families to discover your classroom and different areas of the school.
Display student work on your bulletin board for parents to admire.
Invite students to take their parents on a classroom tour. (Give students plenty of practice being tour guides during the week of open house.)
Tip #3 – Create a festive and welcoming learning environment.
Consider how you can make your classroom attractive and engaging for back-to-school night. Try these practical ideas:
Recruit the help of your class to clean, organize, and decorate your classroom during the school day of open house night.
Hang up eye-catching student artwork, hands-on projects, or other creative works for parents to admire.
Set up a back-to-school photo booth in your classroom for that perfect family photo-op at open house.
Tip #4 – Consider your presentation.
Once you know what information you want to share with parents, you can think about how you want to present it. A PowerPoint presentation is a sure bet. Make sure you have an outline of topics you'd like to cover, and be sure to run through your presentation a few times so you know how much time to spend on each topic. Keep the information as short and concise as possible—even parents have limited attention spans!
Tip #5 – Make it memorable and personal.
Open house is a great time to make a personal connection with students and their families. Inspire enthusiasm about the new school year, and give individualized recognition to students and their families where possible. Here are a few ways to make it happen:
Give small gifts or goody bags to students to take home from open house and get them excited about the year ahead. Think coloring books, bubbles, or candies.
Write a brief letter to each of your students welcoming them to your class and sharing how excited you are to get to know them and help them discover new things.
Ask students to write thank-you notes to parents for coming to back-to-school night. You can have them write the notes in class and give them out at the event.
Tip #6 – Collect classroom supplies or share a classroom wish list.
Have you considered collecting classroom supplies at this year's open house? You could even have labeled bins ready to go so parents can drop everything into its designated bin and it's all sorted out for you! Instead of holding a classroom supplies drive, you could give out your "Wish List" so parents can fill in the gaps where needed.
Tip #7 – Provide a sweet treat.
Add some sweetness to the occasion with a treat adults and kids can enjoy—donuts and apple cider, cookies and punch, or something similar. The gesture will be appreciated and enjoyed by all.
We hope these tips will inspire your best open house ever!
Be sure to visit Super Teacher Worksheets for tons of printable resources to make the 2023-24 school year your best one yet.
You may also like:
Comments
Leave a comment
Thank you! Your comment has been submitted.