Spelling Activities for Kids
By Leah | July 21, 2020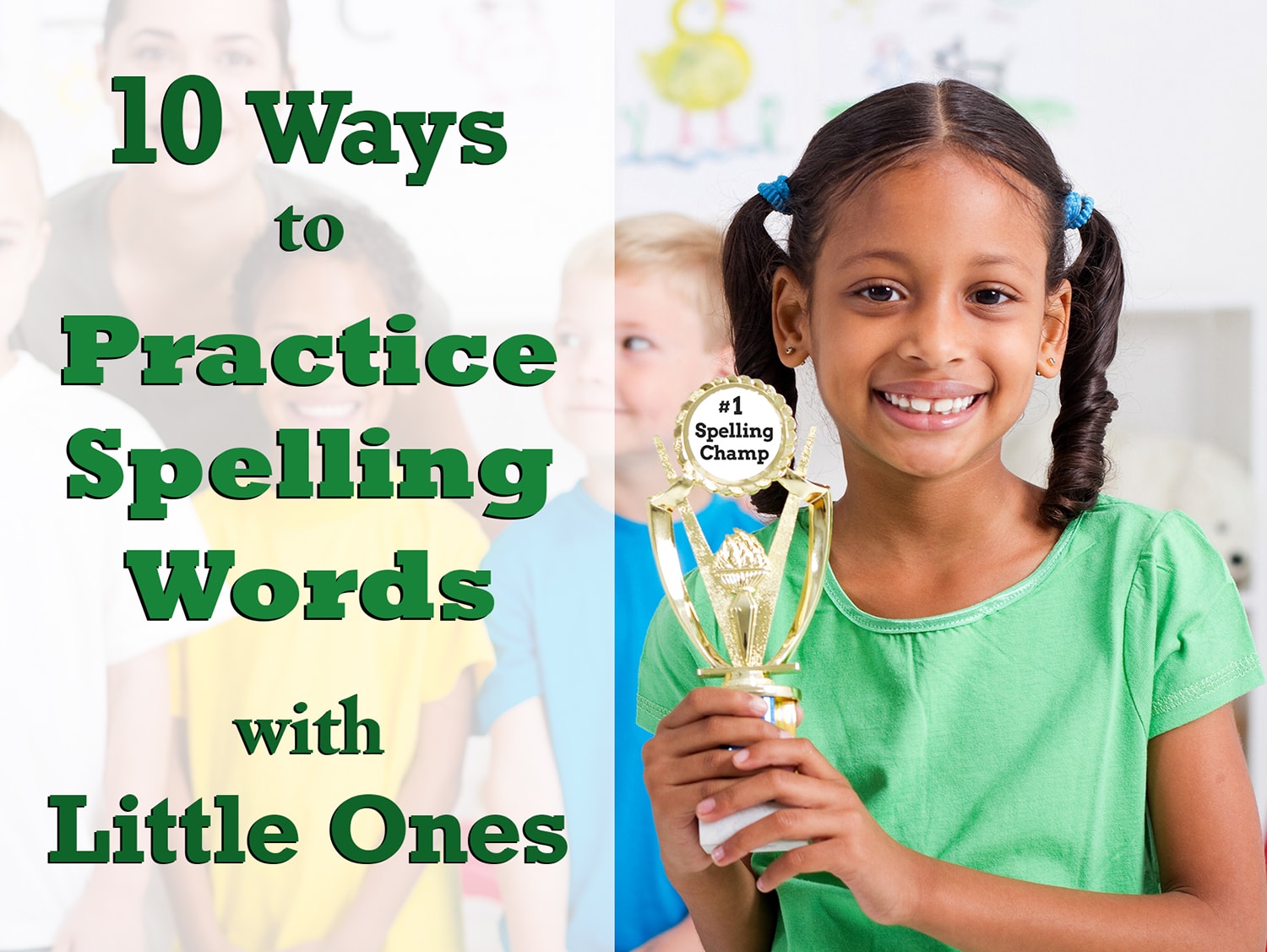 It's time for a new school year and a new spelling routine! Try something fresh and exciting in your approach to spelling word practice this year. Our August blog post is filled with clever ideas to make spelling practice fun! From spelling with snacks to using invisible ink, we've put together a list of simple, fun spelling activities you can implement with your students in the classroom or at home. Read on to learn how to keep little ones spellbound as they expand their spelling skills this year!
Here are ten ways you can practice spelling words with your kiddos. You can adapt any of these activities to the needs and preferences of your students. These spelling activities are ideal for first grade through fifth grade students, and you can do them at home or in the classroom. Let us know which spelling games are your favorite! Remember to tag @superteacherworksheets on social media so we can see which ones your students are loving!
Spell with Craft Supplies
Change up your spelling practice method by swapping out the usual pencil and paper with some fun craft supplies! Try spelling this week's words using yarn, pipe cleaners, or glitter glue. Forming the letters of each spelling word with art supplies is a tactile experience that may reinforce learning in subtle but effective ways. There is no need to make a special trip to the craft store—use whatever you have on hand in your arts and crafts bin to give spelling practice a creative twist!
Spell with Snacks
Incorporate spelling practice into snack time by offering alphabet snacks that kids can rearrange to make their spelling words. Try using alphabet pretzels, Scrabble Junior Cheez-It crackers, or alphabet graham crackers to spell out the words in this week's spelling unit. You could even have students try spelling words with shapeable snack food, like Cheerios or mini M&M candies.
Spell on a New Surface
Keep kids engaged with spelling practice by having them write their spelling words on an unusual surface. Try using dry erase markers to write spelling words on a mirror or window, grab some good old sidewalk chalk and get those spelling words written down on the concrete, or have little ones use their finger to trace the letters of their spelling words onto a paper plate covered with salt, sugar, or craft sand. There are so many possibilities beyond a notepad and pencil when it comes to writing down spelling words!
Play a Spelling Game
Nothing takes the "boring" out of your spelling routine like a fun spelling game! Play a board game designed to test students' skill with words, like Scrabble or Scrabble Junior. Try a memory match game or play spelling bingo with your weekly word list. Whether you choose a one-player game or an activity that calls for your whole class to participate, your students won't mind the challenge of practicing their spelling words when they can play a fun game in the process.

Try a Spelling Puzzle
Sometimes a fun brainteaser puzzle is the perfect way to get kids excited about learning their spelling words. Print out a word search puzzle, crossword puzzle, or word scramble activity to challenge kids to think about their spelling words in a new way. You can even make your own spelling activities and puzzles with the Super Teacher Worksheets generator tools.
Use Invisible Ink
Kids love using invisible ink to write secret messages! Why not ask kids to write their spelling words in disappearing ink? If you don't have an invisible ink pen, you can buy a set for less than ten dollars online. One end of the invisible ink pen will have a UV light to reveal the hidden spelling words your students write. Kids will love this idea!
Host a Spelling Bee
Introduce some friendly competition among your students by hosting a spelling bee to review their spelling words. You could hold a weekly spelling bee or combine several units at a time if you want to have a more occasional competition. You could even have a spelling bee competition at home so kids can practice their spelling words with siblings or friends. Don't forget to offer a prize for the winner!
Spell with Sticky Notes
Here's an easy and fun idea for helping kids become familiar with their spelling words. Write the letters of the alphabet on sticky notes, one letter per sheet. Students will arrange the sticky note letters to spell the words on their weekly word list. No mess, no fuss!
Type Your Spelling Words
Kids will practice two skills in this activity: spelling and keyboard skills. Use a word processor such as Microsoft Word or Google Docs to have students type their spelling words on the computer. (Be sure to turn off the auto-correct spelling feature so kids can learn the correct spelling of the words on their own!)
Use Flashcards
It's okay to bring things back to the basics, and flashcards can be one of the most effective and versatile ways to practice spelling words! Use printable spelling flashcards for individual study time, group review sessions, and class games. Did you know Super Teacher Worksheets includes a set of printable flashcards with every spelling unit on our website? You can also make your own spelling flashcards with the Super Teacher Worksheets flashcard generator.
We hope you and your students will try out a few of these activities and discover exciting new ways to practice spelling words together!
If you're looking for an excellent comprehensive spelling program to use with your class this year, we encourage you to explore the Super Teacher Worksheets Spelling Collection! We have spelling resources for first grade through fifth grade. All of our spelling series include thirty regular units, plus themed and holiday units. There is no better time to check out the Super Teacher Spelling Series!
You may also like:
Comments
Leave a comment
Thank you! Your comment has been submitted.