Q & A: Interview with Author, Kelly Hashway
By Tim | June 23, 2016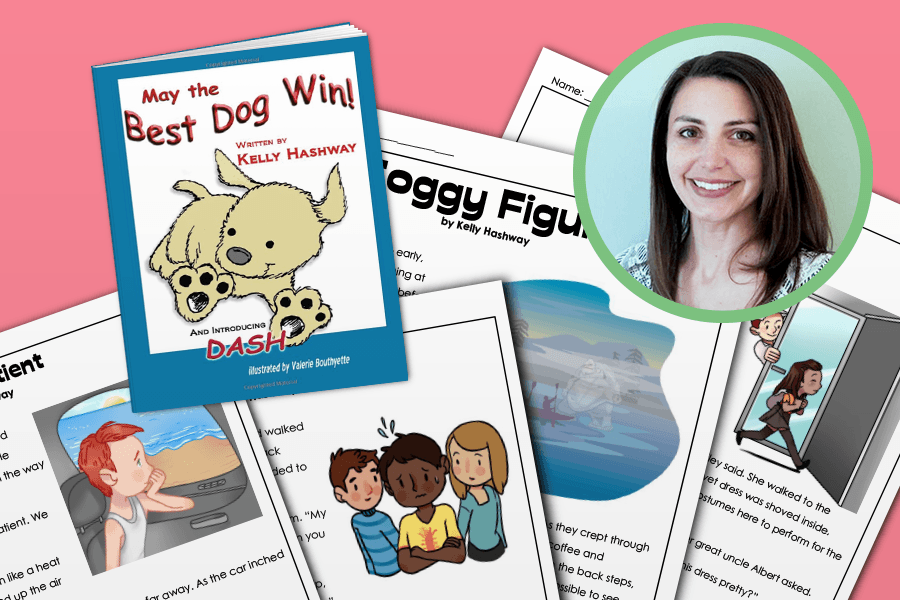 This month we had the opportunity to chat with author, Kelly Hashway. Kelly has written many of the reading comprehension articles in the Super Teacher Worksheets collection. In addition to being a published author of young adult novels and contemporary romances, Kelly is a masterful storyteller of children's fiction. Her short stories captivate the imagination of young to middle readers. Kelly also writes quality non-fiction passages for children, relating information and explaining concepts in a way that young learners can understand. Here's a look at our recent conversation with the talented Kelly Hashway.
At what point in your life did you realize you loved writing? What do you enjoy the most about writing for children?
I remember writing stories in elementary school. I was always amazed by the books I read and wanted to write my own. Writing for children is so gratifying because I loved books so much as a child. The books I read shaped the person I became, and to think that I might do that for others is the best feeling in the world.
Earlier in your career, you taught middle school English language arts for seven years. How did you decide to begin writing full time instead?
I made the transition after my daughter was born. Being an author allowed me the flexibility and time to be at home with my daughter.
Who was your favorite children's author when you were growing up? Who is your favorite children's author now? How does she/he inspire you to write for kids?
I grew up reading R.L. Stine. His Fear Street series was my favorite. Now my favorite children's author is Rick Riordan. He writes the best action scenes, and since I'm a huge fan of mythology, his books are perfect for me.
Share a memorable event in your life that later inspired your writing. Did this situation help you develop one of your characters? Decide on an ending for your plot? Give you an idea for a story setting?
My picture book May the Best Dog Win is based on my own dog, who constantly barked at the vacuum cleaner. I couldn't help wondering what she thought the vacuum was, and that led to me writing the book.
Describe what makes a good hero in children's literature. Who are the most lovable heroes in your experience writing for kids?
A good hero is someone who is realistic. He or she has to have flaws because everyone does. The difference is that this person puts others before them and does the right things despite those flaws.
Your reading passages on Super Teacher Worksheets cover many different topics and teach a variety of important lessons, from not making other people feel left out, to having a special outing with Mom. How do you come up with ideas for all your short stories for kids?
I pull ideas from my own experiences. Some come from conversations I have or things I witness in my everyday life. There's inspiration everywhere. You just have to look for it.
What serves as inspiration for your next story idea? Is there a special person or place that helps you brainstorm a new children's story?
My daughter, who is nine now, always inspires me. She's so creative and is actually writing her first novel this summer.
What books are popular with children these days? Which children's authors or series do you notice kids reading?
Rick Riordan, who I mentioned earlier, is very popular. Another great writer is Jeff Kinney, the author of the Diary of a Wimpy Kid books. Those books are always in demand at my daughter's school.
How can a teacher help students develop a love of reading? What advice would you give to educators who have students who struggle with reading, or do not like to read?

Teachers can help children find books that interest them. I really believe once you find out what interests a child, you can direct them to books on that topic and instill a love of reading.
What is the best part of writing stories for kids?
I love sharing my work with kids. I do a lot of school visits because they're the most fun. Kids are so creative and they are great to talk to about books because they have so many ideas of their own.
If you could recommend one of your books for students to read, which one would you recommend, and why?
I'd recommend my Curse of the Granville Fortune series because it has action, adventure, mystery, and fantasy. There's something for everyone.
We enjoyed getting to know more about the talented Kelly Hashway and hope you did too! Do you have questions or comments for Kelly? Please leave them in the comments section below! And while you're at it, why don't you check out some of the great stories Kelly has written for Super Teacher Worksheets? Just follow the links below!
You may also like:
Comments
Leave a comment
Thank you! Your comment has been submitted.