Economics Activities for Kids
By Leah | March 5, 2021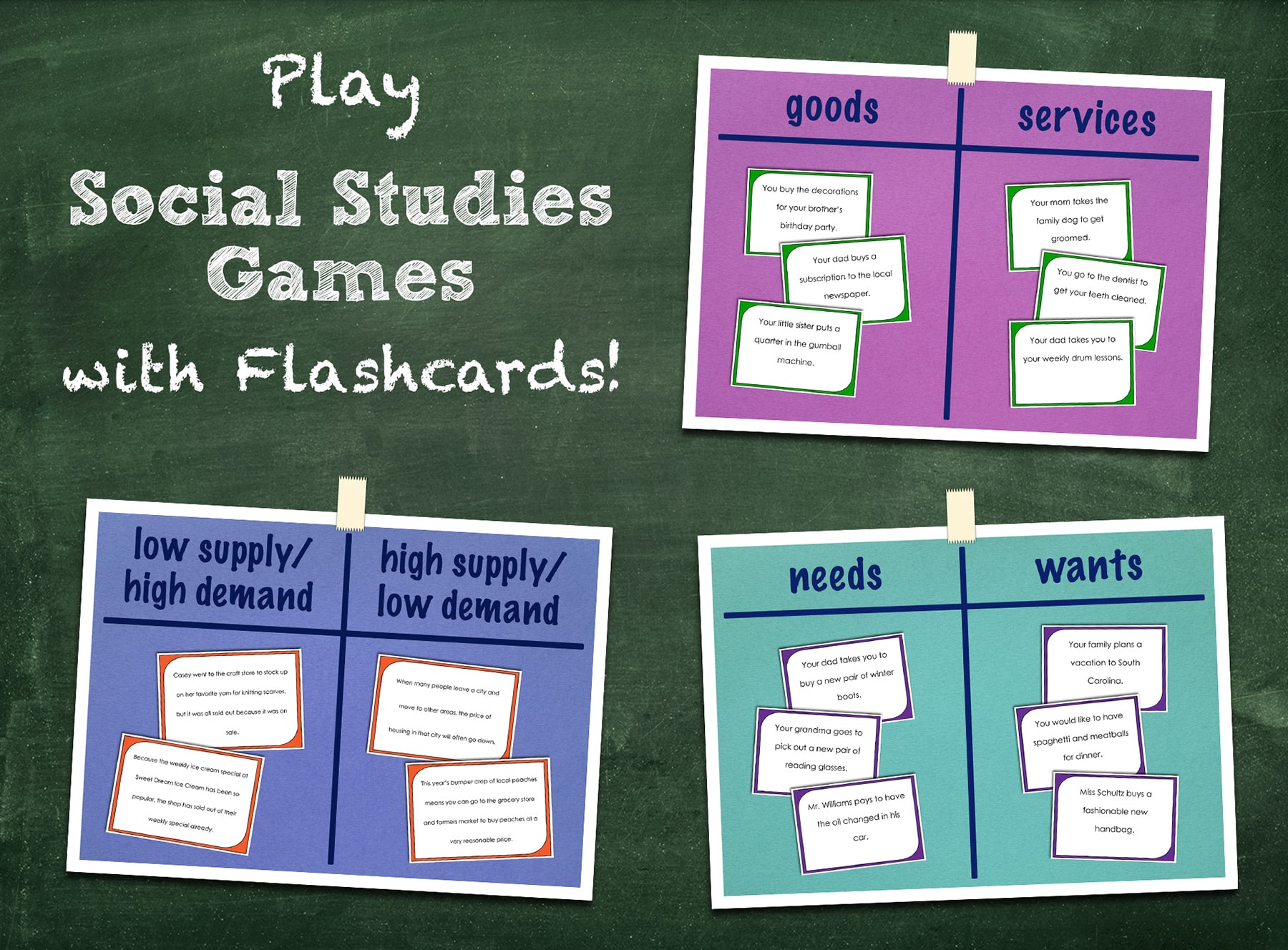 Help your students become economics experts with these fun flashcard activities! You can use the Super Teacher Worksheets flashcard generator to customize your social studies flashcards and practice different economics topics: goods and services, needs and wants, or supply and demand. Read on to learn how you and your students can explore economics together!
If you're looking for a social studies game that is quick to prepare, easy to set up, and fun to play, look no further! For this activity, you will use the Super Teacher Worksheets flashcard generator to make custom flashcards for the economics skills you want your students to practice. Once you choose the economics skill for the activity, such as goods and services, you will create a set of flashcards featuring a variety of examples of both goods and services. You can save your flashcard set and access it at any time from your Super Teacher Worksheets account. Make as many flashcards as you need!
Once you have generated the flashcards, print and cut them out for your students. In each activity, students will sort the flashcards into groups, based on whether each flashcard represents a good or a service. You can also make the flashcards and do this activity with needs and wants or supply and demand as well.
Below, we give you plenty of examples that you can use to customize your own economics flashcards for the activities. Use as many or as few as you would like and remember to tailor the activity to the needs of your class. You can use these flashcard games for independent study time, group review sessions, or a whole-class exercise. These activities are also great practice games to play at home. Have fun!
Goods and Services
Use any or all of the following examples of goods and services for your social studies flashcards.
Goods:
You buy the decorations for your brother's birthday party.
You buy your favorite board game at the store.
Your mom takes you to buy a new winter coat.
Your best friend buys you a gift when she goes on vacation with her family.
Your dad buys a subscription to the local newspaper.
You buy your lunch at the school cafeteria.
Your neighbor purchases a new lawn mower.
Your little sister puts a quarter in the gumball machine.
Your grandma and grandpa purchase plane tickets for their trip to Florida.
You pay five dollars for an old video game at a garage sale.
Services:
Your mom takes the family dog to get groomed.
You go to the dentist to get your teeth cleaned.
Your dad takes you to your weekly drum lessons.
Your older sister saves up her money to get her ears pierced.
Your aunt and uncle call a plumber to fix their clogged kitchen sink.
Your neighbor, Mr. Finnegan, hires a snow plow service to clear his driveway in the winter.
You go get your hair cut.
You take weekly karate lessons with your best friend, Benjamin.
Mrs. Anderson pays the taxi driver to take her to the airport.
Mr. Batterson pays a repair man to fix his cell phone.
Needs and Wants
Use any or all of the following examples of needs and wants for your social studies flashcards.
Needs:
Your dad takes you to buy a new pair of winter boots.
Your grandma goes to pick out a new pair of reading glasses.
Every Saturday morning, you go with your mom to buy food at the grocery store.
Your mom picks up your allergy medicine at the pharmacy.
Mrs. Murphy pays her electricity bill on time every month.
Your parents buy your school supplies for the new school year.
Mr. Williams pays to have the oil changed in his car.
Your little sister has a toothache, so your parents take her to the dentist.
Aunt Lorraine buys fruit and vegetables at the store.
Your parents pay their car insurance bill.
Wants:
Your family plans a vacation to South Carolina.
You ask for a new game for your birthday.
Your sister would like to take ice skating lessons.
Your little brother asks for a new stuffed animal.
You would like to have spaghetti and meatballs for dinner.
Miss Schultz buys a fashionable new handbag.
Mr. Mendoza takes his family to a restaurant for dinner every Friday evening.
You save up for a new video game.
You and your friends buy some ice cream at the local ice cream stand.
Your sister buys a new bottle of nail polish to paint her nails.
Supply and Demand
Use any or all of the following examples of supply and demand for your social studies flashcards.
Students will identify whether each scenario illustrates the law of supply or the law of demand. When presented with the scenario on each flashcard, they can respond: "Low supply/High demand" or "High supply/Low demand."
Low Supply/High Demand:
Because the weekly ice cream special at Sweet Dream Ice Cream has been so popular, the shop has sold out of their weekly special already.
Only two flights arrive at the Wilmington airport every day. There are fewer tickets available per day for flights to Wilmington than there are to nearby Myrtle Beach.
Casey went to the craft store to stock up on her favorite yarn for knitting scarves, but it was all sold out because it had been on sale.
Because of the drought this summer, the strawberry crop is very small. Strawberries are expensive because many people want to buy them, but there are few available.
To celebrate their fiftieth anniversary, the zoo is offering buy one, get one admission tickets for the first fifty people to arrive on Saturday. Hundreds of excited people head to the zoo early, hoping to be one of the first fifty people in line.
High Supply/Low Demand:
The clothing store is having a difficult time trying to sell their large inventory of spring jackets now that it is June. Even with the jackets on sale, people have been coming in to buy summer clothes.
This year's bumper crop of local peaches means you can go to the grocery store and farmers market to buy peaches at a very reasonable price.
In recent years, so many students have graduated from the local university's pharmacy program that many of them have had to look for jobs in other cities, since there are so few pharmacy jobs in town.
When many people leave a city and move to other areas, the price of housing in that city will often go down.
Since Amelia is just starting her babysitting business, she offers low prices that will attract her first customers. Once she has more customers, she will raise her prices.
We hope these ideas will make it even easier for you to generate your own economics flashcards that your students can use to practice goods and services, needs and wants, and supply and demand.
Did you and your class have fun with these social studies games? Tell us all about it in the comment section below! Remember to tag @superteacherworksheets on social media so we can celebrate your economics expertise!
If you're looking for more exciting, educational social studies activities, check out the Super Teacher Worksheets Social Studies Collection and print out your favorites today.
You may also like:
Comments
Leave a comment
Thank you! Your comment has been submitted.