Eat a Rainbow Nutrition Activity
By Leah | November 2, 2016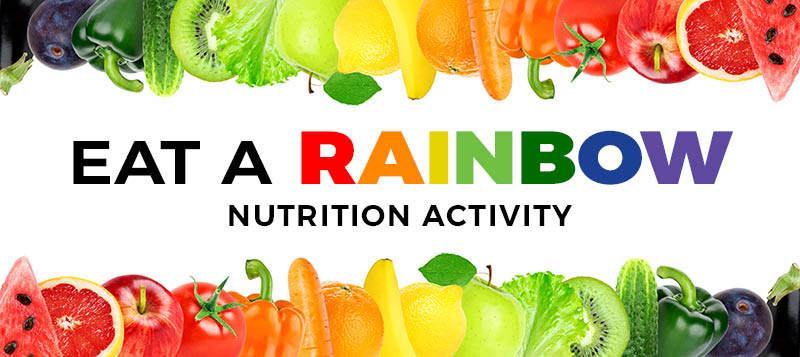 Teach your students about nutritious eating habits with a vibrant, fun, and colorful craft! Students will make their own food rainbows and learn the health benefits of each color group. Keep reading to find out how to do this clever activity with your class!
We love this nutrition craft because it helps kids learn that fruits and vegetables can be just as colorful and exciting to eat as the syrupy, sugary snacks they see on television. Students will also get a chance to explore the health benefits of eating specific color groups of fruits and vegetables. You won't want to pass up the opportunity to do this activity with your class! Your students will be able to make wiser food choices when they complete this educational craft.
To make a food rainbow craft, you will need to have the following items on hand:
red, orange, yellow, green, blue, and purple construction paper

glue sticks
scissors
pictures of fruits and vegetables in every color of the rainbow
There are several ways you can gather pictures of fruits and vegetables in the colors of the rainbow. We chose to use images from ClipArt.com. You could also find pictures in magazines or newspaper inserts. It's up to you whether you want to use as few as three images for each color, or as many as ten. Keep in mind that some colors, like red and green, will be easy to find fruits and vegetables for, while other colors, like blue and purple, may be more difficult. Finally, you can decide whether you will provide the images for your students or have them find and cut them out themselves. This activity can be either a take-home project for more independent grade levels or an in-class assignment for younger learners.
Once you decide how much time you'd like to spend on this craft and how you will present the activity to your students, here's what your students will need to do:
1) Cut a half-circle shape from red construction paper. (You may want to provide tracers to help your students with this. You can use card stock to make rainbow pieces to trace ahead of time.)
2) Cut consecutively smaller half-circles from each of the colors of construction paper. Lay them on top of one another so they create the appearance of a rainbow.
3) Glue the rainbow pieces together. Then, cut out and glue each fruit or vegetable image onto the matching color of the rainbow. Spread the images out evenly over each color.
To give you a head-start on colorful food items you might want to use, we'll share the fruits and vegetables we used in our own version:
Red: watermelon, apple, red pepper, tomato, raspberry, pomegranate, cherry, red potato, strawberry, and red onion
Orange: orange, orange bell pepper, peach, mango, cantaloupe, clementine, squash, carrot, potato, and apricot
Yellow: yellow pear, papaya, corn, banana, pineapple, string bean, lemon, yellow apple, yellow bell pepper, grapefruit
Green: snap peas, broccoli, green apple, lettuce, green pear, kiwi, spinach, cucumber, zucchini, and celery
Blue: blueberries, elderberries, currants, and black grapes
Purple: eggplant, plum, purple onion, red grapes, cabbage, and purple bell pepper
Once your students have made their food rainbows, you can teach them about the health benefits of each color. We've provided a quick summary of these health benefits below, but a quick Internet search will allow you to be as in-depth or general in your presentation of this information as you want.
In addition to the craft and teaching portions of this activity, you could always challenge your students to bring one colored fruit or vegetable on the day you do the activity, or even a different colored food item for every day of the week. They can eat this item at snack time or during lunch, and you may want to even give bonus points if they rise to the challenge.
What do you think of this nutrition-themed activity? Do you think we need more health-related activities in the classroom? Please leave us your feedback in the comments section below.
If you'd like more nutrition resources for your classroom, check out the Super Teacher Worksheets Nutrition Page for inspiration, ideas, and learning material!
Comments
Leave a comment
Thank you! Your comment has been submitted.