Build Your Own Story!
By Leah | June 2, 2017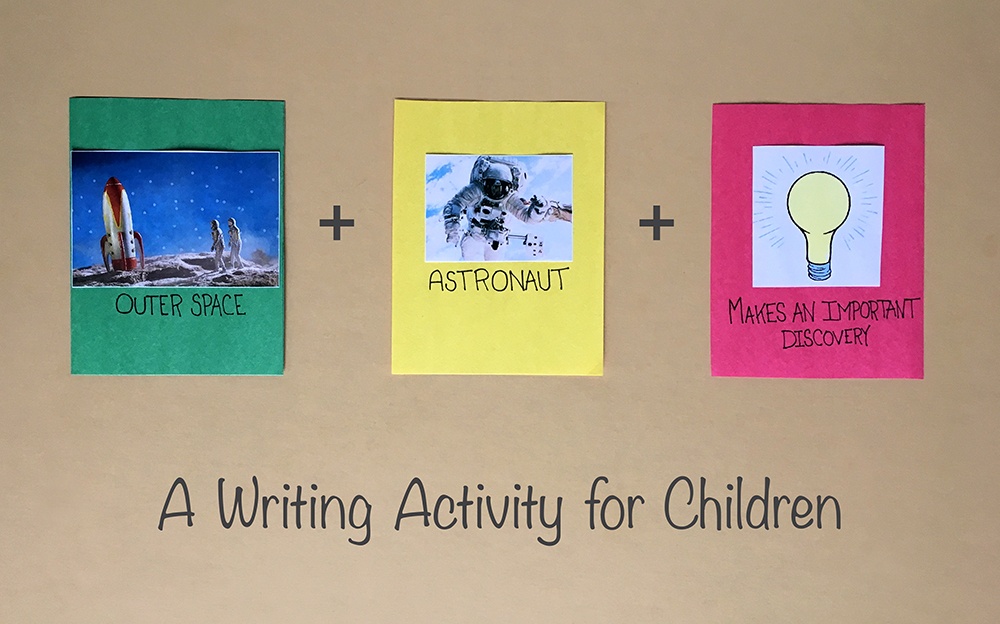 Ignite a spark of imagination with this delightful writing exercise for children. Find out how you can help young learners build their own story, using three essential story elements. Read on to find out more!
Teaching children how to write a creative piece of fiction becomes easy and fun when you use story cards! All you'll need for this exercise is construction paper, tape/glue, and scissors. We'll talk more about the images we used for our story cards in the next section. Before you introduce your students to this activity, you're going to need to make story cards for three essential story elements: character, setting, and event.
Who are your students going to write about? That's what you get to help them decide when you make character story cards. In our example, we chose a school boy, a princess, an astronaut, a farmer, and a dog as possible characters. The options are endless! An Ancient Egyptian Pharaoh, a sailor on the Mayflower, a scientist in the Amazon rainforest, an odd Aunt Vivian...you get the idea. We used Clip Art to find our character photos. You could use a similar stock images website, or even cut out pictures from magazines or newspapers. This goes for all the story cards you make.
Where is the story going to take place? That's where setting story cards come in. The possible settings we chose in our example include a forest, outer space, a castle, a city, and an island. Again, you could choose anything for your setting story cards...an igloo in the Arctic wilderness, a fortress on the cliffs of Ireland...a school gymnasium...a backyard treehouse, etc. Cut out squares of construction paper and adhere your images to the construction paper with some tape or glue. (Here's a helpful hint: Use a different color of construction paper for each story element to make it easier to sort them. See how we used yellow for character, green for setting, and red for event?)
What is the main event that propels the story forward? This could be a tricky story element for kids to figure out on their own, so your event story cards will really help to give them some direction. For our event story cards, we decided to use "Gets Lost," "Opens a Mysterious Letter," "Meets a Genie Who Grants Him/Her a Wish," "Makes an Important Discovery," and "Enters a Competition," as possible story events. There's no limit to the story events you could come up with, but we do suggest you make the events as general as possible to help the kids apply them to any combination of character and setting.
Now that you've made story cards featuring a variety of characters, settings, and events, it's time to get your students involved! This activity is easily adaptable to any age and skill level, so you can decide on the parameters that work best for your class. For younger students, you may want to display all the story cards at once and ask the children to pick out one setting, one character, and one event that they'd like to write about. For older students, you may want to turn all the story cards face down (as shown above) and tell your students to pick a setting, a character, and an event at random.
You can make this activity as basic or as challenging as you see fit. Do you want your students to write a one-paragraph creative piece, with a beginning, a middle, and an end? Or do you want them to write a two-page story complete with a colored illustration and an author bio at the end? Consider whether you want to make this an in-class activity or an at-home assignment.
Now we want to hear from you! Have you ever done a Build-a-Story activity with your class? If you decide to use story cards with you students, we want to hear how it goes! Please leave us a message in the comments section below.
Remember to visit the STW Creative Writing Prompts page for more writing activities for kids!
Comments
Leave a comment
Thank you! Your comment has been submitted.