Bringing in a Harvest of Autumn Activities
By Leah | September 11, 2015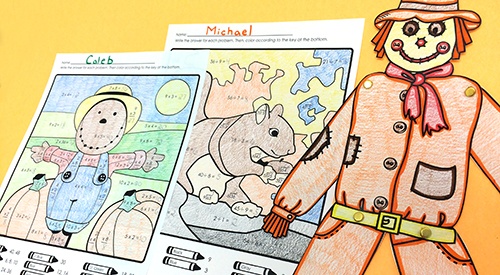 The season of autumn is such an inspiring time of year! There are a multitude of ways to bring the enchantment of autumn into your classroom, and Super Teacher Worksheets is here to help. Our collection of autumn activities and printable worksheets may be the best "pickings" around! Take a look at some of the educational and fun fall activities we have in our collection:
Autumn Word Search
Math Pictures: Addition, Subtraction, Multiplication, and Division
Leaf Sum Game
Scarecrow Cut-Out
These educational classroom activities, and many more, are available on the Super Teacher Worksheets autumn page. Whether you're looking for reading comprehension passages with a fall twist, build-a-sentence activities for young learners, or printable September, October, and November calendars, you can find all of these great printables on our website. We've only shown a few ways to celebrate autumn with your students, so we'd love to hear your own great ideas! Please share in the comments section below.
Super Teacher Worksheets Autumn Page
Comments
Leave a comment
Thank you! Your comment has been submitted.